China Efficient Coal-Fired Power Generation Industry Market Prospective and Investment Strategy Planning Report, 2013-2017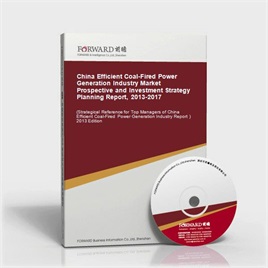 Last Update:2014-04-24
Form of services:Book + (pdf or doc file) + CD
Send method:EMS 2-3 days for delivery
English Service:+86 0755 33220413
Chinese Service:+86 800-8306390 800-8306395
E-mail:service.en@qianzhan.com
Report price:$7900 Print: $7800 CD: $7800
Special statement:
Recently we find there are some sites steal report contents from Qianzhan.com who put those contents on their sites for sale by making a little changes about the contents or remaining the same which deceives buyers(e.g. unable to get full or correct reports, or main body differs from contents that announced on sites).Therefore, we recommend paying a visit to Qianzhan personally or by your friends, and make payment after confirmation. Special statement: Qianzhan is the only and right holder of all the research reports, and has never used a third party to sell any reports, please be aware of the trademark " " when purchasing. Qianzhan is the largest and strongest consultancy, who owns the greatest number of researchers. Here followed "
Nine standards of companies' identificatios
"。
This table of content is original, without written permission of Qianzhan, any unit or individual shall not use, copy, or transfer the reports.
Preface
Table of Content
With the sustained and rapid development of China economic, there are two bottlenecks—environmental protection and resource pressure—for China economic development. Referring to major industrial countries' economic in the world, we can see the outline as follow: coal utilization focuses on power generation; energy requirement for society should as much as possible by secondary energies like electricity; keep improving the coal using proportion of power generation to co-generating heat and power; keep improving the efficiency of coal utilizing; reduce raw coal consumption; focus on the pollution problem solving and coal utilization in a efficiency and clean way.
Since the 21st century, China economic continues its stable growth. As the demand of electricity further increases, coal-fired power plants which providing electricity is expending year by year, and the thermal power installing equipment growth leads the coal demand to grow unceasingly. By the end of September, 2011, accumulated installed capability of China thermal power industry is 733.91 million kilowatt and new installed capability of the first night months in 2011 is 329.5 million kilowatt. Among them proportion of thermal installed capability to nationwide total electricity installed capability is 75.12%.
According to the statistics from NDRC Energy Bureau, there is a day-by-day reduction and shortage for China quality resources. At present, assured remaining coal reserve is less than 100 years, petroleum is less than 15 years and natural gas is less than 30 years. If according to the estimates of China's energy demand in 2020, there will be a decreasing on the assured years for coal, petroleum and natural gas by 30 years, 5 years and 10 years. Such total demand creates a severe challenge for China energy security and ensuring energy supply. Therefore, it is an extremely urgent task to develop clean and efficient cola-fired power generation technology, energy conservation and energy consumption reduction.
With Forward's the long-term tracking and collecting market data of efficient coal-fired power generation industry, we roundly and accurately analyze the structure system for you from the view of mastering the whole industry. This report mainly analyzes the following aspects: definition and development environment of efficient coal-fired power generation industry; development of thermal power industry and necessary to develop efficient coal-fired power generation; comparison of efficient coal-fired power generation technology; power generation development condition of CS and USC; power generation technology development condition of CFB; technology development condition of IGCC; key corporations in international efficient coal-fired power generation industry; key corporations in China efficient coal-fired power generation industry; risk, prospect and suggestions for efficient coal-fired power generation industry. It will help you handle the technology and development trend of efficient coal-fired power generation industry in an overall and accurate way, thus win the latest opportunities in the competition!
Major characteristics of this report are forward-looking and timeliness. Base on the forward-looking analysis of massive research data, we further analyze the development scale and competitive landscape of efficient coal-fired power generation industry. Along with the industry development route and our practical experience, we analyze and predict the future development prospect of efficient coal-fired power generation industry. This report with a high value for enterprises like efficient coal-fired power generation technology study corporations, equipment producing corporations and investment corporations to accurately know the latest industry development trend, obtain market opportunities and determine an insightful operation strategy and development direction.
Here, we'd like to express our sincere gratitude to International Information Institute, National Bureau of Statistics of China, National Institute of the Ministry of Commerce, National Tsing Hua University Library, Institute of Market Economy of the State Council Development Research Center, and Beijing Qinghua Forward Market Research Center, etc. Thank you so much!
Notice: all the market data, especially the corporation list data in this report is only for business reference. Please don't take the data for enterprise publicity. Thank you! Or Forward shall not take any responsibility for any consequences!
Qianzhan Business Information Co., Ltd. Industry Research Center
Research Team of Efficient Coal-Fired Power Generation Industry
China Efficient Coal-Fired Power Generation Industry Report " related reports »