China Discrete Semiconductor Manufacturing Industry Production & Marketing Demand and Investment Forecast Report, 2013-2017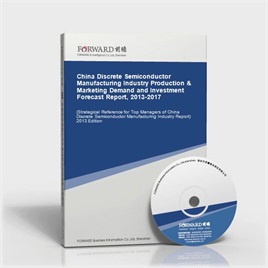 Last Update:2014-04-23
Form of services:Book + (pdf or doc file) + CD
Send method:EMS 2-3 days for delivery
English Service:+86 0755 33220413
Chinese Service:+86 800-8306390 800-8306395
E-mail:service.en@qianzhan.com
Report price:$7900 Print: $7800 CD: $7800
Special statement:
Recently we find there are some sites steal report contents from Qianzhan.com who put those contents on their sites for sale by making a little changes about the contents or remaining the same which deceives buyers(e.g. unable to get full or correct reports, or main body differs from contents that announced on sites).Therefore, we recommend paying a visit to Qianzhan personally or by your friends, and make payment after confirmation. Special statement: Qianzhan is the only and right holder of all the research reports, and has never used a third party to sell any reports, please be aware of the trademark " " when purchasing. Qianzhan is the largest and strongest consultancy, who owns the greatest number of researchers. Here followed "
Nine standards of companies' identificatios
"。
This table of content is original, without written permission of Qianzhan, any unit or individual shall not use, copy, or transfer the reports.
Preface
Table of Content
In China's semiconductor market, integrated circuit is an object widely concerned by people, while discrete device is always neglected. In fact, as one of two branches of semiconductor industry, discrete semiconductor has a wide range of application. At present, China has been a large producer of manufacturing discrete semiconductor, and a consumption power of discrete semiconductor as well. The production and development of discrete semiconductor has maintained the double-digit annual growth (referring to sales revenue) for more than 20 years. In China's discrete semiconductor market, those foreign enterprises represented by Japanese enterprises take the advantages, but domestic enterprises still keep competing for the market. According to data from the National Bureau of Statistics, there were 314 discrete semiconductor manufacturing enterprises above designated size in China, which realized 71.957 billion Yuan of sales revenue and 3.512 billion Yuan of total profits.
In domestic discrete device market, foreign, Hong Kong, Macao and Taiwan-invested enterprises account for an absolute advantage. There were 159 foreign and foreign, Hong Kong, Macao and Taiwan-invested enterprises in total in 2011, with a 67.95% of total industry sales revenue; while the private-owned enterprises accounted for 14.70% of total industry sales revenue and the state-owned enterprises took up only 0.91% of total industry sales revenue. Due to the low requirement for accessing the low-end discrete device marker, China's local enterprises can enter the market depending on the resources superiorities, such as low-cost labor force. However, there are few domestic manufacturer which can produce high and middle-end discrete devices with high reliability, thus the manufacturers mainly concentrate on Europe, USA, Japan, China Taiwan.
During the "Twelfth Five-year" Plan period, the State gives full support and encourage the development of strategic emerging industries, such as the next generation IT, new energy, new energy automobile, and high-end equipment, which will inject new vitality to China's semiconductor market. Meanwhile, due to the rebound of international market, the continuing brisk demand of domestic market, and the growing increase of industry investment, the industry meets new development opportunities. In the face of new demand from new opportunities, if China's discrete device manufacturing enterprises want to seize the initiative in the market, they must strengthen original innovation, integrated innovation and bring digestion and re-innovation.
Qianzhan Business Information Co., Ltd. Industry Research Center
Research Team of Discrete Semiconductor Manufacturing Industry
China Discrete Semiconductor Manufacturing Industry Report" related reports »