China Silicon Steel Industry Development Prospects and Investment Forecast Report, 2013-2017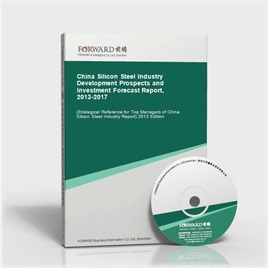 Last Update:2014-06-09
Form of services:Book + (pdf or doc file) + CD
Send method:EMS 2-3 days for delivery
English Service:+86 0755 33220413
Chinese Service:+86 800-8306390 800-8306395
E-mail:service.en@qianzhan.com
Report price:$7900 Print: $7800 CD: $7800
Special statement:
Recently we find there are some sites steal report contents from Qianzhan.com who put those contents on their sites for sale by making a little changes about the contents or remaining the same which deceives buyers(e.g. unable to get full or correct reports, or main body differs from contents that announced on sites).Therefore, we recommend paying a visit to Qianzhan personally or by your friends, and make payment after confirmation. Special statement: Qianzhan is the only and right holder of all the research reports, and has never used a third party to sell any reports, please be aware of the trademark " " when purchasing. Qianzhan is the largest and strongest consultancy, who owns the greatest number of researchers. Here followed "
Nine standards of companies' identificatios
"。
This table of content is original, without written permission of Qianzhan, any unit or individual shall not use, copy, or transfer the reports.
Preface
Table of Content
In 2010, China produced about 5.6976 million tons cold rolled silicon steel and 1.2 million tons hot rolled silicon steel, with a total number of 6.8976 million tons, among which there were 5.1623 million tons cold rolled non-oriented silicon steel and 0.5353 million tons of orientated cold rolled silicon steel. Compared with the same period in 2009, the production output of cold rolled silicon steel increased by 1.77 million tons, with an increase of 31.06%; the production output of hot rolled silicon steel grew by 0.6 million tons, with an increase of 100%.
Some data shows, there is a growing surplus in China's silicon steel production capacity, particularly for those middle and low-grade non-oriented silicon steel. However, in terms of the market demand in 2010, it seems the capacity is not enough. The situation of supply shortage of middle and low-grade non-oriented silicon steel appears for the first time. There are many reasons for this fact, of which the major cause is the brisk demand. In 2010, China's silicon steel apparent consumption reached around 7.71 tons, with a year-on-year increase of 46.58%.
In terms of China silicon steel overall production output and demand volume, China's silicon production capacity will rank the first in the world. The demand basically equals to the capacity, but if compares actual demand with actual production output, there is a 10% gap between them, and China still needs import, which mainly shows at the aspect of variety structure. The development of high-grade non-oriented silicon steel and high permeability oriented silicon steel is a direction to fix this gap. Silicon steel is mainly applied in many fields, such as motors, transformers, electrical appliances and electrical instruments. In 2010, China produced 117 million KW of power generation equipment in total, which generally equaled to the 107 million KW in 2009. Among those power generation equipment, the proportion of large-sized equipment gradually went up. In 2010, among 300 thousand KW or above thermal power generation equipment generated 65.16 million KW output, accounting for 79% of total output of thermal power generation. In "the 2011 Preparation Meeting of Power Equipment", the total production volume arrangement was a little bit higher than the actual output in 2010. It's predicted the production arrangement of 2011 will reach 129 million KW, with a 10% increase over the year of 2010.
In addition, it's reported during the "Twelfth Five-year" period, the hydroelectric development focuses on the hydroelectric bases in Jinshajiang River, Daduhei River; as to nuclear power, it will gain fast development in coastal areas; as to wind power, 7 more than ten million-grade power generation bases will be built in the next 10 years, which are amount to establish 7 Three Gorges and these 7 bases will be located in Xinjiang, Gansu, Inner Mongolia, Jiangsu and other areas. Therefore, the market demand of silicon steel is still huge. Referring to the apparent consumption data of China's silicon steel from 2007 to 2010, it's predicted the consumption amount of China silicon steel will reach 9 million tons in 2011, with a year-on-year increase of 16.73; with the announcement of new energy policy, it's estimated the apparent consumption amount of China silicon steel will reach 11 million tons.
With Forward's long-term tracking and collecting market data of silicon steel industry, we roundly and accurately analyze the industry structure system for you from the view of mastering the whole industry. This report mainly focuses on analyzing China current silicon steel industry's market capacity, market size, development speed and competitive situation, depending on macro-prosperity of current silicon steel industry and relying on its production and marketing conditions as well as the demand trend.
The report pay more attention to analyze the production and development of China silicon steel industry; the current market environment and enterprise competitiveness; the import and export markets; the competitive landscape and competitive trend of silicon steel industry; the development situation of product market segmentation of silicon steel; the major production flow of silicon steel; the leading corporations' operational conditions in silicon steel market; as well as the development trend and prospects forecast of silicon steel industry. Meanwhile, with comprehensive and specific first-hand market data over the past 5 years Forward helps you to grasp the market and development trends of silicon steel industry, so as to win advantages from competition!
The most distinctive characteristics of this report is forward-looking and timeliness. Through analyzing forward-looking characteristic of abundant first-hand market data, we deeply and objectively dissect China silicon steel industry's market capacity, market size and competitive landscape. Furthermore, based on future development tracks and years' practice experience of silicon steel industry, we conduct prudent analysis and forecast for silicon steel industry's future development trend. This report helps silicon steel manufacturing enterprises, R&D institutions, marketing enterprises and investment enterprises to precisely grasp current latest developments of the industry. Afterwards, they can make wise operating decisions and define enterprises' development directions.
Here, we would like to express our sincere gratitude to State Information Center, Bureau of Statistics of China, China Customs, International Information Research Institute, Chinese Academy of International Trade and Economic Cooperation, Tsinghua University Library, Development Research Center of the State Council and Beijing Essence Forward Research Center, for their great support when we conduct this report!
Notice: All the market data, especially corporations' ranking data in the report, only for business reference. Please do not take the data for enterprise publicity. Thank you! Or Forward shall not take any responsibility for any consequences!
Qianzhan Business Information Co., Ltd. Industry Research Center
Research Team of Silicon Steel Industry
China Silicon Steel Industry Report" related reports »