China Biopharmaceutical Industry Production & Marketing Demand and Investment Forecast Report, 2013-2017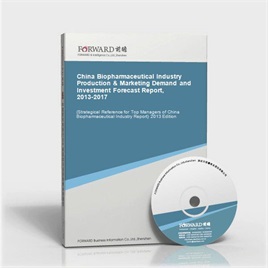 Last Update:2014-05-03
Form of services:Book + (pdf or doc file) + CD
Send method:EMS 2-3 days for delivery
English Service:+86 0755 33220413
Chinese Service:+86 800-8306390 800-8306395
E-mail:service.en@qianzhan.com
Report price:$7900 Print: $7800 CD: $7800
Special statement:
Recently we find there are some sites steal report contents from Qianzhan.com who put those contents on their sites for sale by making a little changes about the contents or remaining the same which deceives buyers(e.g. unable to get full or correct reports, or main body differs from contents that announced on sites).Therefore, we recommend paying a visit to Qianzhan personally or by your friends, and make payment after confirmation. Special statement: Qianzhan is the only and right holder of all the research reports, and has never used a third party to sell any reports, please be aware of the trademark " " when purchasing. Qianzhan is the largest and strongest consultancy, who owns the greatest number of researchers. Here followed "
Nine standards of companies' identificatios
"。
This table of content is original, without written permission of Qianzhan, any unit or individual shall not use, copy, or transfer the reports.
Preface
Table of Content
Biotechnology is the most promising technology to solve some key problems in the development of society, such as health, food, resources, environment, etc., and the major breakthroughs of biotechnology can bear and hasten the industry development. Based on vigorously fostering and developing biology industries, such as biopharmaceutical industry and biological husbandry, it will enhance China's self-independent innovation capability, the transformation of economic development methods, and the realization of sustainable development.
In October 18th 2010, the Decision on Speeding up the Cultivation and Development of Strategic Emerging Industrial was officially released. According to the Decision, biopharmaceutical industry has been listed as one of strategic emerging industries for priority development during the "twelfth five-year" period. With the support of preferential policies in domestic, the biotechnology and its industry will accelerate to develop. In terms of policy promotion projects, the government invests more than 40 billion Yuan special fund, concentrating in researching, producing the key drugs and R&D field, which is 124.72% higher than the 17.8 billion Yuan in the "eleventh five-year" period.
With the promotion of people's disposable income in domestic and the changes of healthcare awareness, the demand for drugs is expected to increase. Moreover, the promotion of biotechnology level will promote the industrialization, increase the varieties of drugs and supply, as well as increase the biopharmaceutical industry.
According to data from the National Bureau of Statistics, from 2003 to 2011, the CAGR of China biopharmaceutical industry's production and marketing volume was over 20%. In 2010, the industry production and marketing volume broke through a hundred billion Yuan. The production and marketing volumes of the industry were 153.88 billion Yuan and 151.55 billion Yuan respectively from January to December in 2011. And the industry size keeps growing.
China biopharmaceutical industry has played an indispensable role in the international market, which mainly because China biotechnology develop rapidly, and with the international pharmaceutical industry, many biopharmaceutical enterprises begin to outsource the medical R&D work and producing work to China. At present, there are more than 80 areas (cities) focusing on building medical science park, bio-tech park, medicine valley. But, at the same time, the original research and capital market of China biopharmaceutical industry is far backward than that of overseas, which leads that China biopharmaceutical industry sinking into the situation of low level and repeated production, and vicious competition. Nowadays, the competition is gradually tending to other new technologies and new fields. Since some domestic biopharmaceutical enterprises are the leader in sub-industries in the aspect of technology, they have a leading position in the competitiveness of domestic biopharmaceutical industry, such as National Biotech Group, Hualan Bio, Kehua Bio-engineering Co., Ltd., Tiantan Biological Products Co., Ltd., Da An Gene, SL Pharmaceutical Co., Ltd., etc.
During the "twelfth five-year" period, Chin will develop resource conservation and environmental-friendly biopharmaceuticals, accomplishing the goal of industry upgrading of pharmaceutical industry and occupying the commanding height of biopharmaceuticals, achieving to double the total industrial output value to reach the size of 3 trillion Yuan. The government will encourage and support to large-sized pharmaceutical circulation enterprises to create a group of pharmaceutical giants, with the annual turnover of more than tens of billion Yuan or even hundreds of billion Yuan, by means of acquisition, merger, trusteeship, equity participation, holding, combination of giants, etc.
In the next 10 years, a batch of gene treatment plans, and drugs will enter the application stage. The R&D and industrialization capabilities of China biopharmaceutical industry will be greatly improved, forming a new pharmaceutical pattern with three pillars, pharmaceutical chemicals, traditional Chinese medicine and biopharmaceuticals. Aiming at cancer, heart disease, hypertension, diabetes mellitus, neurological diseases and other major diseases, China has gained 200 new biopharmaceutical drugs certification, and developed nearly 200 kinds of biopharmaceutical drugs. Moreover, nearly 400 biopharmaceutical drugs enter a clinical trials stage. And China biopharmaceutical industry has ushers a high development period.
The report mainly analyzes the definition, policy environment and economic environment of China biopharmaceutical industry; the industrial chain and upstream/downstream industries analysis of pharmaceutical industry; the development situation of pharmaceutical industry; the competitive situation of pharmaceutical industry; the leading corporations' operational conditions in pharmaceutical industry; the market analysis of pharmaceutical products; the technology development situation of pharmaceutical industry; the key regions analysis of pharmaceutical industry; as well as the investment and development prospects of pharmaceutical industry. Meanwhile, with comprehensive and specific first-hand market data over the past 5 years, Forward helps you to grasp the market and development trends of pharmaceutical industry, so as to win advantages from competition!
The most distinctive characteristics of this report is forward-looking and timeliness. Through analyzing forward-looking characteristic of abundant first-hand market data, we deeply and objectively dissect China current pharmaceutical industry's overall market capacity, market size, competitive landscape and characteristics of market demand. Furthermore, based on future development tracks and years' practice
experience of pharmaceutical industry, we conduct prudent analysis and forecast for pharmaceutical industry's future development trend. This report helps pharmaceutical production enterprises, R&D institutions, marketing enterprises and investment enterprises to precisely grasp current latest developments of the industry. Afterwards, they can make wise operating decisions and define enterprises' development directions.
Here, we would like to express our sincere gratitude to State Information Center, Bureau of Statistics of China, International Information Research Institute, Chinese Academy of International Trade and Economic Cooperation, Tsinghua University Library, Development Research Center of the State Council and Beijing Essence Forward Research Center, for their great support when we conduct this report!
Notice: All the market data, especially corporations' ranking data in the report, only for business reference. Please do not take the data for enterprise publicity. Thank you! Or Forward shall not take any responsibility for any consequences!
Qianzhan Business Information Co., Ltd. Industry Research Center
Research Team of Biopharmaceutical Industry
China Biopharmaceutical Industry Report" related reports »