China Insurance Intermediary Industry Indepth Research and Investment Strategy Planning Report, 2013-2017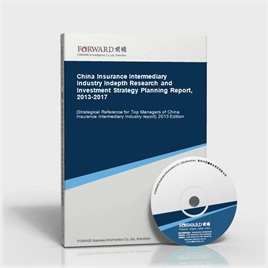 Last Update:2014-05-16
Form of services:Book + (pdf or doc file) + CD
Send method:EMS 2-3 days for delivery
English Service:+86 0755 33220413
Chinese Service:+86 800-8306390 800-8306395
E-mail:service.en@qianzhan.com
Report price:$7900 Print: $7800 CD: $7800
Special statement:
Recently we find there are some sites steal report contents from Qianzhan.com who put those contents on their sites for sale by making a little changes about the contents or remaining the same which deceives buyers(e.g. unable to get full or correct reports, or main body differs from contents that announced on sites).Therefore, we recommend paying a visit to Qianzhan personally or by your friends, and make payment after confirmation. Special statement: Qianzhan is the only and right holder of all the research reports, and has never used a third party to sell any reports, please be aware of the trademark " " when purchasing. Qianzhan is the largest and strongest consultancy, who owns the greatest number of researchers. Here followed "
Nine standards of companies' identificatios
"。
This table of content is original, without written permission of Qianzhan, any unit or individual shall not use, copy, or transfer the reports.
Preface
Table of Content
The "twelfth five-year" period is a crucial time for China to deepen opening up policy, accelerate to transform economic development mode and to fully construct affluent society, and also a period for insurance industry to realize structure adjustment. As an indispensable part of insurance market, insurance intermediary market shoulders the burden of promoting the transformation of insurance industry, and advancing insurance industry to realize great-leap-forward development.
The business scale of insurance intermediary market extended from 359.673 billion Yuan to 1099.114 billion Yuan, with an annual increase of 41.17%, which is the fastest development sector in insurance industry. As of the end 2010, insurance intermediary channel realized premium income of 1099.114 billion Yuan, among which the professional intermediary institutions (agent companies, broker companies, public assessment organs), marketing teams, and agents and industry organizations achieved the premium income of 84.464 billion Yuan, 468.208 billion Yuan and 546.442 billion Yuan respectively, with the increase of 61.137 billion Yuan, 308.872 billion Yuan, and 281.354 billion Yuan respectively compared that of 2006. As of the end of 2010, there were 2,550 insurance professional intermediary institutions in China, among which there were 1,853 insurance agent companies, 392 insurance broker companies, and 305 public assessment organs, with the ratio of 72.67%, 16.37% and 11.96% respectively. The registered capital of national insurance intermediary institutions reached 9.080 billion Yuan, with a year-on-year increase of 24.33%; and the total asset achieved 13.591 billion Yuan, with a year-on-year increase of 26.77%.
In the first half of 2011, the insurance agent companies realized the business (commission) income of 3.918 billion Yuan, with a year-on-year increase of 65.67%, and realized the net margin of 137 million Yuan; the insurance broker companies achieved the business income of 2.432 billion Yuan, with a year-on-year increase of 34.07%, and achieved the net margin of 0.337 billion Yuan; the insurance assessment companies realized the business income of 569 million Yuan, with the year-on-year increase of 13.12%, and achieved the net margin of 0.004 billion Yuan.
At present, the insurance intermediary institutions are still in a small size, scattered and chaotic state, and in a primary stage that the profitability mode is immature. What the urgent problem that the whole industry needs to deal with is to find a stable and sustainable development profitability mode. However, relatively speaking, the insurance agents positively explore during these recent years, the development of domestic intermediary "Three Carriages" develops unevenly, and the foreign PE shows different level of affection to them. In terms of only national insurance public assessment industry, except that 35 insurance public assessments in Shenzhen realized the profits of more than 50 million Yuan, other industries are still in a loss. However, with the investment of the venture capital institutions in public assessment industry, the whole industry is boosted greatly. While the insurance broker industry develops very fast, due to its professional capability in the aspects of risk management. Foreign institutions of Marsh & McLennan and Willis speed up to develop and layout in China, and they have begin to conduct their acquisition plans. In addition, the operational mode of insurance broker company is simple. Compared with foreign broker giants, which can provide the most professional risk management plan, there is a certain gap between Chinese insurance broker companies and foreign broker giants. In such a increasingly competitive insurance market, many companies face the fate of bankruptcy. Institutions get in or out of the insurance market has been a remarkable characteristic of this industry. The top 3 largest insurance broker companies - Marsh & McLennan, Aon, and Willis, have entered China's market in different ways. The small quotation, huge market potential and unlimited profit space have been the major factors that insurance intermediary institutions become the chasing goals for international venture capital institutions. From the cases that IDGVC and Matrix Partners China invested twice in Huakang; USA Warburg Pincus Group invested 418 million Yuan to purchase D.Tong's stocks from Pan-China Group; and the well-known private fund TPG Group cooperated with CDH to issue an acquisition invitation to Pan-China Group, we can see the foreign venture capital institutions exist everywhere in China.
China insurance intermediary has reached to a key position to choose its development direction. Collectivization does not just mean to realize the diversification of business. In fact, it means to change the industry development mode deeply and fundamentally, and the emerging intermediary enterprises will first to meat this challenge and to made their own choice. The collectivization can greatly strengthen the comprehensive capability of intermediary enterprises, improve the compliance operation capability and market competitiveness, and then further to enhance the sustainable development capability of the whole insurance intermediary industry.
With Forward's long-term tracking and collecting market data of insurance intermediary industry, the report mainly analyzes the market environment of international and domestic insurance intermediary industry; the operational situation of insurance intermediary industry; the establishment flow and feasibility research of insurance intermediary institutions; the important key business of insurance intermediary industry; 20 key regions of insurance intermediary with investment potentials; as well as the corporations' operational conditions in insurance intermediary industry. Meanwhile, with comprehensive and specific first-hand market data over the past 5 years, Forward helps you to grasp the market and development trends of insurance intermediary industry, so as to win advantages from competition!
The most distinctive characteristics of this report is forward-looking and timeliness. Through analyzing forward-looking characteristic of abundant first-hand market data, we deeply and objectively dissect China current insurance intermediary industry's development influence factors and competitive landscape. Furthermore, based on future development tracks and years' practice experience of insurance intermediary industry, we conduct analysis for the substantial factors to the development of insurance intermediary industry, indepth analysis for the sustainable development and breakthrough of insurance intermediary industry, and prudent analysis and forecast for insurance intermediary industry's future development trend. This report helps insurance intermediary institutions and relevant risk management institutions to precisely grasp current latest developments of the industry. Afterwards, they can make wise operating decisions and define enterprises' development directions.
Here, we would like to express our sincere gratitude to China Insurance Regulatory Commission, Bureau of Statistics of China, International Information Research Institute, Chinese Academy of International Trade and Economic Cooperation, Tsinghua University Library, Development Research Center of the State Council and Beijing Essence Forward Research Center, for their great support when we conduct this report!
Qianzhan Business Information Co., Ltd. Industry Research Center
Research Team of Insurance Intermediary Industry
China Insurance Intermediary Industry report" related reports »