China Guarantee Industry Market Forecast and Investment Strategy Planning Report, 2013-2017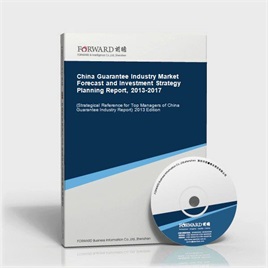 Last Update:2014-05-23
Form of services:Book + (pdf or doc file) + CD
Send method:EMS 2-3 days for delivery
English Service:+86 0755 33220413
Chinese Service:+86 800-8306390 800-8306395
E-mail:service.en@qianzhan.com
Report price:$7900 Print: $7800 CD: $7800
Special statement:
Recently we find there are some sites steal report contents from Qianzhan.com who put those contents on their sites for sale by making a little changes about the contents or remaining the same which deceives buyers(e.g. unable to get full or correct reports, or main body differs from contents that announced on sites).Therefore, we recommend paying a visit to Qianzhan personally or by your friends, and make payment after confirmation. Special statement: Qianzhan is the only and right holder of all the research reports, and has never used a third party to sell any reports, please be aware of the trademark " " when purchasing. Qianzhan is the largest and strongest consultancy, who owns the greatest number of researchers. Here followed "
Nine standards of companies' identificatios
"。
This table of content is original, without written permission of Qianzhan, any unit or individual shall not use, copy, or transfer the reports.
Preface
Table of Content
In recent years, with the continuing and fast growth of the development of national economy, China guarantee industry makes considerable progress in the development. In particular, in order to solve the difficulties of capital pressure and financing for medium and small-sized enterprises, the State has ramped up efforts to establishing guarantee institutions since 2008. Under these circumstances, all kinds of capitals find the opportunities and enter the guarantee industry in succession. The guarantee industry refers to a wide range of fields, providing professional risk management services and bear relevant risks for different economy entities. It plays an important role in consumption, investment, export, as well as tax and fiscal links, with the function of credit ranking, credit enhancement and credit enlargement. Nowadays, more and more enterprises plan to establish or invest in guarantee corporations, in order to solve their own financing difficulties.
In 2002, there were 848 guarantee institutions in China, while in 2008, the quantity increased to 4,247, with an increase of 13.9% over the previous year. From 2003 to 2008, the CAGR of China credit guarantee institution was 34.5%; at the end of 2009, there were 5,547 national credit guarantee institutions in total; due to the industry reorganization, as of the end of 2010, there were 6,030 national financing guarantee institutions in total, with 893.1 billion of financing guarantee credit loan balance (exclude the financing credit loan from small guarantee companies), with an increase of 60.9% over the previous year; the household o financing credit loan reached 166 thousand, with an increase of 48.9 over the previous year. Among the financing guarantee credit balance, 77.2% of them is provided for medium and small sized enterprises, with 6,894 Yuan of credit balance, with an increase of 69.9% over the previous year. However, among 166 thousand households of financing guarantee credit, there are 142 thousand medium and small-sized enterprises households, accounting for 85.5%.
After a year announcement of "the Interim Measures for the Administration of Financing Guarantee Companies", the "big re-shuffle" of guarantee industry is basically completed. As of the end of May 31, 2011, there were 9,192 institutions involving in national reorganization range. There were 8,973 institutions that had completed standard reorganization, there were 326 institutions that were in the process of reorganization, and there were 134 institutions that had not conducted the reorganization. The completion rate of reorganization reached by 95%. After standard reorganization, 6,473 institutions were approved, and 5,888 of them got the business certificate.
With the fast development of China guarantee industry, all kinds of problems gradually begin to expose. They are mainly: in general, the guarantee institution are all with small scale, limited risk management level, simple business variety, overall low-quality employees and so on. Under the circumstance of limited market resources, it's inevitable to carry out reorganization. In particular, with the monetary policy adjustment by People's Bank of China in 2010 and the announcement of some supervision regulations related to guarantee industry, like "the Interim Measures for the Administration of Financing Guarantee Companies", as to some relatively good guarantee institutions with well management, strong capital strength, and well implementation of risk control measures, they will meet more opportunities in the future; while as to those with weak capital strength and having been recognized by banks, they may face the destiny of bankruptcy.
In 2011, the General Office of the State Council forwarded the "Opinion on Promoting the Standardized Development of Financing Guarantee Industry" by eight ministries, such as China Banking Regulatory Commission and the National Development and Reform Commission, to encourage the financing guarantee institutions with solid strength to establish branches or open business in county regions or western areas; and to asks for financing financial institutions to formulate and improve the supporting policy system, to strengthen the management of supporting capital, to implement the finance and tax preferential policies for qualified financing guarantee institutions, as well as to establish a beneficent development system for selecting good but abandon inferior institutions. Therefore, the guarantee industry will have the vast space for development.
With Forward's long-term tracking and collecting market data of guarantee industry, we mainly analyzes the market environment of China guarantee industry; the operational conditions of guarantee industry; the flow and feasibility research of investment guarantee institutions; the key division business of guarantee industry; the competitiveness of guarantee industry in key regions; as well as the leading corporations' operational conditions in guarantee industry. Meanwhile, with comprehensive and specific first-hand market data over the past 5 years, Forward helps you to grasp the market and development trends of guarantee industry, so as to win advantages from competition!
The most distinctive characteristics of this report is forward-looking and timeliness. Through analyzing forward-looking characteristic of abundant first-hand market data, we deeply and objectively dissect China guarantee industry's influencing factors, competitive landscape and characteristics of market demand. Furthermore, based on future development tracks and years' practice experience of guarantee industry, we conduct prudent analysis and forecast for guarantee industry's future development trend. This report helps guarantee enterprises, and every kind of financial institutions to precisely grasp current latest developments of the industry. Afterwards, they can make wise operating decisions and define enterprises' development directions.
Here, we would like to express our sincere gratitude to China Guarantee Association, Bureau of Statistics of China, International Information Research Institute, Chinese Academy of International Trade and Economic Cooperation, Tsinghua University Library, Development Research Center of the State Council and Beijing Essence Forward Research Center, for their great support when we conduct this report!
Notice: All the market data, especially corporations' ranking data in the report, only for business reference. Please do not take the data for enterprise publicity. Thank you! Or Forward shall not take any responsibility for any consequences!
Qianzhan Business Information Co., Ltd. Industry Research Center
Research Team of Guarantee Industry
China Guarantee Industry Report" related reports »