China Commercial Banks Credit Risk Management and Industry Credit Strategy Report, 2013-2017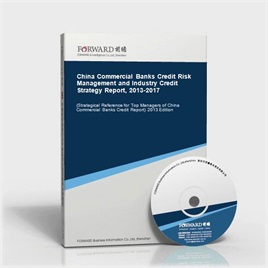 Last Update:2014-05-08
Form of services:Book + (pdf or doc file) + CD
Send method:EMS 2-3 days for delivery
English Service:+86 0755 33220413
Chinese Service:+86 800-8306390 800-8306395
E-mail:service.en@qianzhan.com
Report price:$7900 Print: $7800 CD: $7800
Special statement:
Recently we find there are some sites steal report contents from Qianzhan.com who put those contents on their sites for sale by making a little changes about the contents or remaining the same which deceives buyers(e.g. unable to get full or correct reports, or main body differs from contents that announced on sites).Therefore, we recommend paying a visit to Qianzhan personally or by your friends, and make payment after confirmation. Special statement: Qianzhan is the only and right holder of all the research reports, and has never used a third party to sell any reports, please be aware of the trademark " " when purchasing. Qianzhan is the largest and strongest consultancy, who owns the greatest number of researchers. Here followed "
Nine standards of companies' identificatios
"。
This table of content is original, without written permission of Qianzhan, any unit or individual shall not use, copy, or transfer the reports.
Preface
Table of Content
In 2010, commercial banks positively support macro-control and national strategies strive for grasp development opportunities and make efforts to increase credit. With both fast expanding of asset size and the steady of maintaining profits, the internationalization and integration level is further boosted. Some changes have taken place in banking industry's market landscape, the market shares of state-owned banks have increased, and the market shares of foreign banks have decreased. Commercial banks actively comply with regulatory requirements and rationally control the pace of credit. At the end of 2010, the non-performing loan ratio was 1.14%, and the balance of bad loan was 429.3 billion Yuan, which keep "both decrease". The provision coverage ratio of commercial banks is further improved.
Since 2011, the People's Bank of China has focused on maintaining the basic stability of general price level, a priority task of macro-control, implemented a steady monetary policy, alternated to use quantitative and pricing monetary policies, strengthened to regulate and control the liquidity management and the total supply of money and credit, maintained a rational social financing size, and promoted the steady and health development of economy. In addition, the Central Economic Annual Work Conference has proposed, both financial policies and credit policies should pay attention to strengthen the coordination and cooperation with their industry policies, which fully reflects guidance by different categories and the combination of support and control, continue to increase investment in "three rural problems" (agriculture, rural areas and farmers), affordable housing, social business, etc., and continue to support the scientific innovation, energy and environmental protection, strategic emerging industries, the national major infrastructure projects in progress and their extension projects, enterprise technical reconstruction, etc., which provides a direction for the "combination of support and control".
According to statistics released from the People's Bank of China, during the period of 2006 to 2010, except that the growth rate of increased credit size in 2009 reached 130% due to the 4 trillion investment plan, the growth rates of other years generally keep at about 15% to 18%; as of the end of December 2011, the supply amount of M2 reached 85.16 trillion Yuan, which was 2.61 trillion Yuan more than the 82.55 trillion Yuan in November of 2011. Taking all comprehensive factors into consideration, it's rational to maintain the growth of loan volume between 13% and 14%, and it's predicted the newly increased loan size will generally be 8 trillion Yuan.
In addition, the Central Economic Work Conference has made general requirements for economic work in 2012, "continue to implement proactive financial policies and steady monetary policies, maintain the continuity and stability of macro-economic policies, and strengthen the direction, flexibility and forward-looking of regulation and control". Moreover, the conference points out according to operational conditions of economy to pre-adjust and make the tiny adjustment timely, to comprehensively use kinds of monetary tools, maintain the rational growth of loan volume and improve the credit structure. Analysts consider, the monetary policy extends from "only attaching great importance to liquidity" to "maintaining the rational growth of loan volume", which reflects the substantial change of government's attitude.
With Forward's long-term tracking and collecting market data of banking credit business industry, we roundly and accurately analyze the industry structure system for you from the view of mastering the whole industry. This report mainly focuses on analyzing the market environment of China commercial banks credit business; the domestic credit demand status; the industry investment attractiveness of domestic commercial banks credit capital; the credit volume status in key regions; the credit risk management and commercial banks credit strategies. Meanwhile, with comprehensive and specific first-hand market data over the past 5 years, Forward helps you to grasp the market and development trends of overall commercial banks credit volume, so as to win advantages from competition!
The most distinctive characteristics of this report is forward-looking and timeliness. Through analyzing forward-looking characteristic of abundant first-hand market data, we deeply and objectively dissect China current commercial banks credit business's affecting factors and competitive landscape. Furthermore, based on future development tracks and years' practice experience of commercial banks credit business, we conduct indepth analysis on the sustainable development of commercial banks and roads, as well as we conduct prudent analysis and forecast for the future development trend of commercial banks credit business. This report helps commercial banks and related financial institutions to precisely grasp current latest developments of the domestic loan volume. Afterwards, they can make wise operating decisions and define enterprises' development directions. Moreover, this report is the first and weighty report on analyzing the development status of commercial banks credit business and analyzing its leading corporations in an all-round and systematical way.
Here, we would like to express our sincere gratitude to China Banking Regulatory Commission, Bureau of Statistics of China, International Information Research Institute, Chinese Academy of International Trade and Economic Cooperation, Tsinghua University Library, Development Research Center of the State Council and Beijing Essence Forward Research Center, for their great support when we conduct this report!
Notice: All the market data, especially corporations' ranking data in the report, only for business reference. Please do not take the data for enterprise publicity. Thank you! Or Forward shall not take any responsibility for any consequences!
Qianzhan Business Information Co., Ltd. Industry Research Center
Research Team of Commercial Banks Credit Business
China Commercial Banks Credit Report" related reports »