China Mobile Payment Industry Report (2016-2021), Typical Cases of Business Model and Analysis of Innovation Strategy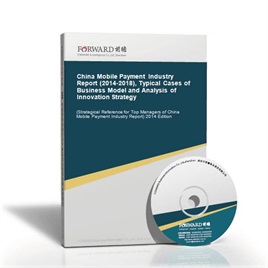 Last Update:2016-10-02
Form of services:Book + (pdf or doc file) + CD
Send method:EMS 2-3 days for delivery
English Service:+86 0755 33220413
Chinese Service:+86 800-8306390 800-8306395
E-mail:service.en@qianzhan.com
Report price:$7900 Print: $7800 CD: $7800
Special statement:
Recently we find there are some sites steal report contents from Qianzhan.com who put those contents on their sites for sale by making a little changes about the contents or remaining the same which deceives buyers(e.g. unable to get full or correct reports, or main body differs from contents that announced on sites).Therefore, we recommend paying a visit to Qianzhan personally or by your friends, and make payment after confirmation. Special statement: Qianzhan is the only and right holder of all the research reports, and has never used a third party to sell any reports, please be aware of the trademark " " when purchasing. Qianzhan is the largest and strongest consultancy, who owns the greatest number of researchers. Here followed "
Nine standards of companies' identificatios
"。
This table of content is original, without written permission of Qianzhan, any unit or individual shall not use, copy, or transfer the reports.
Preface
Table of Content
On December 14th, 2012, the central bank officially announced mobile payment technology standards. The mobile payment industry will adopt 13.56MHz program and 2.45GHz program will be used in a closed environment. On October 14th, 2013, mobile payment standards were released in Beijing. Mobile payment standards expected to be implemented on May 1, 2014 cover basic technologies of mobile payment RF interface, cards, devices, applications and security management, test methods. This will ensure interoperability and interoperability of mobile payment products. After 13.56M was determined the national standard for mobile payment, in June 2013, China UnionPay and China Mobile together formally launched a mobile payment platform. In 2013, China Mobile planned to sell 10 million NFC mobile phones and develop 3,000,000 users of mobile wallet. Qianzhan predicts that in 2014 China Mobile will significantly increase its marketing efforts and promote the NFC phones to sell close to 100 million units.
In August 12, 2013, China Telecom announced to start its centralized procurement project of Tianyi UIM cards in 2013. The procurement is divided into four standard packages, a total of 120 million, among which, 108 million of Tianyi 2FF UIM cards (including 15 million of cloud cards); 8000000 Tianyi 3FF UIM cards; 4000000 Tianyi 4FF UIM cards; 500000 Tianyi 3GNFC-SWP cards. China Telecom carried out first time NFC-SWP card tendering. Its implementation progress in the field of mobile payments will undoubtedly exceed market expectations. Operators are intensifying competition in the field of mobile payments and the progress of mobile payment market is expected to continue beyond market expectations. Current operators and banks' active actions in the field of mobile payments have expressed that both parties have come to a consensus of interest, which will jointly promote the development of mobile payment industry. With the upgrading of penetration of NFC phones and improvement of payment environment, bidding scale of following NFC-SWP cards will undoubtedly continue to expand.
After years of exploration and stalemate, the opportunity for Chinese large-scale promotion of is mobile payment services is ready, specifically: 1) in recent years, the rapid development of China's mobile Internet economy has basically developed mobile consumer habits. Users of mobile phones have strong demand based on near field payment; 2) the war of technical standards finished with China mobile compromise, so as to promote terminal and improve the acceptance environment; 3) operators and financial institutions have gradually abandoned their camps of separately leading mobile payment industrial chain and instead play their advantages on the user and the business expansion by cooperation and form a more clear benefit- sharing scheme.
Mobile payment tied closely with phones not only has the function of small wallet in the near field payment, but also is able to have the function of remote payment by binding bank cards. Its customer's viscous strong, re-use rate. Mobile payment platform providers once master mobile payment portals and will open the space by providing a variety of value-added services and building business models. This report focuses on research of business models of mobile payment industry, summarizes the various stages of the development of the mobile payment industry, reviews of typical cases of existing business models and discusses innovation of business models of mobile payment operators.
Special Note: This report is the industry's first specialized report on business models of mobile payment industry.
Qianzhan sincerely wishes every ambitious enterprise can develop high-quality business decisions so as to effectively circumvent the industry risks and continue success!
Qianzhan Industry Research Institute
Mobile Payment Industry Business Model Research Group
China Mobile Payment Industry Report" related reports »