China Numerical Control System Industry Report 2016-2021, Development Prospect and Investment Forecast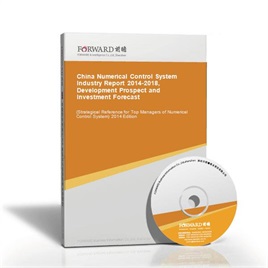 Last Update:2016-09-13
Form of services:Book + (pdf or doc file) + CD
Send method:EMS 2-3 days for delivery
English Service:+86 0755 33220413
Chinese Service:+86 800-8306390 800-8306395
E-mail:service.en@qianzhan.com
Report price:$7900 Print: $7800 CD: $7800
Special statement:
Recently we find there are some sites steal report contents from Qianzhan.com who put those contents on their sites for sale by making a little changes about the contents or remaining the same which deceives buyers(e.g. unable to get full or correct reports, or main body differs from contents that announced on sites).Therefore, we recommend paying a visit to Qianzhan personally or by your friends, and make payment after confirmation. Special statement: Qianzhan is the only and right holder of all the research reports, and has never used a third party to sell any reports, please be aware of the trademark " " when purchasing. Qianzhan is the largest and strongest consultancy, who owns the greatest number of researchers. Here followed "
Nine standards of companies' identificatios
"。
This table of content is original, without written permission of Qianzhan, any unit or individual shall not use, copy, or transfer the reports.
Preface
Table of Content
CNC machine tool and CNC technology is a base for modernization of manufacturing industry and an important manifestation of the country's comprehensive national strength. In the course of our country changing from a big manufacturing country to a manufacturing power, developing CNC technology has an important significance.
CNC system is the core of key components of CNC machine tools and equipment. CNC system can be used for the production of CNC machine tools and can also make upgrade and renovation of the original CNC machine tools or non-CNC machine tools. Their specific application markets are in mechanical and electrical industries, including machinery, electronics, automotive, aviation, aerospace, light industry, textile, metallurgy, coal, telecommunications, and ships. In addition, aerospace, shipbuilding, large-scale power plant equipment, probation and metallurgical equipment, automobile manufacturing are downstream industries of machine tool industry in our country and are inseparable from high-end machines. Therefore, this also provides broad space for the development of numerical control system.
In the 21st century, China's sustained and stable development of national economy also led to the development of numerical control technology. In recent years, on the basis of introduction and assimilation of foreign NC technology, China has produced independent copyright CNC system and CNC machine tools. In terms of products, domestic economic NC system conforms to the actual level of use by the majority of Chinese users and technical support requirements of CNC machine tool manufacturers, coupled with the price advantage; they are recognized by the majority of users and have the advantage of scale. Domestic CNC system enterprises have occupied more than 95% of the CNC system market share in China's economic CNC system. In the field of medium-sized numerical control system, functional domestic CNC system has reached the level of similar foreign products. Prices and services have a large advantage. Market share continues to increase.
At present, China is in the middle of industrialization, i.e. mainly from solving the shortage to gradually shift to build a strong economic power. High-growth industries such as coal, automobile, steel, real estate , building materials, machinery, electronics , chemicals and other heavy industries show great momentum, which constitute a huge market demand for machine tools especially CNC machine tools. Over the next few years, China's CNC machine tool market demand will continue to grow at a rate of 10-15% annually. The market has great potential. With China's manufacturing industry to upgrade, existing Chinese general machine tools also need upgrading. Therefore, the CNC industry market is vast with great potential for further development.
During the "twelfth-five year" period, with the rapid development of the national economy, automobile, shipbuilding, engineering machinery, aerospace and other industries will provide huge demand. Product structure has gradually transformed to high-grade. The proportion of high-end CNC system will rise to about 10% while the proportion of mid-range CNC system will rise to around 50%. According to the requirements of one of major projects under the National Science and Technology "High-end CNC machine tools and basic manufacturing equipment ", in 2020 , market share of domestic high-grade CNC machine tools with numerical control system will reach more than 60% ; market share for high-end CNC system will reach 1% to 20 %. Current high-end market is mainly occupied by Siemens, Fanuc and other foreign brands. Domestic high-end CNC system market has space for 12 million units of alternative, huge space for the future industry.
Development space of CNC system industry is huge and the market competition is becoming increasingly fierce. For CNC system enterprises, information is particularly necessary to grasp the industry. This report mainly analyzes the development of China's CNC system industry; operation and competition of CNC system; technical level of CNC system industry; China CNC system market; operation of leading enterprises of China's CNC system industry; downstream application demand of China's CNC system industry and prospects; development trends of China's CNC system industry and investment. Meanwhile, based on first-hand market data of the whole industry in the past five years, it can allow you to fully and accurately grasp market trends and development trends of the whole industry.
The greatest feature of this report is forward-looking and timeliness. It does thorough and objective analysis of the overall market capacity, market scale, competitive landscape and characteristics of market demand of China's current numerical control system industry. Based on the development path and years of practical experience, it makes careful analysis and prediction of the future development trends of numerical control system industry. It is a rare quality for numerical control system manufacturing enterprises, research institutes, marketing companies and investment companies to accurately understand the latest developments of the industry, grasp market opportunities, make the right business decisions and clear corporate directions.
This report will help numerical control system manufacturing enterprises, research institutes, marketing companies and investment companies accurately understand the latest developments of the industry and early detect blank points of industry market, opportunities, growth and profitability points ...... it will help prospectively grasp unmet market needs and trends of the industry and become a good advantage for sustainable development, effectively avoid the investment risks from the industry, more efficiently consolidate or expand appropriate strategic target markets, and firmly grasp the initiative authority in market competition.
Numerical Control System" related reports »