China Juice Industry Report (2014-2018), Investment Risk and Demand of Production and Sales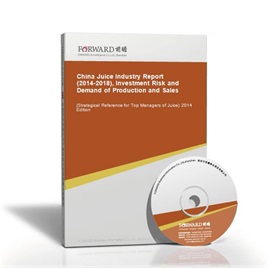 Last Update:2015-10-25
Form of services:Book + (pdf or doc file) + CD
Send method:EMS 2-3 days for delivery
English Service:+86 0755 33220413
Chinese Service:+86 800-8306390 800-8306395
E-mail:service.en@qianzhan.com
Report price:$7900 Print: $7800 CD: $7800
Special statement:
Recently we find there are some sites steal report contents from Qianzhan.com who put those contents on their sites for sale by making a little changes about the contents or remaining the same which deceives buyers(e.g. unable to get full or correct reports, or main body differs from contents that announced on sites).Therefore, we recommend paying a visit to Qianzhan personally or by your friends, and make payment after confirmation. Special statement: Qianzhan is the only and right holder of all the research reports, and has never used a third party to sell any reports, please be aware of the trademark " " when purchasing. Qianzhan is the largest and strongest consultancy, who owns the greatest number of researchers. Here followed "
Nine standards of companies' identificatios
"。
This table of content is original, without written permission of Qianzhan, any unit or individual shall not use, copy, or transfer the reports.
Preface
Table of Content
There has been considerable controversy about adverse effects of carbonated drinks for the human body. In 2012, beverage giants Coca-Cola and Pepsi were involved in the "carcinogenic scandal". The cry for the health hazards of carbonated beverages is rampant. In contrast, some drinks chanting health and nutrition are increasingly favored by consumers, such as fresh fruit juice, sports drinks and tea drinks. They are gradually replacing carbonated drinks and become the preferred beverage for residents.
According to data from the National Bureau of Statistics, in 2008-2012 Chinese fruit juice industry sales kept a growth trend year by year. In 2011, sales revenue of the industry reached 93.078 billion yuan, an increase of 31.47%; in 2012, sales revenue exceeded 100 billion yuan, an increase of more than 20%; sales revenue of the industry in 2013 is expected to exceed 150 billion yuan.
China's large population has become an important support for continued growth of the fruit juice industry. In recent years, complex fruit juice beverages and fruit and vegetable juice drinks have developed rapidly. Tropical fruit juices such as pineapple juice or orange juice and vegetable juices of different composite juice drinks are common on the market.
Meanwhile, functional juice drinks such as flower drinks, iodine-rich fruit drinks, high-fiber drinks and other health drinks of new materials development develop well as a new concept of nutrition. Fruit juice drinks, combining fruit and vegetable juices and milk, show the huge consumer demand in the juice beverage and dairy drinks markets in China.
During the "Twelfth Five-Year" period, the state continues to set improvement of the livelihood of the people and meeting the people's material and cultural needs as the purpose and focuses on promoting the upgrading of consumption structure. With the expansion of consumption at the same time, the relationship between the expansion of consumption scale and optimizing the structure of consumption needs to be well dealt with to achieve sound and rapid development of consumption. Consumption patterns of civilization, energy-saving, green, low-carbon shall be formed and adapt to the conditions of the country to achieve sustainable development. Based on China's juice market development in 2003-2012, sales growth rate of the industry for 2013-2015 is expected to remain at around 20% and sales revenue of the industry is expected to reach nearly 200 billion yuan in 2015.
This report is based on long-term market tracking information by Forward Intelligence on juice industry. This report mainly analyzes production and development of juice industry; current market environment and the competitiveness of enterprises of juice industry; characteristics of market demand of juice industry; competitive landscape and competitive trends of juice industry; status quo of consumption and marketing strategy of juice market; operation of leading companies of juice industry; development trends and forecast of juice industry, special research of juice market. Meanwhile, based on first-hand market data of the whole industry in the past five years, it can allow you to fully and accurately grasp market trends and development trends of the whole industry.
The greatest feature of this report is forward-looking and timeliness. It does thorough and objective analysis of the overall market capacity, market scale, competitive landscape and characteristics of market demand of China's current juice industry. Based on the development path and years of practical experience, it makes careful analysis and prediction of the future development trends of juice industry.
It is a rare quality for juice manufacturing enterprises, research institutes, marketing companies and investment companies to accurately understand the latest developments of the industry, grasp market opportunities, make the right business decisions and clear corporate directions.
Juice" related reports »