China Vehicle Detection Industry Report 2014-2018, In-depth Research and Investment Strategic Planning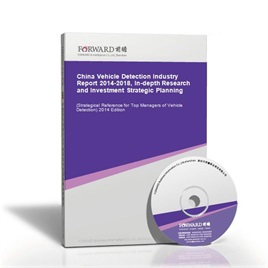 Last Update:2015-10-13
Form of services:Book + (pdf or doc file) + CD
Send method:EMS 2-3 days for delivery
English Service:+86 0755 33220413
Chinese Service:+86 800-8306390 800-8306395
E-mail:service.en@qianzhan.com
Report price:$7900 Print: $7800 CD: $7800
Special statement:
Recently we find there are some sites steal report contents from Qianzhan.com who put those contents on their sites for sale by making a little changes about the contents or remaining the same which deceives buyers(e.g. unable to get full or correct reports, or main body differs from contents that announced on sites).Therefore, we recommend paying a visit to Qianzhan personally or by your friends, and make payment after confirmation. Special statement: Qianzhan is the only and right holder of all the research reports, and has never used a third party to sell any reports, please be aware of the trademark " " when purchasing. Qianzhan is the largest and strongest consultancy, who owns the greatest number of researchers. Here followed "
Nine standards of companies' identificatios
"。
This table of content is original, without written permission of Qianzhan, any unit or individual shall not use, copy, or transfer the reports.
Preface
Table of Content
Vehicle detection is to determine the technical condition or operational capability of the car, which is derived from automobile maintenance technology and develops with the development of automobile maintenance. During the process of use, along with the extension of time (or increase of the mileage), its parts will experience gradual abrasion, corrosion, deformation, aging, and oil deterioration, etc., resulting in larger gap between parts, causing loose movement, vibration, loud noise and gas leak, water leak and oil spills. It will result in degraded performance of automobile technology, which requires detection and maintenance operations on it. As of the end of 2011, China's civil vehicle ownerships reached 105.78 million. Only estimating 10% receiving vehicle detection, market scale of vehicle inspection reaches 10 million or more. We can see that China's vehicle detection industry has great development prospects and great investment opportunities. Not only that, the development of vehicle detection will drive the expansion of related equipment market and the advances of industry technology, so as to gradually form a tempting industrial chain.
From the perspective of policy, the Ministry of Transport issued "Management approaches of overrun detection station on highways ". The "twelfth-five year plan" of the automobile industry has clearly supported the development of vehicle detection. In addition, various regions also have introduced related policies to support the development of the industry. Guizhou Provincial Department of Environmental Protection issued " Twelfth-five year plan of motor vehicle environmental inspection agency in Guizhou ", which shows that by 2015, every county in Guizhou province will have motor vehicle environmental inspection agencies in every county; while recently released " Twelfth-five year plan of environmental protection in Chengdu also proposed to carry out periodic testing of vehicle noise in Chengdu and other measures. We believe that with the help of national policies and growing development of automobile industry, vehicle detection industry will face a new opportunity for development.
This report mainly analyzes development environment of China's vehicle detection industry; development of related industries of vehicle detection industry; construction and operation of vehicle detection stations; foreign vehicle detection mode and experience and market forecasting. Meanwhile, based on first-hand market data of the whole industry in the past five years, it can allow you to fully and accurately grasp market trends and development trends of the whole industry.
The greatest feature of this report is forward-looking and timeliness. Based on the development path and years of practical experience, it makes careful analysis and prediction of the future development trends of vehicle detection industry. Meanwhile, based on first-hand market data of the whole industry in the past five years, it can allow you to fully and accurately grasp market trends and development trends of the whole industry. It is a rare quality for vehicle detection operation enterprises, vehicle detection equipment enterprises and investment companies to accurately understand the latest developments of the industry, grasp market opportunities, make the right business decisions and clear corporate directions.
Vehicle Detection" related reports »