China Elevator Industry Production & Marketing Demand and Transformation & Upgrading Report, 2013-2017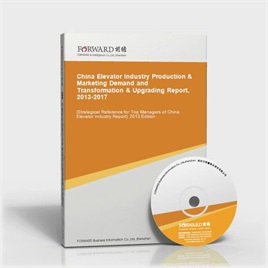 Last Update:2014-04-20
Form of services:Book + (pdf or doc file) + CD
Send method:EMS 2-3 days for delivery
English Service:+86 0755 33220413
Chinese Service:+86 800-8306390 800-8306395
E-mail:service.en@qianzhan.com
Report price:$7900 Print: $7800 CD: $7800
Special statement:
Recently we find there are some sites steal report contents from Qianzhan.com who put those contents on their sites for sale by making a little changes about the contents or remaining the same which deceives buyers(e.g. unable to get full or correct reports, or main body differs from contents that announced on sites).Therefore, we recommend paying a visit to Qianzhan personally or by your friends, and make payment after confirmation. Special statement: Qianzhan is the only and right holder of all the research reports, and has never used a third party to sell any reports, please be aware of the trademark " " when purchasing. Qianzhan is the largest and strongest consultancy, who owns the greatest number of researchers. Here followed "
Nine standards of companies' identificatios
"。
This table of content is original, without written permission of Qianzhan, any unit or individual shall not use, copy, or transfer the reports.
Preface
Table of Content
With the fast development of economic and further development of urbanization process, China elevator industry is experiencing a period of speedy development. According to the statistics from China Elevator and Escalator Association, China elevator production has increased from 10,300 in 1990 to 365,000 in 2010 which with a compound growth rate of 19.5%; domestic elevator demanding amount has increased from 37,200 in 2000 to 329,700 in 2010; China elevator inventory has exceed 1,600,000 by the end of 2010. China has become a real superpower of elevator production & marketing and inventory.
Elevator industry is one of the early entry industries for foreign investments due to its huge market space. Presently major global famous elevator corporations have established sole proprietorship or joint venture in China. Entry of these foreign brands brings international technical standards, management ideas and operation model for China elevator industry and promotes the internationalization of made-in-China elevators. From the view of industry distribution, congregate effect of domestic elevator industry is significant—manufacturing base of complete elevator and accessories mainly lay on Yangtze River Delta and Pearl River Delta. In spite of high-end elevator accessories, nearly all the elevator accessories are made in China now.
By the end of 2010 there are about 560 elevator certificated corporations. Together with the establishment of sole proprietorship or joint venture in China by major global famous elevator corporations, China becomes the most competitive elevator market in the world. There are more than 60 whole production corporations which are eliminated or forced transformation by the end of 2010. View from the market share rate, foreign brands still takes a leading position in China elevator market at present. According to the statistics from China Elevator and Escalator Association, market share of 12 foreign brands is about 65%, among which the front three brands--Otis, Mitsubishi and Hitachi--take up 50%. Meanwhile domestic brands also develop quickly. Market share grows from 25% in 2008 to 35% in the first half of 2011, among which ten national brands--Canny Elevator Co., Ltd. and Guangzhou Guangri Elevator Industry Co., Ltd. are representatives of them--take up 50%.
View from technology, advantages for foreign brands only existing in the aspects of high-speed elevator which is more than 4m/s, high transit escalators which lifting height is more than 20 meters and key parts of high-end products. In the other fields of elevator and escalator products, quality and technology are almost same for famous domestic brands and foreign brands. According to the statistics from China Elevator and Escalator Association, medium-low speed elevator is still the major demand of vertical elevator in future China while high speed elevator (running speed is above 3m/s, running height is more than 120m) takes up less than 3%. Therefore, well-known domestic brands will further strengthen their competitiveness by improving the performance cost ratio and after-sales service.
View from the product demanding fields, total demand of Mid-southern and Eastern China which economic is relatively developed is 62%. With the development policy implementation and promotion for central and western China in the future, demand of northwest and southwest regions will increase especially for the second or third tier cities which are comparing with first tier city. However, advantages created by increasing demand of second or third tier cities is less effective for foreign brands as the foreign brands have gotten used to brand advantages in first tier city while the domestic brands contain flexible system and significant performance cost ratio. Moreover, as the elevator safety receives increasing attention, the corporations which are relying on price competition and the lack of core competitiveness or with a weak overall strength will be eliminated. Thus the competitive corporations which with production, sales, service and R&D will be the mainstream in the market.
Major driving forces for the growth of elevator demand are fast development of economic and progress of urbanization. And the statistical analysis of history quantitative data said that there is a high correlation between real estate investment and elevator demand. Under the influence of national policy control the growth of commercial real estate investment will slow down. Still, the 36 million affordable housing constructions during the "twelfth five years" together with numerous infrastructure constructions, energy saving replacement and exports will increase the elevator production in China. According to the forecast from Forward, China elevator production is hopefully to surpass 750,000/year in 2015, which is quadruple and with a growth rate of about 20%.
For the enormous market space in China, international powerful elevator brands enter Chinese market by establishing sole proprietorship or joint venture and take a large sum of market share. In order to take advantages in the competition, elevator manufacturers pay more and more attention to the industry market research, especially the in-depth research of product consumers.
With Forward's the long-term tracking and collecting market data of elevator industry, we roundly and accurately analyze the structure system for you from the view of mastering the whole industry. This report mainly analyzes the following aspects: environment and industrial chain of elevator industry; safety condition of elevator industry; development status and supply-and-demand balance of elevator industry; market condition of elevator products; domestic competitive landscape of elevator industry; bidding market of elevator industry; maintenance service market of elevator industry; leading corporation operation condition of elevator industry; demand condition of elevator industry; investment opportunities and risks of elevator industry. Meanwhile, together with the comprehensive and detailed market data which is accumulated for years, Forward helps you to grasp the market and development trends of elevator industry, so as to win advantages from competition!
Major characteristics of this report are forward-looking and timeliness. Base on the forward-looking analysis of massive research data, we further analyze the development scale and competitive landscape of elevator industry. Along with the industry development route and our practical experience, we analyze and predict the future development prospect of elevator industry. This report with a high value for enterprises like elevator producing corporations, R&D institutions, sales corporations and investment corporations to accurately know the latest industry development trend, obtain market opportunities and determine an insightful operation strategy and development direction. In the meantime, it is the first heavy weight report to analyze the up/down-stream industry chain and industry leading corporations of elevator industry in an overall and systemic way.
Here, we'd like to express our sincere gratitude to National Bureau of Statistics of China, International Information Institute, General Administration of Customs, National Institute of the Ministry of Commerce, National Tsing Hua University Library, Institute of Market Economy of the State Council Development Research Center, and Beijing Qinghua Forward Market Research Center, etc. Thank you so much!
Notice: all the market data, especially the corporation list data in this report is only for business reference. Please don't take the data for enterprise publicity. Thank you! Or Forward shall not take any responsibility for any consequences!
Qianzhan Business Information Co., Ltd. Industry Research Center
Research Team of Elevator Industry
China Elevator Industry Report" related reports »