China Outlets Exploration and Operation Pattern In-depth Research and Investment Strategy Planning Report , 2013-2017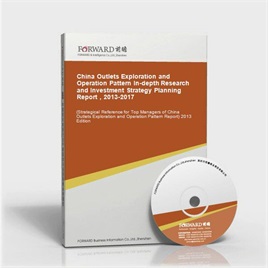 Last Update:2014-04-21
Form of services:Book + (pdf or doc file) + CD
Send method:EMS 2-3 days for delivery
English Service:+86 0755 33220413
Chinese Service:+86 800-8306390 800-8306395
E-mail:service.en@qianzhan.com
Report price:$7900 Print: $7800 CD: $7800
Special statement:
Recently we find there are some sites steal report contents from Qianzhan.com who put those contents on their sites for sale by making a little changes about the contents or remaining the same which deceives buyers(e.g. unable to get full or correct reports, or main body differs from contents that announced on sites).Therefore, we recommend paying a visit to Qianzhan personally or by your friends, and make payment after confirmation. Special statement: Qianzhan is the only and right holder of all the research reports, and has never used a third party to sell any reports, please be aware of the trademark " " when purchasing. Qianzhan is the largest and strongest consultancy, who owns the greatest number of researchers. Here followed "
Nine standards of companies' identificatios
"。
This table of content is original, without written permission of Qianzhan, any unit or individual shall not use, copy, or transfer the reports.
Preface
Table of Content
No Comprehensive Forecast Decision, no return.
(Strategical Reference for Top Managers of China Outlets Exploration and Operation Pattern )
Outlets refer to a shopping center formed by the shops which sell brand products of out-of-season, undercarriage and short-in-size. Thus it can be also named "brands direct marketing shopping center". According to the related materials, we can learn that it origins in America, with a history of more than 100 years. In the early phase of outlets, in order to deal with the commodity stocks issue, factories give spare or bad condition goods to their employees. Or they sell products right in the stock. And it is the primary outlets model with a single store.
Domestic outlets market flourished in 2006. Yansha, the first outlets in China, established in 2002. Since 2006, outlets spring up like mushrooms. According to incomplete statistics from DTZ, there are about 200 shopping centers which named after outlets or based on the concept of outlets. However, there are less than 10 shopping centers which reach the standards of international outlets. Therefore, seldom of them can be operated smoothly and win praise and recognition from customers. It is predicted that China will take place of Japan to become the biggest luxury market in 2015 and will reach 27 billion USD. With the fast development of economy, changes of consumption habit, strengthen of brand consciousness and enlarge of brand consumers, it can be seen that China roughly possesses the factors to develop outlets. But there are no outlets which meet all the demands of real outlets. In this aspect, it is a great time to develop outlets in China.
Knowing the market opportunities of outlets, the real estate developer are establishing outlets models in many cities in China. The Outlets (China) Co., Ltd., which is established by Beijing Capital Land and China Infrastructure Group Limited, has invested about 50 billion Yuan in many projects in Western China, Southern China, Central China, Eastern China and Northeastern China during the past 10 years. What's more, it plans to invest another 60 billion Yuan in the next 5 years so as to make 15 "ballet rain projects" in major cities and provincial capitals; and another 80 billion Yuan will be invested in the next 10 years to make 30 outlets-style downtowns or vocational shopping villages in most provincial capitals, major cities and tourism attractions. As the major operators of outlets projects, most of the real estate developer pay attention to sales but not service, to investment attracting but not management. Meanwhile, lack of brand appeal cannot assure the commercial kernel of outlets "brands". Therefore, it is a good choice for real estate developer to cooperate with leading local merchandise retailing corporations to get a resource complementarity when operating an outlets project
After the billion ballet rain outlets plan launched by Beijing Capital Land, the Billion Outlets, which is belong to the retail giant Friendship, also taking its action. At the basic of having Shanghai Pingpu and Hangzhou Xiasha Outlets, the Billion Outlets decides to annually increase 1 to 2 outlets branches during the "twelfth five years plan", so up to 2014, there will be 7-10 outlets in China.
The foreign investors take their steps into China market too. In 2011, the "Fiorentina town-Beijing Tianjin Brand Outlets", which is established and invested by Italian real estate RDM and American Waitex with 1,000 million Yuan, starts its business. The RDM will continue to invest 5,000 million Yuan to construct 3 to 4 "Fiorentina town" brand outlets in the next 4 years. Such enlarge plans will focus on the first-line cities like Shanghai, Guangzhou and Chongqing.
With Forward's the long-term tracking and collecting market data of outlets investment and development industry, we roundly and accurately analyze the structure system for you from the view of mastering the whole industry. This report mainly focuses on analyzing the following aspects: outlets' current market scale, profitability, competitive landscape, industry supply and demand condition, industry major problems and development bottleneck; outlets external development environment; development experience of international outlets market; domestic outlets' investment and financing status, investment feasibility, investment planning, operation model, marketing model/online outlets model and typical project cases; investment and development outlets opportunities in domestic major economic areas; outlets major investments and operation benchmark corporations; outlets investment and development trend, localization strategy and industry prospect forecast. Meanwhile, together with the comprehensive and detailed market data which is accumulated for years, Forward helps you to grasp the market and development trends of outlets industry, so as to win advantages from competition!
Major characteristics of this report are forward-looking and timeliness. Base on the forward-looking analysis of massive research data, we further analyze the development scale and competitive landscape of outlets industry. Along with the industry development route and our practical experience, we analyze and predict the future development prospect of outlets industry. This report with a high value for both industry manufacturers and investment corporations to accurately know the latest industry development trend, obtain market opportunities and determine an insightful operation strategy and development direction.
Here, we'd like to express our sincere gratitude to National Bureau of Statistics of China, International Information Institute, National Institute of the Ministry of Commerce, National Tsing Hua University Library, Institute of Market Economy of the State Council Development Research Center, and Beijing Qinghua Forward Market Research Center, etc. Thank you so much!
Notice: all the market data, especially the corporation list data in this report is only for business reference. Please don't take the data for enterprise publicity. Thank you! Or Forward shall not take any responsibility for any consequences!
Qianzhan Business Information Co., Ltd. Industry Research Center
Research Team of Outlets Investment and Development Industry
China Outlets Exploration and Operation Pattern Report" related reports »