China OTC Industry Indepth Research and Investment Strategic Planning Report, 2013-2017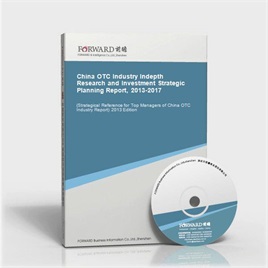 Last Update:2014-04-21
Form of services:Book + (pdf or doc file) + CD
Send method:EMS 2-3 days for delivery
English Service:+86 0755 33220413
Chinese Service:+86 800-8306390 800-8306395
E-mail:service.en@qianzhan.com
Report price:$7900 Print: $7800 CD: $7800
Special statement:
Recently we find there are some sites steal report contents from Qianzhan.com who put those contents on their sites for sale by making a little changes about the contents or remaining the same which deceives buyers(e.g. unable to get full or correct reports, or main body differs from contents that announced on sites).Therefore, we recommend paying a visit to Qianzhan personally or by your friends, and make payment after confirmation. Special statement: Qianzhan is the only and right holder of all the research reports, and has never used a third party to sell any reports, please be aware of the trademark " " when purchasing. Qianzhan is the largest and strongest consultancy, who owns the greatest number of researchers. Here followed "
Nine standards of companies' identificatios
"。
This table of content is original, without written permission of Qianzhan, any unit or individual shall not use, copy, or transfer the reports.
Preface
Table of Content
OTC drug, namely over the counter drug, refers to the drugs that are examined and approved by State Food and Drug Administration. For public convenience, people can buy the drugs from the pharmacy and eat without doctor's prescription and other medical professionals' advices. According to the public's judgement, and following the description of the drugs, people can take the medicines by themselves. Those drugs are usually used in frequently occurring diseases, such as influenza, cough, dyspepsia, headache, and fever. Since the foundation of New China, especially the reform and opening up, as well as the improvement of people's living standard, Chinese self medication ability strengthen greatly, and the demand for drug keeps growing, therefore, with the increase of self medication consumption, China's OTC drugs market continues to enlarge. In 2000, the market size of China's OTC was only 25.3 billion Yuan, while in 2011, it reached 175 billion Yuan, approximately 6 times growth over 10 years. Furthermore, it has surpassed Japan and becomes the world's second largest OTC market. Meanwhile, the capability of China's OTC manufacturing enterprises continues to be enhanced.
At present, the overall competitive landscape of domestic OTC industry is extremely decentralized. Foreign-owned drug enterprises account for about 70% of the market share, and domestic enterprises take up around 30% of the market share. Although there are some well-known domestics large-scale enterprises in China, such as Xiuzheng Pharmaceutical Group, Yunnan Baiyao, Harbin Pharmaceutical Group, JZJT, and Dongeejiao, there are a large number of medium and small-scale of enterprises, with weak capital and technology. Since plenty of domestic enterprises and foreign enter China's OTC market, the competition is fierce and chaos. And the major characteristic is "Famous brands develop fast but small brands struggle".
From the product market, since the implementation of drugs classification management system, the State has successively defined about 4,600 chemical medicines and Chinese patent medicines as OTC products, and there are ten thousand kinds of dosage OTC products in the market. Therefore, China has become a country with rich OTC categories. However, many OTC drugs are lack of a leading brand. Despite the domestic medicine enterprises occupy 70% of the market share, the brand concentration and loyalty are low, and the market concentration is not high enough, which leave many development opportunities to OTC manufacturing enterprises.
From the industry policies, the intensive introduction of frequent medical policies will be beneficial for continuing price reduction of medical insurance medicines and against commercial bribery, but they also bring new challenges to current hospital operation and marketing system. Although 80% of drug consumption concentrates in hospitals, analysts consider that the aged tendency of population and the income increase of consumer will directly promote the development of OTC market.
From the development prospect of OTC industry, with the improvement of people's living standard, more and more consumers face risks of being attacked by chronic diseases, such as obesity, heart cerebrovascular disease, and diabetes mellitus. In addition to the active treatment, many people choose to self medication. Furthermore, with the change of population structure, the increase of citizens and the aged tendency of population, the change of disease spectrum, the growth of chronic diseases and the increase of income level, China OTC industry develops very rapidly. Together with the development of China's economy, the development prospect of OTC industry will be brighter and brighter. First of all, the increase of overall morbidity rate pushes the development of OTC pharmacy. In particular, the increase of two-week prevalence rate and chronic disease morbidity rate promote the development of OTC market related those diseases. Secondly, the morbidity rate in urban areas is higher than that of rural areas, which will enlarge the OTC scale in cities. Finally, the quantity growth of the population over 65 years old and the increase of the old's morbidity rate will further enhance the OTC usage scale for the old. What's more, as people attach great importance to their own health condition, the change concept for prevention and health care as well as the increase of income, China OTC industry meet lots of development opportunities. It's predicted that China's OTC market size will break through 250 billion Yuan.
With Forward's long-term tracking and collecting market data of OTC market, we roundly and accurately analyze the industry structure system for you from the view of mastering the whole industry. This report mainly focuses on analyzing China OTC's market size, development speed and competitive trend, depending on macro-prosperity of current OTC market and relying on its production and marketing condition as well as the demand trend. The report pay more attention to analyze the development of China OTC industry; the competitive landscape of OTC market; the development situation of OTC in hot product markets; the marketing of OTC market; the leading corporations' operational condition in OTC industry; as well as the development trend and prospect forecast of OTC industry. Meanwhile, with comprehensive and specific first-hand market data, Forward helps you to grasp the market and development trends of OTC industry, so as to win advantages from competition!
The most distinctive characteristics of this report is forward-looking and timeliness. Through analyzing forward-looking characteristic of abundant first-hand market data, we deeply and objectively dissect China OTC's market capacity, market size, competitive landscape and characteristics of market demand. Furthermore, based on future development tracks and years' practice experience of OTC market, we conduct prudent analysis and forecast for OTC market's future development trend. This report helps OTC manufacturing enterprises, R&D institutions, investment enterprises and marketing enterprises to precisely grasp current latest developments of the industry. Afterwards, they can make wise operating decisions and define enterprises' development directions. Moreover, this report is the first and weighty report on analyzing the up and down stream industries of OTC market and analyzing its leading corporations in an all-round and systematical way.
Here, we would like to express our sincere gratitude to State Information Center, Bureau of Statistics of China, International Information Research Institute, Chinese Academy of International Trade and Economic Cooperation, Tsinghua University Library, Development Research Center of the State Council and Beijing Essence Forward Research Center, for their great support when we conduct this report!
Notice: All the market data, especially corporations' ranking data in the report, only for business reference. Please do not take the data for enterprise publicity. Thank you! Or Forward shall not take any responsibility for any consequences!
Qianzhan Business Information Co., Ltd. Industry Research Center
Research Team of OTC Industry
China OTC Industry Report" related reports »