China Medical Diagnosis, Monitoring and Treatment Equipment Industry Demand Forecast and Investment Opportunity Report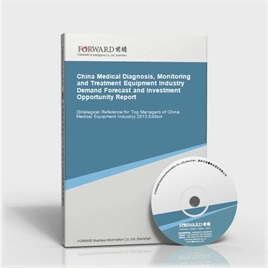 Last Update:2014-04-28
Form of services:Book + (pdf or doc file) + CD
Send method:EMS 2-3 days for delivery
English Service:+86 0755 33220413
Chinese Service:+86 800-8306390 800-8306395
E-mail:service.en@qianzhan.com
Report price:$7900 Print: $7800 CD: $7800
Special statement:
Recently we find there are some sites steal report contents from Qianzhan.com who put those contents on their sites for sale by making a little changes about the contents or remaining the same which deceives buyers(e.g. unable to get full or correct reports, or main body differs from contents that announced on sites).Therefore, we recommend paying a visit to Qianzhan personally or by your friends, and make payment after confirmation. Special statement: Qianzhan is the only and right holder of all the research reports, and has never used a third party to sell any reports, please be aware of the trademark " " when purchasing. Qianzhan is the largest and strongest consultancy, who owns the greatest number of researchers. Here followed "
Nine standards of companies' identificatios
"。
This table of content is original, without written permission of Qianzhan, any unit or individual shall not use, copy, or transfer the reports.
Preface
Table of Content
Recently, china medical diagnosis, monitoring and treatment equipment industry is developing rapidly. It has been the strongest sub-sector of medical equipment industry with best comprehensive operation capability. There are many high, sophisticated and sharp products in national medical, diagnosis, monitoring and treatment equipment enterprises, including magnetic resonance imaging (MRI) equipment, CT equipment, digital B ultrasonic equipment, low and moderate-energy linear accelerator (LINAC), OUR-XGD equipment, digital subtracted angiography (DSA), laser operating apparatus, fiber optic endoscope, etc. A Full-digital DR-Digital Radiography (equipment) with Chinese operating, which meets up the international technology standards has been researched and developed successfully and put into clinical use. Moreover, a batch of updated digital medical equipment and technologies have been researched and developed smoothly and gained national patent successfully. Besides, diagnosis methods are getting richer and richer, developing from the level of simple phantom inspection to molecular imaging inspection.
It's estimated that the production and marketing size of China's medical diagnosis, monitoring and treatment equipment has reached 40 billion Yuan, with a year-on-year increase of about 30%. Many indicators show that this industry is in rapid development stage.
Chart 1: 2008-2015 Marketing Revenue, Total Industrial Output Value and Forecast of China's Medical, Monitoring and Treatment Equipment Industry (Hundred Million Yuan, %) At Present, multinationals occupy China's largely domestic medical diagnosis, monitoring, and treatment market. Specifically, they occupy 80% market share of CT market, 90% market share of MRI market, 90% market share of ultrasound machine market, 85% market share of inspection equipment market, 90% market share Electrocardiograph (ECG) market, 80% market share of medium and high grades of monitoring equipment market and 90% market share of medium and high grades of physiologic recorder. What's more, China's domestic medical diagnosis, monitoring and treatment equipments' level of technical performance and quality standard significantly lagged behind the international level, so China's product is in a inferior position in the competition. Nowadays, China's enterprises occupy 80% market share of low and medium grades of medical equipments. Nevertheless, foreign-owned enterprises are beginning to research and develop equipments for China's low and medium market, which will definitely make the competition fiercer and fiercer.
With the advancement of China's software development capability and delicate electronic equipment manufacturing capability, the core competitiveness of China's enterprises has been gradually enhanced, and the gap between foreign medical equipment manufacturer and them is narrowing day by day. For example, conventional medical equipments are almost entirely produced by Chinese-owned enterprises; moreover, some groups of equipments are exported throughout the world.
There are a number of excellent enterprises, with great development potential in China's clinical monitoring equipment, ultrasonic imaging equipment, electrocardiograph equipment fields, such as Shenzhen Mindray Company, Shenyang Neusoft Company and Edan Instruments, Inc., etc.
With the further implementation of new healthcare reform, it will increasingly release the demand for healthcare. So it will further flourish the medical equipment industry. Particularly, the demand for X-ray machines, monitoring instruments, ultrasonic wave diagnostic instruments and Biochemical Analyzers, etc. will bring new development opportunities to China medical diagnosis, monitoring and treatment equipment industry.
With Forward's the long-term tracking and collecting market data of China medical diagnosis, monitoring and treatment equipment industry, we roundly and accurately analyze the structure system for you from the view of mastering the whole industry. From the macroeconomic situation, and relying on production/marketing situation and industry demand trend, this report analyzes the current market capacity, market size, growth rate and competitive situation in China medical diagnosis, monitoring and treatment equipment industry.
This report mainly focuses on industry development status of China medical diagnosis, monitoring and treatment equipment; its current market environment and corporations' competitiveness; its characteristics of market demand; its competitive landscape and trend; its import/export markets; its development status of major market segmentations; its leading corporations' operating situation; its development trend and prospect forecast. Meanwhile, with comprehensive and specific first-hand market data over the past 5 years. Forward helps you to grasp the market and development trends of medical diagnosis, monitoring and treatment equipment industry, so as to win advantages from competition!
The most distinctive characteristics of this report is forward-looking and timeliness. Through analyzing forward-looking characteristic of abundant first-hand market data, we deeply and objectively dissect the overall market capacity, market size, competitive landscape and characteristics of market demand. Moreover, according to the development trace and numerous years of practical experience in integrated ceiling industry, we make prudent analysis and forecasts on the future development trend of this industry, so this report is greatly helpful for integrated ceiling corporations, research institutes, sales corporations, investment corporations to precisely learn about the latest trend of the industry, to grasp market advantages, to make wise business decision and to define their development directions. Moreover, it's the first weighty report to roundly and systematically analyze up/down stream industries and key corporations in the industry.
Here, we would like to express our sincere gratitude to State Information Center, Bureau of Statistics of China, China Customs, International Information Research Institute, Chinese Academy of International Trade and Economic Cooperation, Tsinghua University Library, Development Research Center of the State Council and Beijing Essence Forward Research Center, for their great support when we conduct this report!
Notice: All the market data, especially corporations' ranking data in the report, only for business reference. Please do not take the data for enterprise publicity. Thank you! Or Forward shall not take any responsibility for any consequences!
Qianzhan Business Information Co., Ltd. Industry Research Center
Research Team of Medical Diagnosis, Monitoring and Treatment Equipment Industry
Data Source: Bureau of Statistics of China, Forward and Intelligence Co., Ltd Industry Research Center
China Medical Equipment Industry" related reports »