China Theme Hotel Industry Market Prospects and Investment Strategic Planning Report, 2013-2017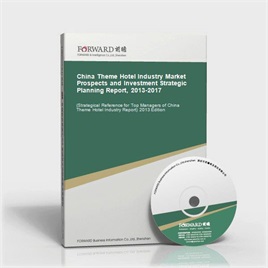 Last Update:2014-05-01
Form of services:Book + (pdf or doc file) + CD
Send method:EMS 2-3 days for delivery
English Service:+86 0755 33220413
Chinese Service:+86 800-8306390 800-8306395
E-mail:service.en@qianzhan.com
Report price:$7900 Print: $7800 CD: $7800
Special statement:
Recently we find there are some sites steal report contents from Qianzhan.com who put those contents on their sites for sale by making a little changes about the contents or remaining the same which deceives buyers(e.g. unable to get full or correct reports, or main body differs from contents that announced on sites).Therefore, we recommend paying a visit to Qianzhan personally or by your friends, and make payment after confirmation. Special statement: Qianzhan is the only and right holder of all the research reports, and has never used a third party to sell any reports, please be aware of the trademark " " when purchasing. Qianzhan is the largest and strongest consultancy, who owns the greatest number of researchers. Here followed "
Nine standards of companies' identificatios
"。
This table of content is original, without written permission of Qianzhan, any unit or individual shall not use, copy, or transfer the reports.
Preface
Table of Content
With the prosperous development of China tourism, the competition in hotel industry becomes increasing fierce and the modes of traditional hotel can no longer meet the needs of consumers. In such circumstance of facing challenges and opportunities, the hotel industry not only strives for developing, but also creates a new service mode. Since then, the theme hotel comes into being. From "Chime Long Hotel" in Guangzhou to "Jiang Chuang Hotel" in Chengdu and from ecological paradises to reappearing history, with their strong culture atmosphere, distinctive architecture style, and fresh decoration arts, theme hotels deeply attract every traveler, and show their extraordinary charm.
According to incomplete statistics, there are more than 400 theme hotels in China and they generally develop well. They mostly concentrate in Sichuan province, where there are 49 theme hotels; Shandong has 39 theme hotels, ranking the second in the nationwide; Beijing has 36 theme hotels, ranking the third in China; Guangdong has 34 and Zhejiang has 27 respectively.
Although theme hotel industry starts relatively late in China, the growth rates of its size are generally higher than China's GDP growth, except for in the year of 2009. In 2011, the market size of China theme hotel industry achieved 11.564 billion Yuan, with a year-on-year increase of 15.46%. It's predicted the market size of theme hotel industry will maintain the growth rate of around 15% in the next few years and it will achieve 13.284 billion Yuan in 2012.
In China, the development of theme hotel industry has mainly gone through 4 stages, namely, the primary stage, the transformation and development stage, the free development stage and the well-organized development stage. Nowadays, China theme hotel industry has entered a standardized construction stage. China theme hotel industry has considerable investment prospects. And China theme hotel industry will show the below characteristics and trends: 1.the theme culture tends to be diverse; 2. The theme hotel tends to be in a higher grade and a larger size; 3. the theme hotel tends to develop into scenic spots; 4. the theme hotel develops in a direction of being a integration of entertainment center; 5. The theme hotel, economic hotel and star hotel develop in a overlapped direction.
Qianzhan Business Information Co., Ltd. Industry Research Center
Research Team of Theme Hotel Industry
China Theme Hotel Industry Report" related reports »