China Graphene Industry Indepth Market Research and Investment Strategy Planning Report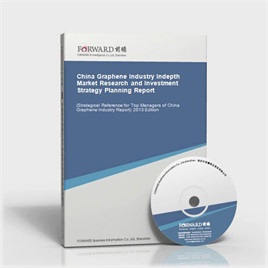 Last Update:2014-05-21
Form of services:Book + (pdf or doc file) + CD
Send method:EMS 2-3 days for delivery
English Service:+86 0755 33220413
Chinese Service:+86 800-8306390 800-8306395
E-mail:service.en@qianzhan.com
Report price:$7900 Print: $7800 CD: $7800
Special statement:
Recently we find there are some sites steal report contents from Qianzhan.com who put those contents on their sites for sale by making a little changes about the contents or remaining the same which deceives buyers(e.g. unable to get full or correct reports, or main body differs from contents that announced on sites).Therefore, we recommend paying a visit to Qianzhan personally or by your friends, and make payment after confirmation. Special statement: Qianzhan is the only and right holder of all the research reports, and has never used a third party to sell any reports, please be aware of the trademark " " when purchasing. Qianzhan is the largest and strongest consultancy, who owns the greatest number of researchers. Here followed "
Nine standards of companies' identificatios
"。
This table of content is original, without written permission of Qianzhan, any unit or individual shall not use, copy, or transfer the reports.
Preface
Table of Content
In 2010, Nobel Prize in Physics introduced graphene to all the people. In 2004, Andre Geim, and Konstantin Novoselov at the University of Manchester used a simple way to pull off the graphite deposits, then they won the 2010 Nobel Prize in Physics.
Graphene is a kind of two dimensional crystals, consisting of a hexagon of carbon atoms, which connect with each other and form a carbon-based molecule, with a very steady structure: as the number of carbon atoms connect with each other keeps growing, this two dimensional carbon-based molecule layer keeps expanding, and the molecule is enlarging as well. An ingle-layer graphene is as thick as a carbon atom, namely 0.335 mm, which amounts to 1/200,000 of the thickness of a piece of hair. 1 mm graphite amounts to nearly 1.5 million layers of graphene. It's generally known that graphene is one of thinnest materials, having characteristics of extremely high specific surface, as well as strong electrical conductivity and intensity, etc.
◆super-physical characteristics
It's generally known that graphene is one of thinnest materials. An ingle-layer graphene is as thick as a carbon atom. This kind of graphene, with such a thin thickness, possesses many characteristics that ordinary graphite materials lack of.
Extremely strong electrical conductivity: Graphite is the softest minerals, with the Mohs hardness of 1-2 grades, but after being separated into a thin graphene, which is as thin as a carbon atom, its performance will be suddenly changed, then its hardness is higher that the diamond, with 10 grades of Mohs hardness. However, it has good toughness and can be bent.
◆Infinite market potentials
The industry is still in a groping stage of output volume. The current major preparation methods are micro exfoliated graphene method, epitaxial growth method, graphite oxide reduction method, and vapor deposition method; due to relatively low cost of preparation, the raphite oxide reduction is a major preparation method.
The good electrical conductivity and light transmission performance of graphene contribute to the great application prospects of graphene in the aspect of transparent conductivity and electrode. For example, touch screen, liquid crystal display, organic photovoltaic cells, OLED and other materials need good transparent conductivity and electrode materials. In particular, the mechanical strength and flexibility of graphene are superior to the ITO, a conventional material; the brittleness of ITO is relatively high, and it's easy to damage. In graphene films in liquid can be deposited in a large area. By vapor deposition method, it can be made into less-layer graphene films, with a large area, as well as continuous, transparent, and high electrical conductivity. It's mainly used in the anode of photovoltaic devices, with 1.71% of energy conversion efficiency; compared to those components made by ITO, it's about 55.2% of the ITO's energy conversion efficiency. As an emerging industry, graphene has a bright future for development.
The special structure and morphology of graphene make it only have the world's hardest and thinnest characteristics, but also strong toughness, electrical conductivity and thermal conductivity. These special features make it possess immeasurable space, and it can be applied to a large number of areas, such as electronics, aerospace, optics, energy storage, bio-medicine, daily life in the future. Graphene collects the most wonderful characteristics and quality of all kinds of materials in the world, so the insiders commented: if the 20th century is the century of silicon, graphene creates a new era for new materials in the 21st century, and brings substantive changed around the world.
With the growing competition in graphene industry, the domestic excellent new materials enterprises pay more attention to the industry market research. With Forward's long-term tracking and collecting market data of graphene industry, we roundly and accurately analyze the industry structure system for you from the view of mastering the whole industry.
This report mainly focuses on analyzing the development environment of China graphene industry; the experiential learning of international graphene technology; the development status and core competitiveness factors of China graphene industry; the application prospects of graphene in lithium battery, supercapacitor, sensor, LED, biopharmaceutical industry; cases analysis of graphene industry; as well as the investment risks notice and strategy layout. Meanwhile, with comprehensive and specific first-hand market data over the past 5 years, Forward helps you to grasp the market and development trends of graphene industry, so as to win advantages from competition!
Here, we would like to express our sincere gratitude to State Information Center, Bureau of Statistics of China, International Information Research Institute, Chinese Academy of International Trade and Economic Cooperation, Tsinghua University Library, Development Research Center of the State Council and Beijing Essence Forward Research Center, for their great support when we conduct this report!
Qianzhan Business Information Co., Ltd. Industry Research Center
Research Team of Graphene Industry
China Graphene Industry Report" related reports »