China Audio-Visual New Media Industry Market Forecast and Investment Strategic Planning Report, 2013-2017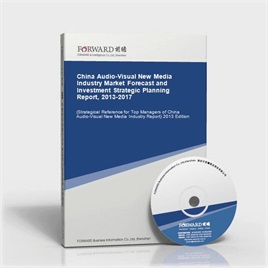 Last Update:2014-05-24
Form of services:Book + (pdf or doc file) + CD
Send method:EMS 2-3 days for delivery
English Service:+86 0755 33220413
Chinese Service:+86 800-8306390 800-8306395
E-mail:service.en@qianzhan.com
Report price:$7900 Print: $7800 CD: $7800
Special statement:
Recently we find there are some sites steal report contents from Qianzhan.com who put those contents on their sites for sale by making a little changes about the contents or remaining the same which deceives buyers(e.g. unable to get full or correct reports, or main body differs from contents that announced on sites).Therefore, we recommend paying a visit to Qianzhan personally or by your friends, and make payment after confirmation. Special statement: Qianzhan is the only and right holder of all the research reports, and has never used a third party to sell any reports, please be aware of the trademark " " when purchasing. Qianzhan is the largest and strongest consultancy, who owns the greatest number of researchers. Here followed "
Nine standards of companies' identificatios
"。
This table of content is original, without written permission of Qianzhan, any unit or individual shall not use, copy, or transfer the reports.
Preface
Table of Content
New media industry is at a high speed of development, based on Internet as a transmit carrier, which has extensive and profound impact on every aspect, like political, economic, cultural and social aspects. In all kinds of new media and new formats, audio-visual new media has been a comparatively independent media format, and are getting more sophisticated as the advancement of technology. As audio-visual content as its core and with many new technological transmit methods, audio-visual new media has many diverse and complex realized ways and has great impact or has continuing impact on the existing media pattern. Audio-visual new media has unique operating rules, but it also overlaps, integrates, compete as well as cooperate with traditional broadcasting media, so as to form a complicated media competitive and cooperative pattern.
This report is divided according to changes of time and space. The audio-visual business format with great changes in transmitting space is called audio-visual new media, including many business formats: IP television, network broadcast television, mobile television, Internet television, CMMB, public audio-visual carrier, etc.
The development of new audio-visual new media has already gone through more than 10 years. Some new media initially have many clear profit modes. Moreover, some of them have certain economic benefits. From the view of operational models, audio-visual new media belongs to media business category, so it must be conducted under the circumstance of making sure the safety of its transmitting contents. In principle, the broadcasting and controlling of all audio-visual new media contents should be responsible by broadcasting and television institutions, and the advertisement and network operation are taken charge by other subjects, except for network television and broadcasting. From the view of profit models, in addition to advertisement fees, there are many modes, such as monthly fees, per visit charge, copyright marketing, parasitic mode, service hosting, below the line activity. Among all kinds of audio-visual new media, due to the large profit mode, public audio-visual carriers has a relatively large output value scale; network broadcasting television has the largest user scale, with the highest income growth rate; IP television's profit mode is the clearest one, while it's income scale is relatively small due to this reason; Mobile television is the fastest growing one, with the fastest income growth rate; CMMB is just making its preliminary earnings; and Internet television business has just started, so there is obviously no much income.
Although the development of audio-visual new media is facing many difficulties, such as technical and network problems, profit mode problem, industrial cooperation problem, cultural and security problems, it can be predicted that the scale of this industry will enter a rapid development stage. According to Analysys International, in 2011, China network video revenue would reach 3 billion Yuan, with a increase of 50% over the previous year; in 2012, the revenue of public audio-visual carrier would reach 10 billion Yuan, with a annual increase of 20%. After all-round start-up of three net fusions, IP television users will steadily enlarge, and Internet television market will initially take shape. Due to the establishment of national unified technical and operational systems, the business system of mobile multimedia broadcasting television has been gradually improved and it will further promote to develop new users. In particular, its cooperation with China Mobile will greatly promote CMMB operation into a fast development track. Moreover, with the continuing upgrading of audio-visual new media and network, as well as the promotion of development environment, this is precious chance to develop, no matter for audio-visual new media enterprises or investors!
Here, we would like to express our sincere gratitude to The State Administration of Radio Film and Television, China Internet Network Information Center, State Information Center, Bureau of Statistics of China, International Information Research Institute, Chinese Academy of International Trade and Economic Cooperation, Tsinghua University Library, Development Research Center of the State Council and Beijing Essence Forward Research Center, for their great support when we conduct this report!
Notice: All the market data, especially corporations' ranking data in the report, only for business reference. Please do not take the data for enterprise publicity. Thank you! Or Forward shall not take any responsibility for any consequences!
Qianzhan Business Information Co., Ltd. Industry Research Center
Research Team of Audio-Visual New Media Industry
China Audio-Visual New Media Industry Report" related reports »