China Call Center Industry Indepth Research and Prospect Forecast Report, 2013-2017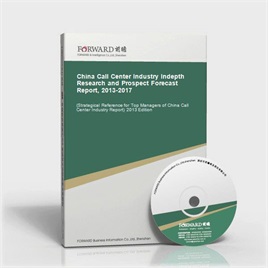 Last Update:2014-04-26
Form of services:Book + (pdf or doc file) + CD
Send method:EMS 2-3 days for delivery
English Service:+86 0755 33220413
Chinese Service:+86 800-8306390 800-8306395
E-mail:service.en@qianzhan.com
Report price:$7900 Print: $7800 CD: $7800
Special statement:
Recently we find there are some sites steal report contents from Qianzhan.com who put those contents on their sites for sale by making a little changes about the contents or remaining the same which deceives buyers(e.g. unable to get full or correct reports, or main body differs from contents that announced on sites).Therefore, we recommend paying a visit to Qianzhan personally or by your friends, and make payment after confirmation. Special statement: Qianzhan is the only and right holder of all the research reports, and has never used a third party to sell any reports, please be aware of the trademark " " when purchasing. Qianzhan is the largest and strongest consultancy, who owns the greatest number of researchers. Here followed "
Nine standards of companies' identificatios
"。
This table of content is original, without written permission of Qianzhan, any unit or individual shall not use, copy, or transfer the reports.
Preface
Table of Content
A call center is a centralised office used for the purpose of receiving and transmitting a large volume of requests by telephone. A call centre is operated by a company to administer incoming product support or information inquiries from consumers. Outgoing calls for telemarketing, clientele, product services, and debt collection are also made. In addition to a call centre, collective handling of letters, faxes, live chat, and e-mails at one location is known as a contact centre. Besides, call center is named as technical support hot line, service hot line and contact hot line in some fields.
Started from 1997, China call center industry has experienced fast growth since the second half year of 2003 and benefited from great events like 2008 Olympic and 2010 Shanghai World Expo. Nowadays, domestic call center is with a considerable scale and characters of regional and industry distribution. By the end of 2010, China's mainland call center industry has covered 56 industries; industry total seat numbers grow from 35,000 in 1998 to 524,000 in the end of 2010; investment scale develops from 3.52 billion Yuan in 1998 to 53.06 billion Yuan in 2010. In one word, the industry is on the fast development stage.
However, comparing with the foreign mature market, China call center industry is still on the stage of early investment and early development. Obviously, in terms of corporation amount the vast majority of the market is still small-and-medium-sized call centers operators. For the call center market there are several disadvantages: relatively small-sized call center and lacking of professional manager and technicist. Data shows that among the inter-provincial call center corporations there are 78% with less than one hundred employees while only 3% with more than one thousand employees. Thus, the present China call center industry lack of industry leader and not yet form the force which can guide the development of the market.
In the meantime, it is the economic growth trend in China to transform development pattern and develop environmental protection industry under the background of high-speed development of economic and society. Call center is one of the high-end service industries. As an environmental protection industry, call center with the characteristics as follow: low resource consumption, no pollutions like waste water and castoff, small investment scale but high return comparing with manufacturing (nearly all the sales revenue will turn into net added value). With the increasing pressure on employment in recent years, as a labor-intensive industry call center plays to an important role in absorbing the workforce and creating employment.
Employees' language capability, expertise and skill are one of the core competitiveness for the call center as call center is a human and knowledge-intensive organization. Meanwhile, high-speed development of domestic market result in shortage and mobility of the talent, weakening the enterprises enthusiasm in human resources investment and training as well as influence the industry overall service level and high-level development. Besides, most corporations will pay much more attention to hardware and technology than management. Policy environment of laws and regulations still need to perfect. China call center is not only the limited traditional service hot line, but also marketing channel construction. With the intensifying market competition and increasing informatization demand, call center corporations are transforming from price war to service competition and model innovation. Three major driving forces--demand-side, supply-side and national environment--lead the industry into a fast development period.
With Forward's the long-term tracking and collecting market data of call center industry, we roundly and accurately analyze the structure system for you from the view of mastering the whole industry. This report will base on the macro condition of current call center industry, production and marketing condition, industry demand trend of auto industry, then detailed analyzes the current market capability, market scale, development speed and competitive landscape of China call center industry. Meanwhile, together with the comprehensive and detailed market data which is accumulated for years, Forward helps you to grasp the market and development trends of call center industry, so as to win advantages from competition!
Here, we'd like to express our sincere gratitude to National Bureau of Statistics of China, International Information Institute, National Institute of the Ministry of Commerce, National Tsing Hua University Library, Institute of Market Economy of the State Council Development Research Center, and Beijing Qinghua Forward Market Research Center, etc. Thank you so much!
Notice: all the market data, especially the corporation list data in this report is only for business reference. Please don't take the data for enterprise publicity. Thank you! Or Forward shall not take any responsibility for any consequences!
Qianzhan Business Information Co., Ltd. Industry Research Center
Research Team of Call Center Industry
China Call Center Industry Report" related reports »