China Methanol Industry Market Research and Investment Forecast Report, 2013-2017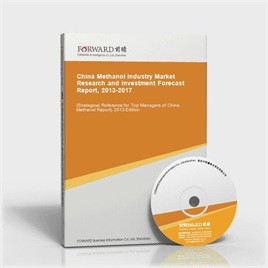 Last Update:2014-05-02
Form of services:Book + (pdf or doc file) + CD
Send method:EMS 2-3 days for delivery
English Service:+86 0755 33220413
Chinese Service:+86 800-8306390 800-8306395
E-mail:service.en@qianzhan.com
Report price:$7900 Print: $7800 CD: $7800
Special statement:
Recently we find there are some sites steal report contents from Qianzhan.com who put those contents on their sites for sale by making a little changes about the contents or remaining the same which deceives buyers(e.g. unable to get full or correct reports, or main body differs from contents that announced on sites).Therefore, we recommend paying a visit to Qianzhan personally or by your friends, and make payment after confirmation. Special statement: Qianzhan is the only and right holder of all the research reports, and has never used a third party to sell any reports, please be aware of the trademark " " when purchasing. Qianzhan is the largest and strongest consultancy, who owns the greatest number of researchers. Here followed "
Nine standards of companies' identificatios
"。
This table of content is original, without written permission of Qianzhan, any unit or individual shall not use, copy, or transfer the reports.
Preface
Table of Content
Since 2002, China methanol market has been promoted by the downstream demand. Methanol manufacturing enterprises begin to enlarge factories or build new factories, so as to sharply increase the methanol capacity. The total output of methanol is up sharply annually. In 2010, China methanol capacity reached 37.57 billion tons, and the output reached 15.75 million tons. And China has become the world's largest methanol producer.
During the "eleventh five-year" period, China methanol apparent consumption continues to increase rapidly. In 2010, it reached 20.93 billion Yuan, with an annual increase of 25.66%, 5.62% higher that the growth rate of methanol output. From 1997 to 2010, the annual growth rate of global methanol demand was 4.7%. It's predicted this growth rate will increase to 7.4% from 2011 to 2015. So to speak, the China's fast demand for methanol makes an important contribution to the world's methanol industry. Besides, the statistics shows, China imported 5.18 million tons of methanol in 2010, increased by 5.1 times over the year of 2007. China has also become the world's major methanol market.
There are always a series of preferential factors in China methanol industry. It's predicted the newly increased methanol capacity will reach 11.10 million tons. Whereupon, the methanol production capacity will reach 48 million tons. It's predicted the methanol demand volume will reach 21.82 million tons in 2011 and it will reach 26.46 million tons.
The national macro-economy is basically great. In overall, China industrial economic shows a good pattern, with fast growth of production, improved benefit conditions, gradually optimized structure, and fast recovery of export. The trend of shifting from industrial economy operation to steady growth is basically established. According prediction from Center for China in the World Economy, Tsinghua University, China's domestic GDP growth rate was 9.2%. And China economy continues to be in a growth trend, which supports the development of methanol market.
The downstream demand keeps rising. The fast development of automobile industry, architecture industry, and decoration industry will drive the strong growth of methanol and its downstream products. The officially implementation of Vehicle Methanol Gasoline (M85) marks the methanol gasoline has entered a substantial application stage. Meanwhile, a national standard of Vehicle Methanol Gasoline (M15) will be officially released soon. The prospects of methanol gasoline market is worthy of looking forward to. In addition, all places are devoting to methanol-to-olefin (MTO) projects, and MTO is anticipated to become a new engine for the development of methanol industry.
The cost support is strong. During the "twelfth five-year" period, the State council will emphasize to deepen the energy price reform, adjust the price of natural gas, promote the power ladder price, and strictly implement different price policy for the high-energy consumption industries, which belong to the limitation and elimination industries category in the structure adjustment directory. The uprising of coal, natural gas, electricity, transportation and other cost prices will play a certain supporting role in methanol price.
At present, the investment of China methanol industry increases greatly. Therefore, it's very necessary to establish large-sized methanol manufacturing device, lower manufacturing cost, and vigorously develop downstream products of methanol, so as to develop it into a direction of diversification, series and fine. Moreover, it's also necessary to join in the international competition. On one hand, thealcohol ether adapts the needs of China's development, with low comprehensive cost, and it has a certain kind of production and application experience, so the acceleration of promoting and using alcohol ether will be prosperous. On the other hand, the alcohol ether will drive the development of energy, chemical, automobile and other relevant industries.
In addition, the promotion of methanol futures in 2011 will be beneficial for the healthy development of methanol industry, On one hand, it will enhance the methanol market to form a unified pricing model; on the other hand, it will beneficial for the steady development of methanol relevant enterprises. And according to this, the operational decision thinking of relevant methanol enterprises can make adjustment, and the enterprises can utilize methanol futures to maintain their steady development.
With Forward's long-term tracking and collecting market data of methanol industry, we roundly and accurately analyze the industry structure system for you from the view of mastering the whole industry. This report mainly focuses on analyzing China methanol industry's market capacity, market size, development speed and competitive situation, depending on macro-prosperity of current methanol industry and relying on its production and marketing conditions as well as the demand trend.
The report pay more attention to analyze the current market environment of China methanol industry; the import and export market of methanol industry; the competitive landscape and competitive trend of methanol industry; the development situation of downstream products market of methanol industry; the methanol production technology situation; the leading corporations' operational conditions in methanol industry; as well as the development trend and prospects forecast of methanol industry. Meanwhile, with comprehensive and specific first-hand market data over the past 5 years, Forward helps you to grasp the market and development trends of methanol industry, so as to win advantages from competition!
The most distinctive characteristics of this report is forward-looking and timeliness. Through analyzing forward-looking characteristic of abundant first-hand market data, we deeply and objectively dissect China current methanol industry's overall market capacity, market size, competitive landscape and characteristics of market demand. Furthermore, based on future development tracks and years' practice experience of methanol industry, we conduct prudent analysis and forecast for methanol industry's future development trend. This report helps methanol manufacturing enterprises, R&D institutions, marketing enterprises and investment enterprises to precisely grasp current latest developments of the industry. Afterwards, they can make wise operating decisions and define enterprises' development directions.
Here, we would like to express our sincere gratitude to Bureau of Statistics of China, International Information Research Institute, Chinese Academy of International Trade and Economic Cooperation, Tsinghua University Library, Development Research Center of the State Council and Beijing Essence Forward Research Center, for their great support when we conduct this report!
Notice: All the market data, especially corporations' ranking data in the report, only for business reference. Please do not take the data for enterprise publicity. Thank you! Or Forward shall not take any responsibility for any consequences!
Qianzhan Busniness Information Co., Ltd. Industry Research Center
Research Team of MethanolIndustry
China Methanol Report" related reports »