China Project Supervision Industry Development Prospects and Investment Strategy Planning Report, 2013-2017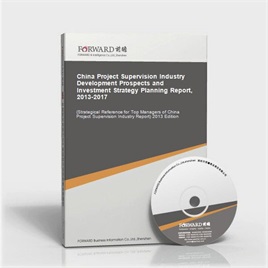 Last Update:2014-05-09
Form of services:Book + (pdf or doc file) + CD
Send method:EMS 2-3 days for delivery
English Service:+86 0755 33220413
Chinese Service:+86 800-8306390 800-8306395
E-mail:service.en@qianzhan.com
Report price:$7900 Print: $7800 CD: $7800
Special statement:
Recently we find there are some sites steal report contents from Qianzhan.com who put those contents on their sites for sale by making a little changes about the contents or remaining the same which deceives buyers(e.g. unable to get full or correct reports, or main body differs from contents that announced on sites).Therefore, we recommend paying a visit to Qianzhan personally or by your friends, and make payment after confirmation. Special statement: Qianzhan is the only and right holder of all the research reports, and has never used a third party to sell any reports, please be aware of the trademark " " when purchasing. Qianzhan is the largest and strongest consultancy, who owns the greatest number of researchers. Here followed "
Nine standards of companies' identificatios
"。
This table of content is original, without written permission of Qianzhan, any unit or individual shall not use, copy, or transfer the reports.
Preface
Table of Content
Project supervision refers to monitoring and management organizations with relevant qualifications which commissioned by the construction units (project legal entity), replacing construction units to provide a range of professional services for the project construction of construction companies, in accordance with state-approved project construction documents, relevant project construction laws, regulations and project construction supervision contacts, and other project construction contracts. The supervision unit is a subject of construction market, and construct supervision is a kind of high intelligent paid technical service.
Since China introduced supervision system of engineering construction project in 1988, a supervision team has been set up to provide investors with professional project management services, which has broken through the past self-arranged, self-built and self-operated production and management conditions and has initially connected to international practice.
The implementation of project construction supervision system is an important measure of China's deepening infrastructure system reform and development market economy, and an important system for China to connect to international practice. At present, China is an intermediate acceleration phase of industrialization. The construction demand for every industry is still huge, and with the deepening of China's economy system reform and the diversification development of investment entity, engineering project scale expands and the complexity degree deepens, so the market demand for project supervision services increases day by day. Even though China project supervision market is temporally in an exploratory stage, the market has the great potential and vast prospects for development.
After 20 years of development, supervision industry plays an immeasurable role in China project construction. With the changes of market demand and the announcement of national industry policies, supervision enterprises will be polarized. Some supervision with strong strengths will develop to project management enterprises and those small-sized supervision enterprises may still be in the phase of monitoring construction. The supervision industry will play a more important role in construction project field.
In the future, project supervision enterprises can improve competitiveness at two aspects listed below: one is quantity. Extend the enterprises scale, including the quantity of supervision project and size, the business scope of enterprises, the qualification range and level of supervision, the quantity of registered supervision engineer and employee, the customer scale and the channels to gain customers (especially customer for governmental investment projects), service regions, service industry, and enterprise alliance and acquisition, etc. Only the quantity reaches a certain level can we make a qualitative change and lay a good foundation for achieving a qualitative change; the other is quality. Improve enterprises efficiency and core competitiveness, including strategies and ideas, brand construction, cultural construction, accomplishment management, marketing and planning, management capability, personnel skills, knowledge management, flow optimization, and performance management, etc. as well as adapting to the development needs of marketization and specialization.
Under such economic circumstances, it seems that knowing industry market environment and emphasizing market information and intelligence is remarkably important. If enterprises hope to grasp investment opportunities, then grow up rapidly and become the leading enterprises in the industry, a strategic, guiding and meaningful report will be helpful.
The report mainly analyzes the development history of China project supervision industry; the industry economic background, the industry development status, the industry competitive situation, the development status and development prospects of industry market segmentation; the development situation in industry key regions; as well as the leading corporations' operational condition in the industry and industry development prospects, so as to help you to fully grasp the market and development trends of project supervision industry, and make you win advantages from competition!
The most distinctive characteristics of this report is forward-looking and timeliness. Through analyzing forward-looking characteristic of abundant first-hand market data, we deeply and objectively dissect China current project supervision industry's overall market capacity, market size and competitive landscape. Furthermore, based on future development tracks and years' practice experience of project supervision industry, we conduct prudent analysis and forecast for project supervision industry's future development trend. This report helps project supervision enterprises to precisely grasp current latest developments of the industry. Afterwards, they can make wise operating decisions and define enterprises' development directions.
Here, we would like to express our sincere gratitude to State Information Center, Bureau of Statistics of China, International Information Research Institute, Chinese Academy of International Trade and Economic Cooperation, Tsinghua University Library, Development Research Center of the State Council and Beijing Essence Forward Research Center, for their great support when we conduct this report!
Notice: All the market data, especially corporations' ranking data in the report, only for business reference. Please do not take the data for enterprise publicity. Thank you! Or Forward shall not take any responsibility for any consequences!
Qianzhan Business Information Co., Ltd. Industry Research Center
Research Team of Project Supervision Industry
China Project Supervision Industry Report" related reports »