China Health Examination Industry Development Prospects and Investment Strategy Planning Report, 2013-2017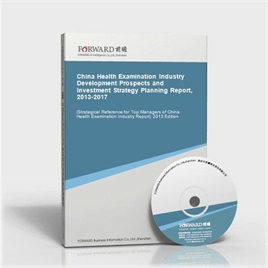 Last Update:2014-05-15
Form of services:Book + (pdf or doc file) + CD
Send method:EMS 2-3 days for delivery
English Service:+86 0755 33220413
Chinese Service:+86 800-8306390 800-8306395
E-mail:service.en@qianzhan.com
Report price:$7900 Print: $7800 CD: $7800
Special statement:
Recently we find there are some sites steal report contents from Qianzhan.com who put those contents on their sites for sale by making a little changes about the contents or remaining the same which deceives buyers(e.g. unable to get full or correct reports, or main body differs from contents that announced on sites).Therefore, we recommend paying a visit to Qianzhan personally or by your friends, and make payment after confirmation. Special statement: Qianzhan is the only and right holder of all the research reports, and has never used a third party to sell any reports, please be aware of the trademark " " when purchasing. Qianzhan is the largest and strongest consultancy, who owns the greatest number of researchers. Here followed "
Nine standards of companies' identificatios
"。
This table of content is original, without written permission of Qianzhan, any unit or individual shall not use, copy, or transfer the reports.
Preface
Table of Content
In recent year, the food safety problem is increasing prominent. More and more attention has been paying to judgment of own health conditions in advance, and the concept of "treat the sick early and prevent the sick in advance" has been widely accepted. The transition thinking of "see a doctor when getting sick" to "health management" has become a very important thought in the world's healthcare system of 21 century. Thus, China's many local healthcare institutions provide the health examination services with "the aim of health", to meet people's demand. These healthcare institutions, which mainly provide health examination services for healthy people, develop rapidly, becoming an important component of national health management, and making an important contribution to the development of China medical and healthcare business.
After the first professional medical institutions - Beijing Ciji medical center set up in 2002, the physical examination develops very quickly around the nation, and more and more special examination institutions spread many domestic large and medium-sized cities. The statistics shows, China health management (examination) institutions grow by 25% annually, from about 2,000 institutions in 2005 to nearly 7,000 institutions in 2009. As of the end of December 2011, there were more than 8,000 institutions.
At present, the domestic medical market is divided into four parts: hospitals, nursing homes, clinics and health examination centers. Now almost all hospitals have opened a health examination center, and medical examination has become the third economic pillar for hospitals, following the treatment income and drug income. Nowadays, many hospitals realize health examination center is an economic growth point for hospital revenue. Or even, some have proposed that medical treatment, equipment and health examination will be three major income sources for hospital in the near future.
At present, there are nearly 100 million people who receive health examination, and its market size is around 10 billion Yuan, while the high-end health examination market occupy 1/3 of the whole health examination market. The health examination market size develops with a growth rate of 2-digit, among which the high-end consumption market increases by 30% annually, with huge market potential. More and more importance attached to daily healthcare and regular examination towards health. As a hot spot in healthcare industry, the health examination business is springing up everywhere, and the health examination has great prospects.
In addition, the health examination industry has the characteristics of "low competitiveness, low risks, high profits and steady development", which attract more and more attention from investment institutions. Both the investment of Dinghui Investment in Cimin health examination in October 2004 and the Zhejiang Disheng Investment Co. Ltd. 100 million Yuan investment in Beijing Younger Sun Health Technology Co. Ltd in July 2011 inject new vitality to the development of health examination. During the "Twelfth Five-year" period, China health examination industry will usher a new tide of investment.
The most distinctive characteristics of this report is forward-looking and timeliness. Through analyzing forward-looking characteristic of abundant first-hand market data, we deeply and objectively dissect China current health examination industry's development status. Furthermore, based on future development tracks and years' practice experience of health examination industry, we conduct prudent analysis and forecast for health examination industry's future development trend. This report helps health examination institutions, health management service enterprises and investment enterprises to precisely grasp current latest developments of the industry. Afterwards, they can make wise operating decisions and define enterprises' development directions. Moreover, this report is the first and weighty report on analyzing the health examination industry and analyzing its leading corporations in an all-round and systematical way.
Here, we would like to express our sincere gratitude to State Information Center, Bureau of Statistics of China, International Information Research Institute, Chinese Academy of International Trade and Economic Cooperation, Tsinghua University Library, Development Research Center of the State Council and Beijing Essence Forward Research Center, for their great support when we conduct this report!
Qianzhan Business Information Co., Ltd. Industry Research Center
Research Team of Health Examination Industry
China Health Examination Industry Report" related reports »