China Biodegradable Plastics Industry Indepth Research and Investment Strategic Planning Report, 2013-2017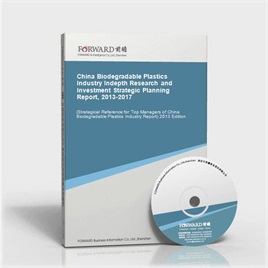 Last Update:2014-05-13
Form of services:Book + (pdf or doc file) + CD
Send method:EMS 2-3 days for delivery
English Service:+86 0755 33220413
Chinese Service:+86 800-8306390 800-8306395
E-mail:service.en@qianzhan.com
Report price:$7900 Print: $7800 CD: $7800
Special statement:
Recently we find there are some sites steal report contents from Qianzhan.com who put those contents on their sites for sale by making a little changes about the contents or remaining the same which deceives buyers(e.g. unable to get full or correct reports, or main body differs from contents that announced on sites).Therefore, we recommend paying a visit to Qianzhan personally or by your friends, and make payment after confirmation. Special statement: Qianzhan is the only and right holder of all the research reports, and has never used a third party to sell any reports, please be aware of the trademark " " when purchasing. Qianzhan is the largest and strongest consultancy, who owns the greatest number of researchers. Here followed "
Nine standards of companies' identificatios
"。
This table of content is original, without written permission of Qianzhan, any unit or individual shall not use, copy, or transfer the reports.
Preface
Table of Content
Compared with traditional plastics packaging materials, the cost of new biodegradable materials is relatively higher for the moment. With the increasing awareness of environmental protection, people are willing to use the a little bit more expensive new biodegradable materials to protect the environment. The increase of environmental protection awareness brings huge development opportunities to biodegradable materials industry. Due to the development of China's economy, the success of Beijing Olympic Games and Shanghai Expo, and the need for protecting environment in world cultural heritage and national scenic spots, every level of governments has attached great importance to environment pollution caused by plastics and has pointed out that "white pollution" is one of priorities in tasks.
In recent years, some developed countries or regions, like Europe, USA, and Japan have worked out and published related policies, which includes forbidden, limiting, forced collection as well as collecting tax means, to control the use of non-biodegradable plastics, and greatly to develop the biodegradable new materials, then to protect the environment and ground. In 2005, France released a policy that all the disposable plastics should be biodegraded in 2010.
Meanwhile, China has gradually introduced a lot of policies to encourage the application and spread of biodegradable plastics. In 2004, NPC passed the "Renewable Energy Law (Draft)" and "Environmental Pollution Prevention and Control Law of Solid Wastes (Amended)", to promoted the utilization of renewable biological energy and the spread of biodegradable plastics; in 2005, the 40 document released by NDRC encourage the use and spread of biodegradable plastics; in 2006, NDRC launched the special fund for spreading the development of biodegradable materials. The implementation of "The Definition, Classification and Identification of Degradable Plastics and Degradable Requirements" since January 1st, 2007 has been highly recognized by Europe, USA, Japan and so on, which provide convenience for Chinese enterprises importing and exporting.
The major target markets of biodegradable plastics are plastics packaging film, agricultural plastics film, disposable plastics bag, and disposable plastics tableware. It can be assumed that under the policies promotion, 3% demand of traditional agricultural plastics can be replaced by degradable plastics; and 4% of the traditional packaging plastics products can be replaced by degradable plastics in 2005; and it can also be assumed that 3% annual growth rate of plastics industry can be replaced by that of degradable plastics industry, then the global total demand for degradable plastics will reach 4,500,000 tons. As to 800,000 tons of the world's total capacity, CAGR will increase by 41% in the next 5 years. According to this trend, it's predicted that the potential growth rate of biodegradable market will be 20% to 25%, which will increase from 400 million pounds (approximately 203,000 tons) in 2006 to 10 billion pounds (approximately 4,540,000 tons); while the forecast of growth rate will extend from 15%-20% to 30%-40%, which depends on new biological resin and its market development speed.
From the perspective of China's demand and the policies released by China's government, it's predicted that under the promotion of policies, 2% demand of traditional agricultural plastics products will be replaced by degradable plastics products; and 3% demand of traditional packaging plastics products will be replaced by degradable plastics products; it's conservatively estimated that the plastics industry's growth rate is 5%, then China's total demand for degradable plastics will reach 860,000 tons. Nevertheless, the capacity of China's current degradable plastics is less than 200,000 tons.
At present, the new biodegradable materials are widely used in overseas markets. For instance, Sony Company has used degradable packaging materials to pack the MD dish and walkman shell; Dow Chemical Corporate has started to provide degradable containers for food and drink shops; McDonald's has begun to use degradable cups in Europe and USA; Wal-Mark has announced to adopt degradable materials. According to Grapentine, a market research institution in USA, 41% USA consumers and 59% European consumers are eagerly to pay more money to buy foods packaged by degradable materials which made from some natural materials, among which there are 77% European consumer are willing to pay more 5 Euro cents, while 74% US consumers are willing to pay more 10 US cents. In addition, according to Shanghai related organizations' researches, as long as the cost of new biodegradable materials is less than 30% that of ordinary products' cost, the government can bear and it will promote and spread the use of biodegradable materials.
As to domestic market, after the publishing of "Plastics Limit Order", the "Plastics Ban Order" has been promoting in some pilot areas, namely, the government introduces policies to ban the use of traditional plastics in some fields (such as plastics shopping bags, plastic garbage bags, or greenhouse film). Once the "Plastics Limit Order" upgrades to "Plastics Ban Order", the demand for biodegradable materials in only one province will reach more than 100,000 tons in domestic. The erupting of domestic market is coming soon.
Here, we would like to express our sincere gratitude to State Information Center, Bureau of Statistics of China, China Customs, International Information Research Institute, Chinese Academy of International Trade and Economic Cooperation, Tsinghua University Library, Development Research Center of the State Council and Beijing Essence Forward Research Center, for their great support when we conduct this report!
Notice: All the market data, especially corporations' ranking data in the report, only for business reference. Please do not take the data for enterprise publicity. Thank you! Or Forward shall not take any responsibility for any consequences!
Qianzhan Business Information Co., Ltd. Industry Research Center
Research Team of Biodegradable Plastics Industry
China Biodegradable Plastics Industry Report" related reports »