China LED Lighting Industry Indepth Research and Investment Strategic Planning Report, 2013-2017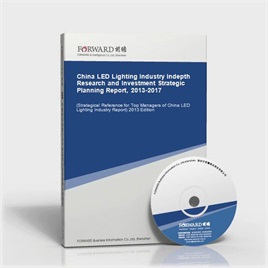 Last Update:2014-04-29
Form of services:Book + (pdf or doc file) + CD
Send method:EMS 2-3 days for delivery
English Service:+86 0755 33220413
Chinese Service:+86 800-8306390 800-8306395
E-mail:service.en@qianzhan.com
Report price:$7900 Print: $7800 CD: $7800
Special statement:
Recently we find there are some sites steal report contents from Qianzhan.com who put those contents on their sites for sale by making a little changes about the contents or remaining the same which deceives buyers(e.g. unable to get full or correct reports, or main body differs from contents that announced on sites).Therefore, we recommend paying a visit to Qianzhan personally or by your friends, and make payment after confirmation. Special statement: Qianzhan is the only and right holder of all the research reports, and has never used a third party to sell any reports, please be aware of the trademark " " when purchasing. Qianzhan is the largest and strongest consultancy, who owns the greatest number of researchers. Here followed "
Nine standards of companies' identificatios
"。
This table of content is original, without written permission of Qianzhan, any unit or individual shall not use, copy, or transfer the reports.
Preface
Table of Content
With the global consensus on the development of low-carbon economy, LED lighting industry has rapid development opportunities depending on its advantages in energy saving and consumption fields. In such a circumstances of low-carbon economy, LED lighting market becomes more and more popular, while the competition tends to be fiercer and fiercer. In 2011, the output value of national LED industry exceeded 150 billion Yuan, with a year-on-year increase of 20%. And the LED lighting industry achieved rapid development, with a growth of 50%. In 2011, the total output value surpassed 70 billion Yuan in China.
Globally, LED lighting industry has formed a industrial distribution and competitive landscape with three pillar industrial areas, which includes USA, Asia, and Europe. The products of Cree and LumiLEDs in USA, Nichia and ToyadaGosei in Japan, as well as Osram in German have monopolized the high-end product market. As to the chip capacity distribution, the InGaA1P and GaN chip capacity in Taiwan, China generally rank the top in the globe. Currently, they respectively account for 60% and 30% of the market shares. Besides, according to encapsulation enterprises, they mainly locate in countries and regions, such as Japan, Mainland China and Taiwan. At present, LED lighting industry is put on the important agenda in China. The LED lighting industry is regarded as a energy saving and environmental protection industry and technology, which is listed as an important industry to develop in "Twelfth Five-year" Plan of Science and Technology Development, released by the State.
China LED lighting industry is more concentrated; it initially forms four regions pattern, namely, Pearl River Delta, Yangtze River Delta, Southeast region, and North Region including Beijing and Dalian. There is relative complete industrial chain in every region. Moreover, there are some mature LED manufacturing bases in the following four regions, Dalian, Shenzhen, Xiamen, and Nanchang. In general, China's LED industry pattern has a characteristic of high degree industrialization in South China. LED lighting industry densely distribute in Pearl River Delta and Yangtze River Delta. The up, middle and down stream industries in these regions are relatively complete, and 80% of related enterprises locate there, while depending on plenty of universities and research institutions, the north enterprises have stronger R&D capability.
From China's LED lighting industry market, domestic LED lighting is mainly applied in landscape decoration and general lighting markets. What's more, the localization rate of LED chip is 52%, among which the localization rate of general luminance chip is 65%; the localization rate of quaternary LED is 51%, but the market penetration rate of LED lighting is still low, just occupying 3% of the global market, and less 10% of the domestic market, which show that LED lighting market has a huge development space.
The special markets, like traffic light, mobile phone, digital camera and landscape lighting markets have steady growth. The key growth areas include function lighting, LCD backlight, outdoor lighting, and automobile fields. In particular the application of white light will regard outdoor lighting and public area lighting as a breakthrough, then gradually form a market scale. Therefore, it will become the main force to push the development of LED lighting industry. In a word, no matter from the aspect of China lighting market's potential demand for white LED, or for the development of related electric light resource, LED industry has bright development prospect in China. It's predicted that its annual compound growth will maintain by around 30% in the future.
Qianzhan Business Information Co., Ltd. Industry Research Center
Research Team of LED Lighting Industry
China LED Lighting Industry Report" related reports »