China Seed Industry Production & Marketing Demand and Investment Forecast Report, 2013-2017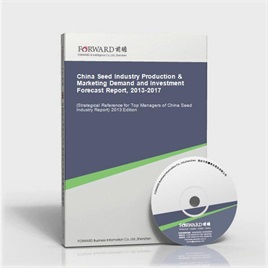 Last Update:2014-05-10
Form of services:Book + (pdf or doc file) + CD
Send method:EMS 2-3 days for delivery
English Service:+86 0755 33220413
Chinese Service:+86 800-8306390 800-8306395
E-mail:service.en@qianzhan.com
Report price:$7900 Print: $7800 CD: $7800
Special statement:
Recently we find there are some sites steal report contents from Qianzhan.com who put those contents on their sites for sale by making a little changes about the contents or remaining the same which deceives buyers(e.g. unable to get full or correct reports, or main body differs from contents that announced on sites).Therefore, we recommend paying a visit to Qianzhan personally or by your friends, and make payment after confirmation. Special statement: Qianzhan is the only and right holder of all the research reports, and has never used a third party to sell any reports, please be aware of the trademark " " when purchasing. Qianzhan is the largest and strongest consultancy, who owns the greatest number of researchers. Here followed "
Nine standards of companies' identificatios
"。
This table of content is original, without written permission of Qianzhan, any unit or individual shall not use, copy, or transfer the reports.
Preface
Table of Content
Seeds, which locate in the upstream of agricultural production chain, is the most basic important means of production, and the fundamental of human existence and development as well. According to data from the Ministry of Land and Resources, China's per amount of cultivated land is less than 1.4 mus at present, which is 40% of the total world's average level. The increase and harvest of food is a fundamental way to assure the national food safety supply. The food production cannot be separated from seeds. The seed industry is a starting point of the entire agriculture industrial chain, which greatly affects, or even decides the output and quality of crops. As a big agriculture nation, China seed industry has the huge and stead market demand. Analysts consider, the potential market capacity of China seed industry is about 90 billion Yuan. In terms of product structure, the rice seed takes up a 31% of the total market size, the corn seed occupies a 33% of it, the vegetable seed accounts for a 31% of it, the cotton seed holds a 8% of it, the rape seed accounts for a 3% of it as well as the melon/fruit seed and other seeds take up a 4% of it.
At present, the domestic seed industry shows some characteristics as below in the competition: firstly, there is a massive of enterprises in the industry, with the small size. According to statistics, there are about 8,000 enterprises with the certificate in the nationwide, among which there are more than 3,000 enterprises with 5-30 million Yuan registration capital, which there are only over 80 enterprises with more than 300 billion Yuan registration capital; secondly, the competition is fierce in the industry. One of the most important characteristics is strong substitutability of the same type seed between different kinds of brands. In order to compete the market, every seed enterprise makes full efforts to extend its sales network, which leads to fiercer and fiercer competition among the enterprises; thirdly, the industry concentration is improving, and those seed enterprises with strong R&D advantage, rich operational experience and well-known brand recognition will grasp the industry development opportunities to become leading corporations in the seed industry.
The latest draft of "Administrative Measures on the License of Seed Production and Operation" was released in August 2011, which highlights to significantly increase the entry threshold for the seed industry by increasing registration capital requirements. For hybrid rice and corn, and their parent seeds production and operation, the minimum registration capital is increased to 30 million Yuan, and the fixed assets are no less than 10 million Yuan for applying operational license; if the enterprises, which are engaged in importing business of seeds, apply for operational license, they shall possess no less than 30 million Yuan registration capital and no less than 10 million fixed assets; if the enterprises, which are engaged in the combination of breeding, production and operation business, they shall possess the more than 100 million Yuan registration capital and no less than 50 million Yuan fixed capital.
In this round of industry re-shuffle, those leading enterprises are anticipated to benefit from some market shares given by a part of small-sized enterprises, realizing improving their performance, and more likely to benefit from some comprehensive incomes by acquisition and merger of some relatively excellent R&D system, varieties reserves, and net margin of medium and small-sized enterprises. Furthermore, among those enterprises which meet the requirements listed above, if one enterprises conduct integration faster, it can effectively realize more acquisition and merger movements, then it can obtain first mover advantage in the new market competitive landscape, and it's more likely for it realize the maximum interest.
China has the vast production area for crops, so the total demand size of seed market is huge; at present, China's agriculture production major costs concentrate in farm chemical, fertilizer and tax burden, while the cost of seeds is relatively low. However, with the increasingly urgent demand for the agriculture boom of science and education, and taking consideration of lowering the comprehensive agricultural production costs, the farmers' demand high-quality seeds significantly goes up; there is a huge gap between the food ratio and commercialization rate and that of international market, which means China seed industry has the great potential for development; meanwhile, the seed industry is greatly supported by the government. Taking all pushing factors into consideration, the annual sales volume of China seed industry will achieve 80 billion Yuan, with the average sales net margin over 40% in 2012.
The great potential of China seed market keeps attracting the international seed enterprises. With the gradual opening of seed market, the international seed giants positively "arrange army troops" in China seed market. The entry of seed multinationals, on one hand, introduce advanced management experience and technologies to China, on the other hand, they bring great pressures to domestic seed enterprises, which will eventually promote the selecting the superior and eliminating the inferior, and speed up the industry integration.
With the growing competition in seed industry, acquisition and capital operation among large enterprises become more and more frequent. The domestic excellent seed manufacturing enterprises pay more attention to the industry market research, especially to the in-depth researches on the industry development environment and product buyers. Because of this, a large number of excellent seed brands rise up rapidly and gradually become leading corporations in seed industry!
This report mainly analyzes the production and development of China seed industry; the current market environment and enterprise competitiveness of seed industry; the market demand characteristics of seed industry; the import and export markets of seed industry; the competitive landscape and competitive trend of seed industry; the market development of product market segmentation of seed industry; the leading corporations' operational conditions in seed industry; as well as the development trend and prospect forecast of seed industry. Meanwhile, with comprehensive and specific first-hand market data over the past 5 years Forward helps you to grasp the market and development trends of seed industry, so as to win advantages from competition!
The most distinctive characteristics of this report is forward-looking and timeliness. Through analyzing forward-looking characteristic of abundant first-hand market data, we deeply and objectively dissect China current seed industry's overall market capacity, market size, competitive landscape and characteristics of market demand. Furthermore, based on future development tracks and years' practice experience of seed industry, we conduct prudent analysis and forecast for seed industry's future development trend. This report helps seed manufacturing enterprises, R&D institutions, marketing enterprises and investment enterprises to precisely grasp current latest developments of the industry. Afterwards, they can make wise operating decisions and define enterprises' development directions. Moreover, this report is the first and weighty report on analyzing the up and down stream industrial chain of seed industry and analyzing its leading corporations in an all-round and systematical way.
Here, we would like to express our sincere gratitude to State Information Center, Bureau of Statistics of China, China Customs, International Information Research Institute, Chinese Academy of International Trade and Economic Cooperation, Tsinghua University Library, Development Research Center of the State Council and Beijing Essence Forward Research Center, for their great support when we conduct this report!
Notice: All the market data, especially corporations' ranking data in the report, only for business reference. Please do not take the data for enterprise publicity. Thank you! Or Forward shall not take any responsibility for any consequences!
Qianzhan Business Information Co., Ltd. Industry Research Center
Research Team of Seed Industry
China Seed Industry Report" related reports »