China Macromolecular Foaming Materials Industry Report (2016-2021), Development Model Transformation and Forecast of Production & Demand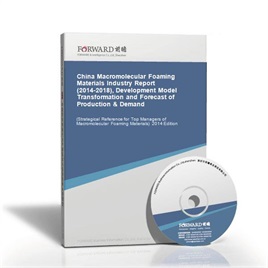 Last Update:2016-10-02
Form of services:Book + (pdf or doc file) + CD
Send method:EMS 2-3 days for delivery
English Service:+86 0755 33220413
Chinese Service:+86 800-8306390 800-8306395
E-mail:service.en@qianzhan.com
Report price:$7900 Print: $7800 CD: $7800
Special statement:
Recently we find there are some sites steal report contents from Qianzhan.com who put those contents on their sites for sale by making a little changes about the contents or remaining the same which deceives buyers(e.g. unable to get full or correct reports, or main body differs from contents that announced on sites).Therefore, we recommend paying a visit to Qianzhan personally or by your friends, and make payment after confirmation. Special statement: Qianzhan is the only and right holder of all the research reports, and has never used a third party to sell any reports, please be aware of the trademark " " when purchasing. Qianzhan is the largest and strongest consultancy, who owns the greatest number of researchers. Here followed "
Nine standards of companies' identificatios
"。
This table of content is original, without written permission of Qianzhan, any unit or individual shall not use, copy, or transfer the reports.
Preface
Table of Content
Macromolecular foaming materials belong to new materials industries. The object of this report is to focus on two categories of products of the soft foaming material and structural foaming material.
◆ Soft foaming material is from plastics (PE, EVA, etc.), rubber (SBR, CR, etc.) and other raw materials with a catalyst, a foam stabilizer, foaming agent and other materials. Through cross linked by physical foaming, a large number of tiny bubbles appear in the plastics and rubber, the volume increases, the density decreases. Soft foaming materials have the functions of light weight, good flexibility, buffering, absorbing, shock absorption, insulation, filtering. They are widely used in electronics, home appliances, automobiles, sports leisure and other industries.
◆ Structural foaming material is based on plastics (PVC, PET, etc.). It is modified through the network of the polymeric aromatic amide. It has the same low density as soft foaming material but its strength is high. It is applicable for high-end areas that required light material and high-strength. It is mainly used in wind power generation, rail transportation, yachts, aerospace, construction energy-saving and other industries.
New materials such as macromolecular materials have been high-tech industries supported by the state. Especially in the "Decision of the State Council on accelerating the cultivation and development of strategic emerging industries", the "new material" industry is included in the strategic emerging industries. The state has introduced a number of supporting policies for technical research and development by financial incentives and other aspects. In addition, China has achieve a number of innovations in production process of microcellular foaming materials in recent years. Product performance gradually improves and applications are increasingly widening, which will further boost microcellular foaming materials industry to achieve faster development.
This report is based on long-term market tracking information by Forward Intelligence on microcellular foaming materials industry. This report starts from the macroeconomic booming situation of microcellular foaming materials industry with market demand as the basis. It does detailed analysis of the current market scale, development pace and competitive trend of China's microcellular foaming materials industry. Meanwhile, based on first-hand market data of the whole industry in the past five years, it can allow you to fully and accurately grasp market trends and development trends of the whole industry.
The greatest feature of this report is forward-looking and timeliness. It does thorough and objective analysis of development scale and competitive landscape of China's current microcellular foaming materials industry. Based on the development path and years of practical experience, it makes careful analysis and prediction of the future development trends of microcellular foaming materials industry. It is a rare quality for microcellular foaming materials manufacturing enterprises and investment companies to accurately understand the latest developments of the industry, grasp market opportunities, make the right business decisions and clear corporate directions. It is also the industry's first on comprehensive and systematic analysis of industry chain and leading enterprises.
Macromolecular Foaming Materials" related reports »