China Oilfield Chemical Industry Production & Marketing Demand and Investment Forecast Report, 2013-2017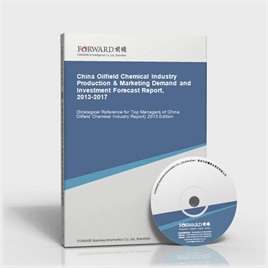 Last Update:2014-05-21
Form of services:Book + (pdf or doc file) + CD
Send method:EMS 2-3 days for delivery
English Service:+86 0755 33220413
Chinese Service:+86 800-8306390 800-8306395
E-mail:service.en@qianzhan.com
Report price:$7900 Print: $7800 CD: $7800
Special statement:
Recently we find there are some sites steal report contents from Qianzhan.com who put those contents on their sites for sale by making a little changes about the contents or remaining the same which deceives buyers(e.g. unable to get full or correct reports, or main body differs from contents that announced on sites).Therefore, we recommend paying a visit to Qianzhan personally or by your friends, and make payment after confirmation. Special statement: Qianzhan is the only and right holder of all the research reports, and has never used a third party to sell any reports, please be aware of the trademark " " when purchasing. Qianzhan is the largest and strongest consultancy, who owns the greatest number of researchers. Here followed "
Nine standards of companies' identificatios
"。
This table of content is original, without written permission of Qianzhan, any unit or individual shall not use, copy, or transfer the reports.
Preface
Table of Content
As an important product in the whole process of oil production, oilfield chemical is applied in all technical process, including oil exploration, drilling, gathering and water injection, which plays an important role in increasing oil output and enhancing oil recovery.
Drilling fluid is a cyclical cleaning fluid using in holes during the exploration process, which is called "blood" of oil drilling. The fast development of China drilling fluid technology service industry stemmed from 1970s; after a surge development in 1980s, drilling fluid materials technology gradually enter a stable development period. After 1990s, the major functions of drilling fluid extended from maintaining the oil wall stability and ensuring the safety of exploration, to how to use drilling fluid to protect hydrocarbon reservoir and produce more oil. The industry technologies are further enhanced.
From the perspective of engineering settlement, the market share of drilling fluid technology service accounts for 5% to 8% of oil exploration and development investment. With the recovery of the global and China's economy, three petroleum giants (China National Petroleum Corporation, China Petrochemical Corporation, and China National Offshore Oil Corporation) will maintain a highly and new increased volume of well drilling, as well as a high footage level for a long time, which lays a foundation for the development of drilling fluid technology service industry. According to preliminary estimation, the market size of China drilling fluid technology service industry will reach 27 billion Yuan by 2013, and compound growth rate will increase by 17.37% from 2010 to 2013.
At present, CNPC, Sinopec and CNOOC control China's most of oil and gas wells, while the their drilling fluid preparation and technology service are provided by their own special departments. The concentration industry of China drilling fluid service is high, and the market concentration of top 10 drilling fluid technology service is around 55%. The leading drilling fluid technology service enterprises in the nationwide are: Greatwall Drilling Company, CNPC Bohai Drilling Engineering Company Limited, COSL, SLDT, PetroChina Daqing Oilfield, China National Petroleum Corporation, Sichuan Renzhi Oilfield Technology Services Co., Ltd and so on. Nowadays, Sichuan Renzhi Oilfield Technology Services Co. Is the largest private-owned dring fluid technology service corporations.
With the development of China oilfield drilling engineering technology and drilling fluid technology, the demand for oilfield chemical increases gradually. Despite oilfield chemical industry appeared later in China, it develops very rapidly in the later period. In 1995, the usage amount of domestic oilfield chemical was 1029,000 tons, and its market size was just 1.914 billion Yuan, while in 2009, the usage amount reached 1470,000 tons and the market size was 5.383 billion Yuan. During the 15 years, the usage amount of oilfield chemical product increased by over 42% and the growth of market size was more than 180%, among which the use amount of drilling chemical product was the hugest, accounting for 45% to 50% of total amount of oilfield product; the amount the oil exploration chemical was large, taking up 30% of the total consumption. The newly discovered oil reserves in China are limited, while the task of digging old oil wells is arduous. So it's necessary to develop more new, high-efficient and low-pollution oilfield chemical products, so as to strengthen the oilfield exploration and development, improve the rate of oilfield inventory, and enhance the environmental protection depending on China's oilfield characteristics.
The report mainly analyzes the research scope and market environment of China oilfield chemical industry; the basic raw materials market situation of oilfield chemical industry; the market segmentation situation of oilfield chemical; the research progress of oilfield service technology; the development status of major oilfields and demand for oilfield chemical; the leading corporations' operational condition in oilfield chemical industry; as well as the investment analysis and suggestions of oilfield chemical industry. Meanwhile, with comprehensive and specific first-hand market data, Forward helps you to grasp the market and development trends of oilfield chemical industry, so as to win advantages from competition!
The most distinctive characteristics of this report is forward-looking and timeliness. This report helps chemical raw materials manufacturing enterprises, oilfield chemical manufacturing enterprises, R&D institutions, marketing enterprises and investment enterprises to precisely grasp current latest developments of the industry. Afterwards, they can make wise operating decisions and define enterprises' development directions.
Here, we would like to express our sincere gratitude to State Information Center, Bureau of Statistics of China, International Information Research Institute, Chinese Academy of International Trade and Economic Cooperation, Tsinghua University Library, Development Research Center of the State Council and Beijing Essence Forward Research Center, for their great support when we conduct this report!
Notice: All the market data, especially corporations' ranking data in the report, only for business reference. Please do not take the data for enterprise publicity. Thank you! Or Forward shall not take any responsibility for any consequences!
Qianzhan Business Information Co., Ltd. Industry Research Center
Research Team of Oilfield Chemical Industry
China Oilfield Chemical Industry Report" related reports »