China E-Commerce Agent Operation Industry Development Prospects and Investment Opportunities Report, 2013-2017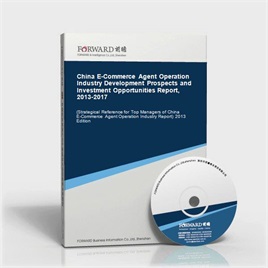 Last Update:2014-04-26
Form of services:Book + (pdf or doc file) + CD
Send method:EMS 2-3 days for delivery
English Service:+86 0755 33220413
Chinese Service:+86 800-8306390 800-8306395
E-mail:service.en@qianzhan.com
Report price:$7900 Print: $7800 CD: $7800
Special statement:
Recently we find there are some sites steal report contents from Qianzhan.com who put those contents on their sites for sale by making a little changes about the contents or remaining the same which deceives buyers(e.g. unable to get full or correct reports, or main body differs from contents that announced on sites).Therefore, we recommend paying a visit to Qianzhan personally or by your friends, and make payment after confirmation. Special statement: Qianzhan is the only and right holder of all the research reports, and has never used a third party to sell any reports, please be aware of the trademark " " when purchasing. Qianzhan is the largest and strongest consultancy, who owns the greatest number of researchers. Here followed "
Nine standards of companies' identificatios
"。
This table of content is original, without written permission of Qianzhan, any unit or individual shall not use, copy, or transfer the reports.
Preface
Table of Content
Since the Internet age is coming, the e-commerce has gradually entered people's life. Under such a circumstance, the e-commerce agent operation enterprises come into being. E-commerce agent operation refers to a kind of service business of full agent, provided by an enterprise. The operator, who provides agent operation services, is called agent operator. The service content includes e-commerce channel planning, web work, displaying goods, marketing, warehouse logistics, customer service, financial settlement, etc, which covers all industrial chain of e-commerce, such as planning, construction, marketing and other stages.
At present, China e-commerce develops fast. The traditional enterprises rapidly enter e-commerce market, with great development momentum. However, the traditional enterprises lack of e-commerce operation experience, and at the early stage, they tend to outsource their business. Under such a circumstance, agent operators grasp this industry segmentation opportunity, and gradually become stronger. The statistics shows, in 2011, China e-commerce agent operation market size reached 24.51 billion Yuan, with a year-on-year increase of 125.1%.
In terms of agent operation environment, most of agent operators conduct agent business depending on Taobao at this stage, but the B2C of enterprises will gradually become the platform in the future, such as Lebook, Dangdang, Excellence, Vancle, etc. These enterprises allow the third enterprises to enter their platforms, and open shop in shop on their platforms, then they charge appropriate shop fees and logistics fees. In addition, some B2B platforms play an more important role, such as Alibaba, HC, etc. A variety of e-commerce models will promote the development e-commerce to reach its peak, and agent operation is also a trend for the future development of e-commerce.
The data shows, the domestic e-commerce third party service enterprises are mainly concentrate in Yangtze River Delta, Pearl River Delta, Beijing, Shanghai, and other economic developed provinces and cities. In terms of the enterprise regional distribution, as of the end of 2011, the top 10 provinces (including municipality) are: Zhejiang, Guangdong, Beijing, Shanghai, Jiangsu, Shandong, Sichuan, Fujian, Hebei and Henan. Analysts consider, China e-commerce agent operation market is still at the early stage. Compared to foreign countries, there are many problems, for example, the service capability of agent operators needs improving; the front-end channel is simple, and there is little experience in multi-channels operation; the traditional enterprises will develop solo, which generates relatively great threat to agent operators. However, with the development of the industry, the market has great potentials for development in the future. Forward predicts, there will be more and more agent operators in the next 2-3 years, and the e-commerce industrial chain will be kept improving.
According to the above comprehensive analysis, Forward predicts, the number of China network consumer will sharply increase to 329 million, accounting for 44% of China's total population, and China will be the world's largest e-commerce market. In the future, China e-commerce agent operator market will maintain a steady growth trend, and its year-on-year growth keeps growing steadily. In 2014, it's anticipated to exceed 260 billion Yuan.
Qianzhan Business Information Co., Ltd. Industry Research Center
Research Team of E-Commerce Agent Operation Industry
China E-Commerce Agent Operation Industry Report" related reports »