China Ground Treatment Industry Indepth Research and Investment Strategic Planning Report, 2013-2017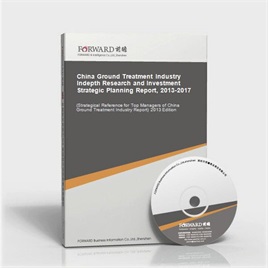 Last Update:2014-05-04
Form of services:Book + (pdf or doc file) + CD
Send method:EMS 2-3 days for delivery
English Service:+86 0755 33220413
Chinese Service:+86 800-8306390 800-8306395
E-mail:service.en@qianzhan.com
Report price:$7900 Print: $7800 CD: $7800
Special statement:
Recently we find there are some sites steal report contents from Qianzhan.com who put those contents on their sites for sale by making a little changes about the contents or remaining the same which deceives buyers(e.g. unable to get full or correct reports, or main body differs from contents that announced on sites).Therefore, we recommend paying a visit to Qianzhan personally or by your friends, and make payment after confirmation. Special statement: Qianzhan is the only and right holder of all the research reports, and has never used a third party to sell any reports, please be aware of the trademark " " when purchasing. Qianzhan is the largest and strongest consultancy, who owns the greatest number of researchers. Here followed "
Nine standards of companies' identificatios
"。
This table of content is original, without written permission of Qianzhan, any unit or individual shall not use, copy, or transfer the reports.
Preface
Table of Content
China's rapid progress of industrialization, urbanization, and modernization drives the needs of large-scale infrastructure construction. In recent years, under the background of government largely expanding domestic market, adjusting and reviving key industries, promoting coordinative development in Middle China, Eastern China and Western China, as well as accelerating "New Rural Construction", many projects have been implemented, such as "housing project", "shantytown reconstruction", and the major infrastructure construction of railway, road, airport, as well as harbor, which all provide huge domestic demand for ground treatment industry.
According to "Twelfth Five-year" Plan, the total output value of construction industry grows by over 15% annually. The basic number has reached 10 trillion Yuan since 2010. By an annual 15% growth of calculation, the total output value will reach or approach 20 trillion Yuan at the end of "Twelfth Five-year" Plan period. As a vital component of construction industry, ground treatment industry has a broad market prospect.
Up to now, China ground treatment industry has made great progress. Moreover, some fields in the industry has approached to or reached international advanced level, which can well serve the national economy construction. Along with the requirement of expanding construction area and reducing the use of farmland, construction projects will shift to more complex regions, so it presents higher requirements for ground treatment industry. Based on hi-tech science, developing low carbon economy has been an important direction to guide China's social and economic development. Also, it's a development direction for ground treatment industry. The main trends of ground treatment industry are to promote innovative technologies of energy saving, green environmental protection, land saving, cost reduction, short-term construction period, and good effects.
The ground industry obviously develops in a depth and breadth direction. Engineering investigation, dynamic consolidation ground treatment, and pile foundation construction are all parts of ground treatment business. For those enterprises with investigation and construction capability, if they have ability to undertake investigation business, design consultancy business and construction business, too. They have more competitiveness than those only can provide investigation and construction services.
In recent years, with further strengthening cooperation with foreign countries and the eliminating of market entry limitations, China domestic enterprises can enter many overseas markets. Meanwhile, along with increasing growth of economy in Asia and Africa areas, there are more and more infrastructure construction projects, which provide good opportunities for China ground treatment service enterprises. And engineering construction projects based on ground treatment show a rapid growth momentum.
All in all, China ground treatment industry has a huge development potential, but its competition becomes fiercer and fiercer. Therefore, it requires excellent enterprises pay more attention to industry market research, especially indepth researches on the industry development environment and engineering demanders. With Forward's long-term tracking and collecting market data of ground treatment industry, we roundly and accurately analyze the industry structure system for you from the view of mastering the whole industry.
This report mainly focuses on analyzing the development environment of China ground treatment industry; development scale and competitive landscape of China ground treatment industry; China ground treatment technology application situation and development trend; the investment progress of China ground treatment project construction; the production/marketing and operational modes of ground treatment equipment and materials market; the leading corporations' operational condition in ground treatment industry; engineering construction demand and forecast of ground treatment industry; as well as the investment status and prospect forecast of ground treatment industry. Meanwhile, with comprehensive and specific first-hand market data. Forward helps you to grasp the market and development trends of ground treatment industry, so as to win advantages from competition!
The most distinctive characteristics of this report is forward-looking and timeliness. Through analyzing forward-looking characteristic of abundant first-hand market data, we deeply and objectively dissect China ground treatment industry's development scale and competitive landscape. Furthermore, we conduct prudent analysis and forecast for ground treatment industry's future development trend, based on future development tracks and years' practice experience of ground treatment industry. This report helps ground treatment enterprises and investment enterprises to precisely grasp current latest developments of the industry. Afterwards, they can make informed operating decisions and define enterprises' development directions. Moreover, this report is the first and weighty report on analyzing the development scale of ground treatment industry and analyzing its leading corporations in an all-round and systematical way.
Here, we would like to express our sincere gratitude to State Information Center, Bureau of Statistics of China, International Information Research Institute, Chinese Academy of International Trade and Economic Cooperation, Tsinghua University Library, Development Research Center of the State Council and Beijing Essence Forward Research Center, for their great support when we conduct this report!
Notice: All the market data, especially corporations' ranking data in the report, only for business reference. Please do not take the data for enterprise publicity. Thank you! Or Forward shall not take any responsibility for any consequences!
Qianzhan Business Information Co., Ltd. Industry Research Center
Research Team of Ground Treatment Industry
China Ground Treatment Industry Report" related reports »