China Special Paper Industry Development Prospects and Investment Forecast Report, 2013-2017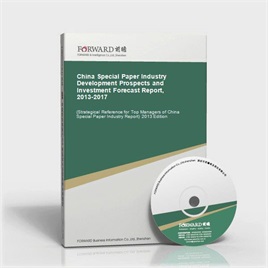 Last Update:2014-04-21
Form of services:Book + (pdf or doc file) + CD
Send method:EMS 2-3 days for delivery
English Service:+86 0755 33220413
Chinese Service:+86 800-8306390 800-8306395
E-mail:service.en@qianzhan.com
Report price:$7900 Print: $7800 CD: $7800
Special statement:
Recently we find there are some sites steal report contents from Qianzhan.com who put those contents on their sites for sale by making a little changes about the contents or remaining the same which deceives buyers(e.g. unable to get full or correct reports, or main body differs from contents that announced on sites).Therefore, we recommend paying a visit to Qianzhan personally or by your friends, and make payment after confirmation. Special statement: Qianzhan is the only and right holder of all the research reports, and has never used a third party to sell any reports, please be aware of the trademark " " when purchasing. Qianzhan is the largest and strongest consultancy, who owns the greatest number of researchers. Here followed "
Nine standards of companies' identificatios
"。
This table of content is original, without written permission of Qianzhan, any unit or individual shall not use, copy, or transfer the reports.
Preface
Table of Content
Special paper is a classification paper with plenty of varieties, but with relatively small total output. In general, it has some kinds of special performance and usages, with relatively high value-added. The special paper can roughly divide into traditional special paper and dedicated special paper. The traditional special paper is used in special package, printing and decoration, while dedicated special paper needs to be created by distinctive processing means and special technology, so the products have unique performance.
For the long-term, the market of domestic special paper industry is basically in a situation of supply lagging behind the demand, but the supply and demand gap is small. Since 2009, this kind of situation has been improved. According to statistics from China Paper Association, the output of special paper and special paperboard was 1.8 million tons in 2010, accounting for 1.94% of the total output of paper and paperboard, with a year-on-year increase of 20%; the consumption volume was 1.64 million tons, accounting for 1.79% of total consumption volume of paper and paperboard, with a year-on-year increase of 13.89%. with the characteristics of high-tech contents, high value-added as well as energy saving and environmental protection, special paper products are match with the low-carbon economic theory which has been vigorous advocated throughout the world, and the special paper industry is a typically sunrise industry.
The domestic special paper industry possesses the characteristics of high barriers, strong demand and steady development. At present, there are not so many manufacturing enterprise in domestic special paper industry, but these enterprises which relate to segments in special paper industry are almost in the dominant positions, for instance, the KAN Corporation occupies a dominant place in electrolytic capacitor paper industry and the Anne Corporation occupies a dominant position in business information paper industry. The monopolistic competition of special paper industry, on one hand, will bring surplus profits, but one the other hand, will objectively slow down the growth size of special paper industry, since the monopolistic enterprises will take their own advantages to lift the entry to the industry.
The current development level of domestic special paper industry is relatively lagging behind when it compares to foreign special paper industry. The technology contents, the capability of leading market consumption, the speed of products updating and upgrading and other aspects of current domestic special paper industry need to be improved. Special paper is a general term of paper product with all kinds of functions, which is widely used in many major national living fields, and it's closely related to the development degree of national economy. With the steady development of China's economy, there will be more and more product varieties in domestic special paper industry, and the domestic special paper industry has vast prospects for development.
Qianzhan Business Information Co., Ltd. Industry Research Center
Research Team of Special Paper Industry
China Special Paper Industry Report" related reports »