China Tourism Real Estate Industry Prospects and Investment Strategy Report, 2013-2017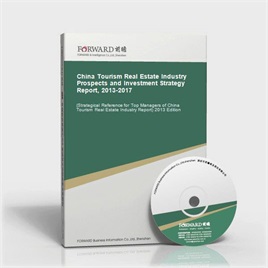 Last Update:2014-05-30
Form of services:Book + (pdf or doc file) + CD
Send method:EMS 2-3 days for delivery
English Service:+86 0755 33220413
Chinese Service:+86 800-8306390 800-8306395
E-mail:service.en@qianzhan.com
Report price:$7900 Print: $7800 CD: $7800
Special statement:
Recently we find there are some sites steal report contents from Qianzhan.com who put those contents on their sites for sale by making a little changes about the contents or remaining the same which deceives buyers(e.g. unable to get full or correct reports, or main body differs from contents that announced on sites).Therefore, we recommend paying a visit to Qianzhan personally or by your friends, and make payment after confirmation. Special statement: Qianzhan is the only and right holder of all the research reports, and has never used a third party to sell any reports, please be aware of the trademark " " when purchasing. Qianzhan is the largest and strongest consultancy, who owns the greatest number of researchers. Here followed "
Nine standards of companies' identificatios
"。
This table of content is original, without written permission of Qianzhan, any unit or individual shall not use, copy, or transfer the reports.
Preface
Table of Content
The French Mediterranean coast works as a tourism real estate development pioneer for it develops a seaside resort villas early in the last century. Since then many European and North American countries introduce concepts like timeshare into real estate industry. And many developers and investors are actively involved in this field which gradually form and enlarge the tourism real estate market.
The development of tourism real estate starts in the 1990s in China. The tourism real estate which topic as "health, sport, and leisure" rises up and gain a notable performance while some urban real estate development showing "bubble". At present, there are more than one hundred corporations are involved in tourism property development, among which there are abundant oversea or H.K. and Taiwan investors, such as Time Group from Italy and IBM Investment Fund from the United States.
After the publishment of the State Council's No. 41 document, the Opinions on Accelerating the Development of Tourism Industry, the development of tourism real estate is further promoted. The subjects of investment are in a wider range and cover all runs of industries as well as with a numerous development models, such as seashore real estate, hot-spring real estate, golf real estate, theme-park real estate, old-town real estate, and festival-exhibition real estate.
In the next ten years, it will be a golden time for the fast development of China tourism real estate. Actually, with the frequent issued controlling policies for real estate, the profit room of housing real estate is declining. Therefore, developers start to change their focus towards fields of tourism, commerce and care for the aging. It is approved by the fact that large sum of capital has been invested into tourism real estate by real estate corporations such as Vanke, Poly, Wanda, Agile and R & F. It can be said that tourism real estate is popular while the tourist cities has developed from Hainan, Qingdao, and Yunnan to the whole China. The healthy development of tourism real estate benefits from the heating-up tourism real estate, government's promotion and entry of leading developers. With the increasing entry barrier for tourism real estate, the quality of development project will be improved as well. Moreover, the market is mature day by day while the tourism real estate gradually transfers from developing and selling model to operating and managing model.
From a long-term view of tourism real estate projects, after successful operation of the projects, the corporations should sum up self-own and special development ideologies to shape a unique famous brand. In spite of promoting by channels, media and network marketing in major customer markets, the corporations can also make an expansion of output management and marginal business basing on self strength. It will be helpful to have a nationwide expansion and build an advancing brand which with a development of scale and international influence.
With Forward's the long-term tracking and collecting market data of tourism real estate industry, this report mainly analyzes the following aspects: development experiences of international tourism real estate; market environment of domestic tourism real estate; status and competitive landscape of domestic tourism real estate industry; development models for different industries products of domestic tourism real estate; construction condition of major property types in tourism real estate industry; leading corporations' operational condition of tourism real estate; investment strategy and risk control of tourism real estate; trend forecast and investment foresight of tourism real estate. Meanwhile, together with the comprehensive and detailed market data which is accumulated for 5 years, Forward helps you to grasp the market and development trends of tourism real estate industry, so as to win advantages from competition!
Major characteristics of this report are forward-looking and timeliness. Base on the forward-looking analysis of massive research data, we further analyze the development scale and competitive landscape of tourism real estate industry. Along with the industry development route and our practical experience, we analyze and predict the future development prospect of tourism real estate industry. This report is of a high value for investment institutes of tourism real estate to accurately know the latest industry development trend, and obtain market opportunities and determine an insightful operation strategy and development direction. In the meantime, it is the first heavy weight report to analyze the up/down-stream industry chain and industry leading corporations of tourism real estate industry in an overall and systemic way.
Here, we'd like to express our sincere gratitude to National Statistics Bureau of China, International Information Institute, National Institute of the Ministry of Commerce, National Tsing Hua University Library, Institute of Market Economy of the State Council Development Research Center, and Beijing Qinghua Forward Market Research Center, etc. Thank you so much!
Notice: all the market data, especially the corporation list data in this report is only for business reference. Please don't take the data for enterprise publicity. Thank you! Or Forward shall not take any responsibility for any consequences!
Qianzhan Business Information Co., Ltd. Industry Research Center
Research Team of Tourism Real Estate Industry
China Tourism Real Estate Industry Report" related reports »