China Retail Business Monthly Market Monitoring Report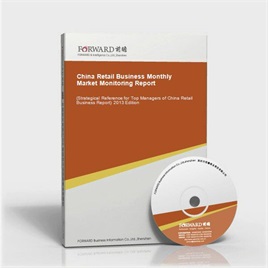 Last Update:2014-05-02
Form of services:Book + (pdf or doc file) + CD
Send method:EMS 2-3 days for delivery
English Service:+86 0755 33220413
Chinese Service:+86 800-8306390 800-8306395
E-mail:service.en@qianzhan.com
Report price:$26000 Print: $25800 CD: $25900
Special statement:
Recently we find there are some sites steal report contents from Qianzhan.com who put those contents on their sites for sale by making a little changes about the contents or remaining the same which deceives buyers(e.g. unable to get full or correct reports, or main body differs from contents that announced on sites).Therefore, we recommend paying a visit to Qianzhan personally or by your friends, and make payment after confirmation. Special statement: Qianzhan is the only and right holder of all the research reports, and has never used a third party to sell any reports, please be aware of the trademark " " when purchasing. Qianzhan is the largest and strongest consultancy, who owns the greatest number of researchers. Here followed "
Nine standards of companies' identificatios
"。
This table of content is original, without written permission of Qianzhan, any unit or individual shall not use, copy, or transfer the reports.
Preface
Table of Content
With a huge population and vigorous consumer demand, China's retail business market has a enormous space to develop, and coupled with steadily growth of domestic economy, the consumption keeps increasing. In 2011, retail sales of social consumer goods in China amounted to 18.1226 trillion Yuan, up by 11.6% year-on-year. In the background of macroeconomic continuing increasing steadily, as well as implementing the minimum wages and tax reform measures, retail business will continue to maintain a rapid growth. In addition, with development of more and more diversified consumer demand, different retail formats emerged. In recent years, comparatively large department stores, shopping centers, super markets, as well as convenience stores rush into China's market, which compete against those foreign large-scaled retailing enterprises.
Shopping center is gradually flourishing as one of business formats, integrating with shopping, leisure, and entertainment. According to statistics, from 2001 to 2015, the opening quantity growth rate of shopping centers will reach 893%. It's quite rare that a emerging country can reach this rate. Surprisingly, China will have more over 1300 shopping centers in the next 4 years. Specifically, In 2011, 285 complex have opened in first-tier cities; it's estimated that there will be 75 complex opening a business; and there will be presumably 55 from 2013 to 2014. Besides, 595 complex opened in second and third-tier cities in 2011. In 2012, the number will be 230 and from 2013 to 2014, the number will probably be 400.
After 10 years development, the layout of shopping center is no longer confined to first-tiers cities, like Beijing, Shanghai, Guangzhou and Shenzhen. It has been popular in second-tiers cities, such as Wuhan, Dalian, Chongqing. Moreover, it has gradually been penetrating into third and forth-tiers cities. Shopping centers can not only provide substantial tax revenue for local governments, they can also be magnificent city landmarks. With the help of local governments, shopping centers have been springing up in many cities, such as Wuxi, Xuzhou, Lanzhou, and Huizhou in Guangdong provicne, etc.
From China's top 100 enterprises, the concentration of retail business is evaluating, the same as the situation in supermarket industry. Since 2002, total number of stores, total areas, stall quantities, total sales revenue, total profits, and etc. has shown a steady upward trend. In recent years, supermarket sales margin is 2.35%, and the average sales margin is 2.6%.
Judging from the future development trend, the retailing format composition has closely relationship with per capital GDP. When per capital GDP reaches 1,000 to 3000 US dollars, chain supermarkets and GMS (general merchandise store) is in vogue, and based on their strong expansion nature, they become the main force of retailing format. China is at stage of rapidly developing chain supermarkets and GMS. And standard supermarket has been at mature or declining stages.
Next, "Twelfth Five-year" Plan, as well as Domestic Trading Planning (2011-2015) will greatly affect domestic retail business. "Twelfth Five-year" Plan is a general outline and development goal of national economic and social development, which will lead to a consumption boom in China, or even all over the world. There is no doubt that it will be beneficial for China's retail business in the long run. Domestic Trading Development Planning is not only a first development plan in the field of domestic trading since the founding of New China, but also a vital component of "Twelfth Five-year" Plan in the commercial field. Under the guidance, retail business will definitely achieve greater development, as well as strengthen the coordinated development in regions and cities.
Qianzhan Business Information Co., Ltd. Industry Research Center
China Retail Business Report" related reports »