China Medical Building Engineering Industry Indepth Research and Investment Strategy Report, 2013-2017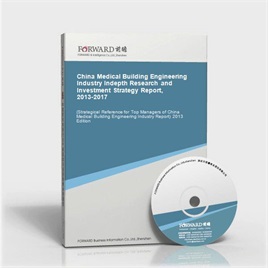 Last Update:2014-05-10
Form of services:Book + (pdf or doc file) + CD
Send method:EMS 2-3 days for delivery
English Service:+86 0755 33220413
Chinese Service:+86 800-8306390 800-8306395
E-mail:service.en@qianzhan.com
Report price:$7900 Print: $7800 CD: $7800
Special statement:
Recently we find there are some sites steal report contents from Qianzhan.com who put those contents on their sites for sale by making a little changes about the contents or remaining the same which deceives buyers(e.g. unable to get full or correct reports, or main body differs from contents that announced on sites).Therefore, we recommend paying a visit to Qianzhan personally or by your friends, and make payment after confirmation. Special statement: Qianzhan is the only and right holder of all the research reports, and has never used a third party to sell any reports, please be aware of the trademark " " when purchasing. Qianzhan is the largest and strongest consultancy, who owns the greatest number of researchers. Here followed "
Nine standards of companies' identificatios
"。
This table of content is original, without written permission of Qianzhan, any unit or individual shall not use, copy, or transfer the reports.
Preface
Table of Content
The gap of the developing level of medical building between China and developed countries is big. Data from the Ministry of Health, the bed index of China's hospitals and health centers is 3.3/thousand people that distant from that of 5/thousand people in developed countries. Some of the current hospitals, especially the community and basic hospitals, with old buildings and confusing functions and distributions that can hardly meet the demand of medical facilities to develop modern medicine. The aging and the spread of sudden and infectious diseases in current years greatly increase the demand for medical facilities.
With the constant growing demand for medical healthcare, construction of the medical infrastructure in middle and large sized cities increasingly fastens. Either the scale or the quantity for new construction or reconstruction medical building reaches a historic peak. Investment from governments at all level from 2009 to 2011 reaches 850 billion Yuan.
Current these years, there is a relatively fast development of China's medical buildings, still, compare with the development pace of medical service market, the current medical and health resources can hardly meet the increasing demand of medical service. Details as follows:
Shortage of Medical Resources:
In current China, 80% of the medical resources are concentrated in big cities which account for only 20%. Residents choose to see a doctor in big hospitals which results in long-time waiting and shortage of hospital beds. In 2010 the utilization ratio of hospital beds in general is 86.7% while that of public hospital beds is 90%. In the meantime, there is a waste of management and contract joint resources for medical facilities and medical checking which worsen the shortage of medical resources.
Unreasonable Planning and Design of Old Hospitals:
Limiting from the early building ideologies, the old hospitals lack of overall planning and development idea that the hospital buildings stay on the stage of seizing every opportunity to operate. During the long-term operation and development, more and more practical problems are being seen: irrational planning and design, old decaying buildings, limited functions, confusing environment, shortage of land, high density of buildings, etc. Therefore, reconstructing the old hospitals becomes an objective tendency when the building environment and function distribution can no longer meet the demand of medical treatment.
Old Hospital Cannot Meet the Development of Medicine and Hospital Management:
In China, 82.78% of the hospitals are constructed in the last century while over half of them are constructed before 1980s. The old hospitals can no longer meet the development demand of modern medicine and hospital modernization management in the aspects of planning and design, and layout of equipments. It severely limits the quality of medical service and work efficiency of hospitals.
The Inevitable Trend to Have New and Reconstructing Buildings for the Hospital Development:
Presently, hospitals in China should increase the supply of hospital health resources and ease the imbalance of resources supply and service demand by having new and reconstructing buildings. According to statistics, the amount of reconstructing hospitals is enormous that 80% of the hospitals with reconstructing problems while 20% need new buildings.
Moreover, supporting policies for new and reconstructing buildings are released. 2009-2011 Implementation on
Deepening Medical and Health System Reform clearly proposes to strengthen the construction of basic health and medical institutions. In three years central government emphasizes and supports the construction of about 2,000 county hospitals (including hospitals of Chinese medicine) to ensure that there is at least one county level hospital which basically meet the standard level for every county.
With the deepening reform of China's medical and health system, governments at all level enhance the construction investment for medical institutions, especially for basic health and medical institutions. The market scale of new medical building is expanding in China.
By researches and analysis, it is predicted that there are two decisive factors for the development of medical buildings: one is the influence of informationization society and the other is the result of controlling the total medical cost. And they reflect the medical targets which cover from disease treatment to healthcare for the old: modern science technology is widely used in medical buildings; guiding the design of medical buildings by sustainable idea; emphasizing the humanistic characteristics in the planning and design of medical buildings. It is predicted that the design of medical building will have an extremely new development driving by all the factors mention above.
This report mainly analyzes the following aspects: overview and development environment of China's medical building engineering industry; development and enlightenment from international medical building engineering industry; status and development potential of China's medical building engineering industry; market segmentation of medical decontamination projects; leading corporations' operational condition of medical building engineering industry; prospects forecast and investment/financing of medical building engineering industry. Meanwhile, together with the comprehensive and detailed market data which is accumulated for 5 years, Forward helps you to grasp the market and development trends of medical building engineering industry, so as to win advantages from competition!
Major characteristics of this report are forward-looking and timeliness. Base on the forward-looking analysis of massive research data, we further analyze the development scale and competitive landscape of medical building engineering industry. Along with the industry development route and our practical experience, we analyze and predict the future development prospect of medical building engineering industry. This report is of a high value for medical engineering design and construction corporations, hospitals at all levels, and medical equipment R&D institutes to accurately know the latest industry development trend, and obtain market opportunities and determine an insightful operation strategy and development direction. In the meantime, it is the first heavy weight report to analyze the up/down-stream industry chain and industry leading corporations of medical building engineering industry in an overall and systemic way.
Here, we'd like to express our sincere gratitude to National Statistics Bureau of China, International Information Institute, National Institute of the Ministry of Commerce, National Tsing Hua University Library, Institute of Market Economy of the State Council Development Research Center, and Beijing Qinghua Forward Market Research Center, etc. Thank you so much!
Notice: all the market data, especially the corporation list data in this report is only for business reference. Please don't take the data for enterprise publicity. Thank you! Or Forward shall not take any responsibility for any consequences!
Qianzhan Business Information Co., Ltd. Industry Research Center
Research Team of Medical Building Engineering Industry
China Medical Building Engineering Industry Report" related reports »