China Civil Aircraft Manufacturing Industry Production & Marketing Demand and Investment Forecast Report, 2013-2017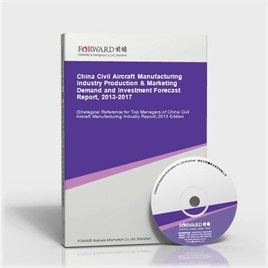 Last Update:2014-04-21
Form of services:Book + (pdf or doc file) + CD
Send method:EMS 2-3 days for delivery
English Service:+86 0755 33220413
Chinese Service:+86 800-8306390 800-8306395
E-mail:service.en@qianzhan.com
Report price:$7900 Print: $7800 CD: $7800
Special statement:
Recently we find there are some sites steal report contents from Qianzhan.com who put those contents on their sites for sale by making a little changes about the contents or remaining the same which deceives buyers(e.g. unable to get full or correct reports, or main body differs from contents that announced on sites).Therefore, we recommend paying a visit to Qianzhan personally or by your friends, and make payment after confirmation. Special statement: Qianzhan is the only and right holder of all the research reports, and has never used a third party to sell any reports, please be aware of the trademark " " when purchasing. Qianzhan is the largest and strongest consultancy, who owns the greatest number of researchers. Here followed "
Nine standards of companies' identificatios
"。
This table of content is original, without written permission of Qianzhan, any unit or individual shall not use, copy, or transfer the reports.
Preface
Table of Content
With the fast development of China economy, the aviation industry develops steadily, and China has become the fast growth countries in the number of world's airports. Moreover, its transport capacity also ranks the second in the world. Afterwards, the number of China's civil aircrafts keeps growing. In the long-term, the quantity demand for China's civil aircrafts still has the vast growth space. On February 15th 2012, it's predicted the newly increase demand for passenger planes and air freighters will be 17,800 in the world, with the value of 3.5 trillion US dollars in the next 20 years. And the global total demand for large-scale plane, double-deck wide body aircraft and single deck aircraft is 1,680, 6,920, and 19,170 respectively.
The huge market provides the vast development space for China aircraft manufacturing. At present, besides except that MA passenger aircrafts are applied in 60 branches of domestic civil aviation, China's passenger aircraft market has been occupied by Boeing Company, Airbus, and so on, the international aviation giants in the world. In the next 20 years. China needs 1,000 aircrafts of the same kind of ARJ-21, and 2,700 large-scale planes of the same kind of C919. In order to deal with the market capacity, they need 30 billion US dollars and 135 billion US dollars respectively. The Civil Aviation Administration of China predicts, China needs 10,000 to 120,000 all kinds of general aviation aircrafts. It's predicted the average growth rate of the quantity of general aviation aircrafts will reach 30% in the next 5-10 years.
By 2030, the turnover volume of China aviation passenger transport will approach to 1.9 trillion person-kilometer, which will be 4.7 times as that of 2010. In order to meet the growth of transport volume, China need to increase 4,583 civil aircrafts in the next 20 years, among which the medium and large-scale jet liner is 3,682; and the branch plane is 901.
China's domestic passenger transport volume grows by around 8% annually. According to the prediction by Boeing, China has stronger demand for sing-deck aircrafts with higher-efficient fuel gas, which account for 71% of the newly increased aircrafts. The total delivery amount will reach 3090. In addition, in terms of freight market, the growth will continue to increase. Boeing predicts China's aviation companies will increase 330 air freighters before 2029. The total size of China's air freighter will expand 3 times comparing to the current size. Since China is a huge market, the world's leading manufacturing giants enter China in succession, and they conduct the comprehensive cooperation with China's aviation enterprises. At the same time, the large projects of China large-scale plane come into being. With the launch of large-scale plane projects, China will gradually step into the list of aviation manufacturing giants.
In addition, The "Twelfth Five-year" Development Plan for National Strategic and Emerging Industries clearly defines: the aviation industry has been promoted to the position in the national strategic and high-tech industry, and the position of national economic strategy. In terms of development strategies, industry legislation, industry policies and fiscal investment, the State gives long-term and steady support to the industry.
With Forward's long-term tracking and collecting market data of civil aircraft manufacturing industry, we roundly and accurately analyze the industry structure system for you from the view of mastering the whole industry. This report mainly focuses on analyzing China civil aircraft manufacturing industry's market size, development speed and competitive situation, depending on macro-prosperity of current civil aircraft manufacturing industry and relying on its production and marketing conditions as well as the demand trend.
The report pay more attention to analyze the cycle characteristic of China civil aircraft manufacturing industry; the production/marketing situation and operational trend of civil aircraft manufacturing industry; the current market environment of civil aircraft manufacturing industry; the market trend of global civil aircraft manufacturing industry; the product market status and development prospects of civil aircraft manufacturing industry; the reorganization and integration of civil aircraft manufacturing industry; the outsourcing business of civil aircraft manufacturing industry; the leading corporation's operational conditions in civil aircraft manufacturing industry; as well as the financing status and trend of civil aircraft manufacturing industry. Meanwhile, with comprehensive and specific first-hand market data over the past 5 years, Forward helps you to grasp the market and development trends of civil aircraft manufacturing industry, so as to win advantages from competition!
The most distinctive characteristics of this report is forward-looking and timeliness. Through analyzing forward-looking characteristic of abundant first-hand market data, we deeply and objectively dissect China current civil aircraft manufacturing industry's overall market capacity, market size, competitive landscape and characteristics of market demand. Furthermore, based on future development tracks and years' practice experience of civil aircraft manufacturing industry, we conduct prudent analysis and forecast for civil aircraft manufacturing industry's future development trend. This report helps civil aircraft manufacturing enterprises, R&D institutions, marketing enterprises and investment enterprises to precisely grasp current latest developments of the industry. Afterwards, they can make wise operating decisions and define enterprises' development directions.
Here, we would like to express our sincere gratitude to State Information Center, Bureau of Statistics of China, China Customs, International Information Research Institute, Chinese Academy of International Trade and Economic Cooperation, Tsinghua University Library, Development Research Center of the State Council and Beijing Essence Forward Research Center, for their great support when we conduct this report!
Notice: All the market data, especially corporations' ranking data in the report, only for business reference. Please do not take the data for enterprise publicity. Thank you! Or Forward shall not take any responsibility for any consequences!
Qianzhan Business Information Co., Ltd. Industry Research Center
Research Team of Civil Aircraft Manufacturing Industry
China Civil Aircraft Manufacturing Industry Report" related reports »