China Coal Industry Development Prospect and Investment Strategic Planning Report, 2013-2017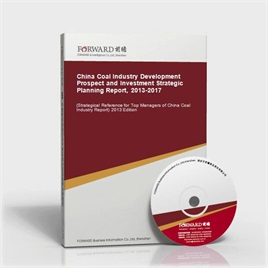 Last Update:2014-05-15
Form of services:Book + (pdf or doc file) + CD
Send method:EMS 2-3 days for delivery
English Service:+86 0755 33220413
Chinese Service:+86 800-8306390 800-8306395
E-mail:service.en@qianzhan.com
Report price:$7900 Print: $7800 CD: $7800
Special statement:
Recently we find there are some sites steal report contents from Qianzhan.com who put those contents on their sites for sale by making a little changes about the contents or remaining the same which deceives buyers(e.g. unable to get full or correct reports, or main body differs from contents that announced on sites).Therefore, we recommend paying a visit to Qianzhan personally or by your friends, and make payment after confirmation. Special statement: Qianzhan is the only and right holder of all the research reports, and has never used a third party to sell any reports, please be aware of the trademark " " when purchasing. Qianzhan is the largest and strongest consultancy, who owns the greatest number of researchers. Here followed "
Nine standards of companies' identificatios
"。
This table of content is original, without written permission of Qianzhan, any unit or individual shall not use, copy, or transfer the reports.
Preface
Table of Content
In 2010, China's GDP increased by 10.30%, with an obviously upward turn compared with that of from 2008 to 2009. As coal is a major energy, its operational condition has been greatly improved. In 2010, there were 9,243 enterprises above designated size in coal mining and washing industries, which accumulated asset of 2.9940 trillion Yuan, with a year-on-year growth of 28.63%; it realized sales revenue of 2.1155 trillion Yuan, with a year-on-year increase of 37.19%; and it realized total profits of 293 billion Yuan, with a year-on-year increase of 60.37%.
Coal consumption demand mainly comes from thermal power, steel, construction materials, fertilizer industries and so on. Except fertilizer industry, the coal consumption volume of other three industries mentioned above all increased by more than 8% over the previous year. In 2010, the coal consumption volume of thermal power industry was 1.615 tons, with a year-on-year increase of 11.95%; the coal consumption volume of steel industry was 578 million tons, with a year-on-year increase of 8.55%; the coal consumption volume of cement industry was 429 million tons, with a year-on-year increase of 14.42%; while the coal consumption volume of fertilizer industry was 89 million tons, with a year-on-year decrease of 3.36%.
In 2010, despite the coal consumption volume of fertilizer industry decreased a little bit, the volume of almost all industries increase more or less, which shows that the demand for coals is huge. Under this circumstance, the investment scale of China coal industry will increase rapidly. In 2010, the total fixed investment reached 377.033 billion Yuan, with a year-on-year increase of 23.30%, which is higher than fixed investment of mining industry by 5.2% over the same period.
No matter from the perspective of operational condition, consumption condition or the coal investment condition, coal, as an important energy at this moment, can not be shook. The coal industry will continue to grow rapidly.
With Forward's long-term tracking and collecting market data of coal industry, we roundly and accurately analyze the industry structure system for you from the view of mastering the whole industry. This report mainly focuses on analyzing the market environment of coal industry; the operational condition of coal industry; the market intelligence and information of coal industry; the demand status and prospect forecast of coal industry; the development status and trend of coal industry in key regions; the typical corporations' operational condition in coal industry, as well as investment status and investment prospect of coal industry. Meanwhile, with comprehensive and specific first-hand market data in 5 years, Forward helps you to grasp the market and development trends of coal industry, so as to win advantages from competition!
This report helps coal manufacturing enterprises, R&D institutions, marketing enterprises and investment enterprises to precisely grasp current latest developments of the industry. Afterwards, they can make wise operating decisions and define enterprises' development directions.
Here, we would like to express our sincere gratitude to State Information Center, Bureau of Statistics of China, China Customs, International Information Research Institute, Chinese Academy of International Trade and Economic Cooperation, Tsinghua University Library, Development Research Center of the State Council and Beijing Essence Forward Research Center, for their great support when we conduct this report!
Qianzhan Business Information Co., Ltd. Industry Research Center
Research Team of Coal Industry
China Coal Industry Report" related reports »