China Creative Industry Park Indepth Research and Investment Strategy Planning Report, 2013-2017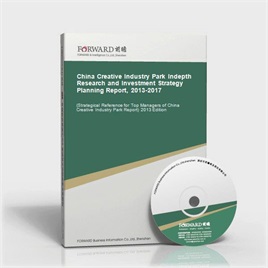 Last Update:2014-04-20
Form of services:Book + (pdf or doc file) + CD
Send method:EMS 2-3 days for delivery
English Service:+86 0755 33220413
Chinese Service:+86 800-8306390 800-8306395
E-mail:service.en@qianzhan.com
Report price:$7900 Print: $7800 CD: $7800
Special statement:
Recently we find there are some sites steal report contents from Qianzhan.com who put those contents on their sites for sale by making a little changes about the contents or remaining the same which deceives buyers(e.g. unable to get full or correct reports, or main body differs from contents that announced on sites).Therefore, we recommend paying a visit to Qianzhan personally or by your friends, and make payment after confirmation. Special statement: Qianzhan is the only and right holder of all the research reports, and has never used a third party to sell any reports, please be aware of the trademark " " when purchasing. Qianzhan is the largest and strongest consultancy, who owns the greatest number of researchers. Here followed "
Nine standards of companies' identificatios
"。
This table of content is original, without written permission of Qianzhan, any unit or individual shall not use, copy, or transfer the reports.
Preface
Table of Content
Cultural creative park is considered to be one of the most promising industries in the 21st century, with huge economic benefits and social benefits. All countries in the world pay special attention and attach highly importance to the development of this industry. In recent years, the benefit of China cultural creative industry is prominent day by day. In 2009, the value-added of cultural creative industry reached 840 billion Yuan, which is faster than GDC price by 3.2%. In 2010, the value added of China cultural creative industry occupied around 2.75% of the GDP. It's predicted the value-added of China's cultural creative industry will increased to 1800 billion Yuan, taking up 5% of the GDP.
The cultural creative industry will become China's economic pillar industry. Especially in some cities with good foundation, such as in Shenzhen, Beijing and Shanghai, the cultural industry will be the supporting force of economic development.
As to an important route and a carrier of scale production and intensive development, in recent years, China cultural creative industry construction momentum is very strong. According to incomplete statistics, there are more than 2,500 cultural industrial parks in the nationwide, among which there are 350 cultural creative industry parks and all kinds of relevant bases or parks having been named by the State. From 2004 to 2010, the Ministry of Cultural has named two groups of four national cultural industry demonstration zones and four groups of 204 national cultural industry demonstration bases, which gives birth to a number of creative industry parks with industrial clustering effect. According to estimation, the income average growth rates of national industry bases in 2010 were all above 40%, and the total income of national industry bases also reached 250 billion Yuan, and the total profits reached 36.52 billion Yuan.
However, behind the fast development of cultural creative industry parks everywhere, some problems emerge, such as too many parks locate here and there; the construction models are almost the same, with strong characteristics of real estate; unclear definition of park's position, and the almost the same industry structure; parks are separated with each other but forming a self-contained system, and lacking of necessary work division and cooperation; after spending a large sum of money on park construction, the settle rate of enterprises is low and it's hard to attract creative groups to parks, due to weak cultural breath.
Based on the construction of creative industry park, operation status and existing problems, this report proposes relevant improved plans, mainly from the perspective of the market environment of the development of creative industry parks. It analyzes the operation experience of international creative industry park, the construction and operation management situation of domestic creative industry park, the investment and operation situation of segment creative industry park, the investment opportunities of key cities creative industry park, the operation situation of typical creative industry park and so on. On the basis of mastering the whole industry, we prior to analyze the operational situation and competitiveness of key creative industry park; finally, from the perspective of industry park investment, development and operation providers – fully dissect the inviting business. With comprehensive and specific first-hand market data over the past 5 years, Forward helps you to grasp the market and development trends of creative industry park construction industry, so as to win advantages from competition!
The most distinctive characteristics of this report is forward-looking and timeliness. Through analyzing forward-looking characteristic of abundant first-hand market data, we deeply and objectively dissect the development of China creative industry park's influencing factors, market demand characteristics and existing risks. Furthermore, based on future development tracks and years' practice experience of creative industry park, we conduct prudent analysis and forecast for creative industry park's future development trend. This report helps creative industry park investment enterprises, development enterprises and operational enterprises to precisely grasp current latest developments of the industry. Afterwards, they can make wise operating decisions and define enterprises' development directions.
Qianzhan Business Information Co., Ltd. Industry Research Center
Research Team of Creative Industry Park
China Creative Industry Park Report" related reports »