China Medical E-Commerce Industry Market Research and Investment Forecast Report, 2013-2017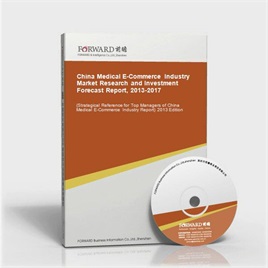 Last Update:2014-06-02
Form of services:Book + (pdf or doc file) + CD
Send method:EMS 2-3 days for delivery
English Service:+86 0755 33220413
Chinese Service:+86 800-8306390 800-8306395
E-mail:service.en@qianzhan.com
Report price:$7900 Print: $7800 CD: $7800
Special statement:
Recently we find there are some sites steal report contents from Qianzhan.com who put those contents on their sites for sale by making a little changes about the contents or remaining the same which deceives buyers(e.g. unable to get full or correct reports, or main body differs from contents that announced on sites).Therefore, we recommend paying a visit to Qianzhan personally or by your friends, and make payment after confirmation. Special statement: Qianzhan is the only and right holder of all the research reports, and has never used a third party to sell any reports, please be aware of the trademark " " when purchasing. Qianzhan is the largest and strongest consultancy, who owns the greatest number of researchers. Here followed "
Nine standards of companies' identificatios
"。
This table of content is original, without written permission of Qianzhan, any unit or individual shall not use, copy, or transfer the reports.
Preface
Table of Content
Electronic commerce is named "sun-raising industry and green industry". It is an important industry among modern service industry, an immediate produce of the explosive growth of Internet and an entirely new direction of Internet application. The internal features of E-commerce come from the characteristics of Internet, which are openness, globality, low-cost, high-efficiency. The Internet provides the E-commerce with a value which is higher than any new trades. Not only will it change the production, management of a corporation, but also have an impact on the economic operation and structure of the whole society. As the internet economic era is coming, the development of electronic commerce means not only commercial opportunity but also a new driving force and the birth of a new global Internet-driving economy for a corporation. China E-commerce grows rapidly and turns to be the significant marketing channel and brand promotion channel for a corporation.
View from the medical industry, benefiting from the urbanization, aging population, and growing medical consumption which due to civil medicare, there is a fast development for China medical circulation market in current years. According to statistics, from 2001 to 2010, scale of China medicine wholesale market develops from 170.5 billion Yuan to 653.6 billion Yuan with a compound growth rate of 16.1%; that of retailing terminal market grows from 34.3 billion Yuan to 172.4 billion Yuan with a compound rate of 19.6% which maintain a growing trend for nearly ten years. Promoting by policies and the development of up/down-stream industries, China medical circulation market will keep a stable growth in the future.
The medical corporations reach a consensus that it is necessary to develop E-commerce, new marketing channels and brand promotion channels. However, according to the market researching data, the market share proportion of vertical medical E-commerce network to E-commerce is only 2.21% which is far lower than the industrial importance. The medical E-commerce is still in a budding cultivation period that it with a huge potential.
Due to the fierce competition for future electronic commerce industry, industrial reconstruction is inevitable. On one hand, there is a strict requirement for corporation financing capability as the one with abundant capital will occupy large-scale living and service electronic commerce market by merger and purchase. On the other hand, it will be a threat for the current electronic commerce market as the matured network which with regional advantages and resource of merchants and users enters the market. The future E-commerce market may repeat the story of micro-blog: start from a small independent website, by imitation and introduction it grows into a big corporation and a module function of a platform. In spite of this, the practitioners are challenged with the standard service system construction of medical E-commerce website, satisfaction of users' experiencing requirements, quality of below-the-line logistics delivery, and loyalty construction to on-line shoppers.
Major characteristics of this report are forward-looking and timeliness. Base on the forward-looking analysis of massive research data, we further analyze medical E-commerce in the aspects of the market status, major market participants, external environment, and competitive landscape and selection and construction of platform. This report is of a high value for medical corporations and E-commerce corporations to accurately know the latest industry development trend, and obtain market opportunities and determine an insightful operation strategy and development direction.
Here, we'd like to express our sincere gratitude to Institute of Market Economy of the State Council Development Research Center, National Institute of the Ministry of Commerce, National Statistics Bureau of China, International Information Institute, National Tsing Hua University Library, and Beijing Qinghua Forward Market Research Center, etc. Thank you so much!
Notice: all the market data, especially the corporation list data in this report is only for business reference. Please don't take the data for enterprise publicity. Thank you! Or Forward shall not take any responsibility for any consequences!
Qianzhan Business Information Co., Ltd. Industry Research Center
Research Team of Medical E-commerce Industry
China Medical E-Commerce Industry Report" related reports »