China Project Contracting Industry Indepth Research and Investment Strategic Planning Report, 2013-2017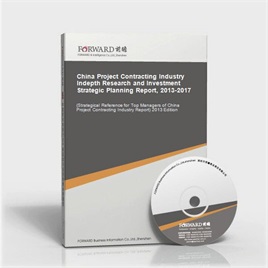 Last Update:2014-05-13
Form of services:Book + (pdf or doc file) + CD
Send method:EMS 2-3 days for delivery
English Service:+86 0755 33220413
Chinese Service:+86 800-8306390 800-8306395
E-mail:service.en@qianzhan.com
Report price:$7900 Print: $7800 CD: $7800
Special statement:
Recently we find there are some sites steal report contents from Qianzhan.com who put those contents on their sites for sale by making a little changes about the contents or remaining the same which deceives buyers(e.g. unable to get full or correct reports, or main body differs from contents that announced on sites).Therefore, we recommend paying a visit to Qianzhan personally or by your friends, and make payment after confirmation. Special statement: Qianzhan is the only and right holder of all the research reports, and has never used a third party to sell any reports, please be aware of the trademark " " when purchasing. Qianzhan is the largest and strongest consultancy, who owns the greatest number of researchers. Here followed "
Nine standards of companies' identificatios
"。
This table of content is original, without written permission of Qianzhan, any unit or individual shall not use, copy, or transfer the reports.
Preface
Table of Content
China is at an accelerating stage of urbanization and Industrialization. Investment is one of important factors to drive China's economy growth. Beneficial to sustainable and rapid development of fixed asset investment and real estate investment, as well as the speeding up of urbanization, the urbanization represented by middle and western regions, as well as second and third-tiers cities will speed up during "Twelfth Five-year" Plan period. China urbanization rate will grow by 4%, with an average annual growth of 0.8%. By 2015, it will increase to 52% and by 2020, it will increase to near 60%. In a word, China project contracting industry maintains a fast development in the long run.
Since project contracting is closely related to social fixed investment, the development of project contracting is bound up with the level of its regional economic development and regional urbanization, which has a distinctive regional feature. The three largest construction markets in China are Yangtze River Delta area, Bohai Sea area, and Pearl River Delta area. In general, those construction giants, with technical, management, and equipment advantages, as well as with expert qualification grade, occupy a comparatively large market share of China construction project. Large and medium-sized construction enterprises in developed provinces occupy a certain market share as well, and they mainly undertake regional large and medium-sized projects. Other small and medium-sized enterprises are mainly responsible for labor subcontractors, some professional subcontractors business, and small-sized projects. China's international project contracting enterprises play an important role in international project contracting field. The project contracting range expand from traditional housing construction project to many fields, such as metallurgy, port, electricity, communication, equipment, petrochemical and water conservancy; from relatively simple labor-intensive project to technical and knowledge-intensive projects. It has formed advantages in fields of labor cost and electrical supporting equipments.
Today, China is at an accelerating mid-term stage of industrialization, and all the industries are in the progress of improving investment, so there is a huge opportunity for domestic project contracting industry:
During "Twelfth Five-year" Plan period, the government will increase the investment in affordable housing construction project. It aims to increase the coverage rate to over 20% at the end of the period. The quantity of affordable houses should reach 36 million, then its quantity may have surpassed commercial house at the first time during the period, and its investment will be as high as 1.3 trillion Yuan.
The climax of water conservancy is coming soon. From the view of industry driving factors, irrigation and water conservancy which has been neglected for a long time will be re-emphasized in living security problems. The development acceleration of industrialization and urbanization effectively drive the development of infrastructure construction in urban sewage treatment and water supply/drainage. At present, the water conservancy investment just takes up a small proportion of GDP, so there is a vast promoting space in the next 5 to 10 years.
Although both railway fixed asset investment and capital construction investment expanded year-on-year decrease from January to November in 2011, and the capital construction drop by over 30%. Forward Industry Research Center considers, the demand for railway construction still keeps a strong momentum in a long-term.
It's predicted that China chemical product consumption market of Chemical industry will increase to 800 billion US dollars in the next 10-15 years. Compared to its consumption scale, China chemical industry still has a vast growth space. China chemical industry scale will initially double, reaching 392 billion US dollars in 2015, and its market share in world's chemical product market will increase from 8% to 13%. In a long run, the growth of China chemical industry will be beneficial to the construction enterprises which undertake chemical and petrochemical project contracting business, providing a broad market for them.
In the first half of 2011, the turnover of China foreign project contracting business completed 42.51 billion US dollars. Up to June, 2011, the contract value of China foreign project contracting business amounted to 765.5 billion US dollars, completing the turnover of 478.1 US dollars. At the same time, since the good forecast of warming trend in the third world countries, plus the strong support of national "gong out" policy, foreign project contracting business will keep revive in the future.
Under the attraction of huge market space, a large quantity of enterprises have rushed into project contracting industry, the existing enterprises are developing in a depth and extensive direction, and there is fiercer and fiercer competition among the industry. Because of this, many domestic project contracting enterprises pay more attention to industry market research, especially the indepth research on development environment.
With Forward's long-term tracking and collecting market data of project contracting market, we roundly and accurately analyze the industry structure system for you from the view of mastering the whole industry. This report mainly focuses on analyzing the characteristics of project contracting industry; the industrial chain structure of project contracting industry; the development situation of international project contracting industry; the market environment of China current project contracting industry; investment situation of China construction and project industry; the development situation of market segmentation in China project contracting industry; the project management mode of China project contracting industry; the merger and acquisition situation of China project contracting industry; the leading corporations' operational situation in China project contracting industry; as well as financing and credit situation of China project contracting industry. Meanwhile, with comprehensive and specific first-hand market data in nearly 5 years, Forward helps you to grasp the market and development trends of project contracting industry, so as to win advantages from competition!
The most distinctive characteristics of this report is forward-looking and timeliness. Through analyzing forward-looking characteristic of abundant first-hand market data, we deeply and objectively dissect China current project contracting industry's market capacity, market size and competitive landscape. Furthermore, based on future development tracks and years' practice experience of project contracting industry, we conduct prudent analysis and forecast for project contracting industry's future development trend. This report helps project contracting enterprises, R&D institutions, marketing enterprises and investment enterprises to precisely grasp current latest developments of the industry. Afterwards, they can make wise operating decisions and define enterprises' development directions.
Here, we would like to express our sincere gratitude to State Information Center, Bureau of Statistics of China, International Information Research Institute, Chinese Academy of International Trade and Economic Cooperation, Tsinghua University Library, Development Research Center of the State Council and Beijing Essence Forward Research Center, for their great support when we conduct this report!
Notice: All the market data, especially corporations' ranking data in the report, only for business reference. Please do not take the data for enterprise publicity. Thank you! Or Forward shall not take any responsibility for any consequences!
Qianzhan Business Information Co., Ltd. Industry Research Center
Research Team of Project Contracting Industry
China Project Contracting Industry Report" related reports »