China Polyurethane Industry Market Research and Investment Forecast Report, 2013-2017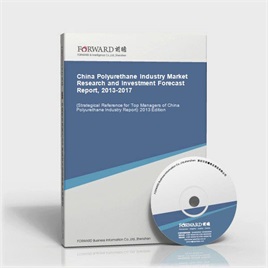 Last Update:2014-05-04
Form of services:Book + (pdf or doc file) + CD
Send method:EMS 2-3 days for delivery
English Service:+86 0755 33220413
Chinese Service:+86 800-8306390 800-8306395
E-mail:service.en@qianzhan.com
Report price:$7900 Print: $7800 CD: $7800
Special statement:
Recently we find there are some sites steal report contents from Qianzhan.com who put those contents on their sites for sale by making a little changes about the contents or remaining the same which deceives buyers(e.g. unable to get full or correct reports, or main body differs from contents that announced on sites).Therefore, we recommend paying a visit to Qianzhan personally or by your friends, and make payment after confirmation. Special statement: Qianzhan is the only and right holder of all the research reports, and has never used a third party to sell any reports, please be aware of the trademark " " when purchasing. Qianzhan is the largest and strongest consultancy, who owns the greatest number of researchers. Here followed "
Nine standards of companies' identificatios
"。
This table of content is original, without written permission of Qianzhan, any unit or individual shall not use, copy, or transfer the reports.
Preface
Table of Content
Polyurethane is the only known synthetic polymer generally applied in the seven major fields of plastics, rubber, foam, coating, adhesive and functional polymer among a plenty of polymers. Nowadays, MDI devices which have been put into operation mostly concentrate in the Yantai, Shandong province of East China, as well as Shanghai and Zhejiang province. Wanhua Industrial Group, a Chinese chemical Company, has moved its base from Shandong to Daxie Island in Ningbo city, due to the request of output growth. Moreover, it reaches this decision since it needs to optimize based on expanding the geographic scale. On account of expanding the production base to enhance the supply in East and South China, and enlarging customer groups, Wanhua and those foreign-funded corporation, such as BAYER and BASF will face fiercer and fiercer competition.
Various Corporations are optimistic about the demand growth of China's market in the future, because of the growing demand in some emerging countries locating in the Southeast Asia. Furthermore, the relatively improved industrial chain and supporting products in China also push every corporation to build new factories in China, in purpose of sharing the "cake" in the future. Data shows China's distribution of new-increased capacity: the capacity expansion priorities in China are still the three major production bases – Shandong, Shanghai and Ningbo. However, BASF established its MDI device in Chongqing, which relies on Yangtze River.
At present, China polyurethane industry maintains its high-speed development momentum. There are more than 20,000 corporations in China polyurethane industry, which has an over 10% growth pace and more than 150 billion yuan of industrial value. In the meantime, under the background of slow consumption of developed countries in Europe and America, and huge growth of demand in Asia areas, relative larger multinationals tend to shift their capacity to Asia, especially to China, which plays a greatly positive role in updating technologies in China polyurethane industry and promoting the industry development. Affected by factors listed above, the domestic polyurethane industry enters a high-speed development period. A great growth in all polyurethane raw materials prominently improves the self-support ratio of domestic demand.
With Forward's long-term tracking and collecting market data of polyurethane industry, and adopting the international synchronized SCP scientific analysis model, we roundly and accurately analyze the industry structure system for you from the view of mastering the whole industry. This report mainly focuses on analyzing the development overview and development environment of polyurethane industry; the supply of polyurethane raw materials market; the development experience of international polyurethane industry; the operation status of China polyurethane industry and the supply of polyurethane products market; the downstream market demand of polyurethane industry; the technology progress of polyurethane industry; the operation of leading corporations in polyurethane industry; as well as the investment and prospects of polyurethane industry. Meanwhile, with comprehensive and specific first-hand market data over nearly past 5 years, we helps you to grasp the market and development trends of polyurethane industry, so as to win advantages from competition!
The most distinctive characteristics of this report is forward-looking and timeliness. Based on future development tracks and years' practice experience of polyurethane industry, we deeply analyze the overall market capacity, market scale, competitive landscape and market demand features of current China polyurethane industry, and we also conduct prudent analysis and forecast for polyurethane industry's future development trend. This report helps polyurethane manufacturing corporations, R&D institutions, marketing corporations and investment corporations to precisely grasp current latest developments of the industry.
This report will help polyurethane manufacturing corporations, R&D institutions, marketing corporations and investment corporations precisely grasp the latest development trend, and find the blank, opportunity, growth, profit spots and others in the market of industry in advance, and grasp the market demand and trends that has not been found in the perspective of forward-looking. It also helps form a sustainable development advantage, effectively avoid investment risks in the industry, effectively consolidate or extend according strategic target markets, and firmly hold the initiative right to compete.
Here, we would like to express our sincere gratitude to Ministry of State Information Center, Bureau of Statistics of China, International Information Research Institute, Chinese Academy of International Trade and Economic Cooperation, Tsinghua University Library, Development Research Center of the State Council and Beijing Essence Forward Research Center, for their great support when we conduct this report!
Notice: All the market data, especially corporations' ranking data in the report, only for business reference. Please do not take the data for corporate publicity. Thank you! Or Forward shall not take any responsibility for any consequences!
Special tips: Ignoring some subtle hints in the violent change of external environment, and failure of updating strategic decisions timely will finally lead to the loss of competitive advantage. A true successful company will make scientific researches on external environment consciously or unconsciously, so as to formulate a key scientific operating strategy!
Best wishes for every corporation with a big dream that can draw up a high-quality operating decision, to effectively avoid the risks and continuously gain the success.
Qianzhan Business Information Co., Ltd. Industry Research Center
Research Team of Polyurethane Industry
China Polyurethane Industry Report" related reports »