China Outdoor Advertising Industry Market Prospective and Investment Strategy Report, 2013-2017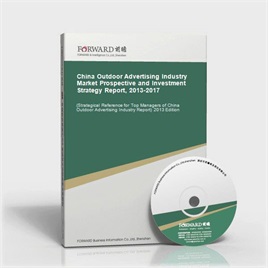 Last Update:2014-05-07
Form of services:Book + (pdf or doc file) + CD
Send method:EMS 2-3 days for delivery
English Service:+86 0755 33220413
Chinese Service:+86 800-8306390 800-8306395
E-mail:service.en@qianzhan.com
Report price:$7900 Print: $7800 CD: $7800
Special statement:
Recently we find there are some sites steal report contents from Qianzhan.com who put those contents on their sites for sale by making a little changes about the contents or remaining the same which deceives buyers(e.g. unable to get full or correct reports, or main body differs from contents that announced on sites).Therefore, we recommend paying a visit to Qianzhan personally or by your friends, and make payment after confirmation. Special statement: Qianzhan is the only and right holder of all the research reports, and has never used a third party to sell any reports, please be aware of the trademark " " when purchasing. Qianzhan is the largest and strongest consultancy, who owns the greatest number of researchers. Here followed "
Nine standards of companies' identificatios
"。
This table of content is original, without written permission of Qianzhan, any unit or individual shall not use, copy, or transfer the reports.
Preface
Table of Content
With decades of development history, outdoor advertising has become the advertising model of rich media types, abundant expressions and fast development. The fully exploited TV and newspaper advertising resources in current years drive more attention to outdoor advertising due to its development quality and quantity.
There is a leaping growth for China outdoor advertising industry since 1990s. Annual growth of outdoor advertising investment from corporations is 25%. And the total nationwide outdoor advertising investment in 2010 reaches 45.2 billion Yuan which is 23.84% more than that of last year's. It is the first time to clearly propose that "to promote the healthy development of advertising industry" in the state "twelfth five years" plan. The contribution of advertising industry to national economy has increased from zero to 0.6% during the "twelfth five years" period. And outdoor advertising is an important part of advertising industry and the advertising form which finish the content spread and penetration in an audience voluntary, casual and non-time-occupying condition. It has a great impact on consumers' purchasing behavior and values. Moreover, so many corporations have gained attractive return from the outdoor advertising investment and outdoor advertising is more and more popular for advertisement owners in different industries. Therefore, the outdoor advertising market is hopefully to continue the fast development.
China economy is stable in 2011. Although the rise in price put more marketing pressures on some corporations, it has little influence on advertising market that the growth rate of advertising market in China is about 15% while the year-on-year growth rate of outdoor advertising market is 13%-15%. It is estimated that investment of China outdoor advertising in 2011 will reach 51.5 billion Yuan.
In the market segmentation field of outdoor advertising industry, outdoor electronic screen advertising market, bus body advertising market and lift flat advertising market drive highly attention due to the wide audience coverage and effective advertising, etc. Among which market scale of outdoor electronic screen advertising takes the biggest market share that it reaches 6.23 billion Yuan in 2010 while total advertisement owners of outdoor electronic screen advertising market are 16,000. And the Focus Media is the leading corporation in this market segmentation which market share continuously ranks first. In the third season of 2011, market scale of China outdoor electronic screen advertising has reached 2.216 billion Yuan with a chain growth rate of 17% and a year-on-year growth rate of 32%.
Presently, the domestic outdoor advertising industry is mainly concentrated in the first and second tier cities. Among which four first tier cities—Beijing, Shanghai, Guangzhou and Shenzhen take nearly half of the national market share. And outdoor advertising industry in the third and fourth tier cities still on the awaiting developing stage. However, as the first tier city is in market saturation and the second tier city is well developed, more and more outdoor advertising industry investors start to pay attention to the third and fourth tier cities. The third and fourth tier cities are not only the main force which takes over abundant rural surplus-labor but also the main growth point for new economic development and social consumption. To exploit the third and fourth tier cities on such a new departure, the outdoor advertising media suppliers should have a harvest future.
There are a large number of China outdoor advertising industry corporations which is about 70,000 currently. But as the operation of outdoor advertising industry is limited by the fixed media resources, most of the outdoor advertising media suppliers are focusing on the regional operation while few of them develop into nationwide brands such as Focus Media, CTS Media, and Air Media, etc.
As outdoor advertising has become one of the image shows for a city and a country, the central and local governments pay more attention to the development of outdoor advertising and publish related industry standard which may promote the standardization fast development of outdoor advertising industry. Meanwhile, the outdoor advertising corporations will develop towards professionalization, networking and collectivization. In one word, development prospect of outdoor advertising industry is extremely promising.
Qianzhan Business Information Co., Ltd. Industry Research College
Research Team of Outdoor Advertising Industry
China Outdoor Advertising Industry Report" related reports »