China Cleaning Service Industry Market Prospects and Investment Opportunities Report, 2013-2017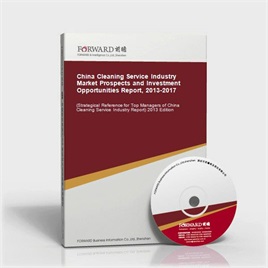 Last Update:2014-05-14
Form of services:Book + (pdf or doc file) + CD
Send method:EMS 2-3 days for delivery
English Service:+86 0755 33220413
Chinese Service:+86 800-8306390 800-8306395
E-mail:service.en@qianzhan.com
Report price:$7900 Print: $7800 CD: $7800
Special statement:
Recently we find there are some sites steal report contents from Qianzhan.com who put those contents on their sites for sale by making a little changes about the contents or remaining the same which deceives buyers(e.g. unable to get full or correct reports, or main body differs from contents that announced on sites).Therefore, we recommend paying a visit to Qianzhan personally or by your friends, and make payment after confirmation. Special statement: Qianzhan is the only and right holder of all the research reports, and has never used a third party to sell any reports, please be aware of the trademark " " when purchasing. Qianzhan is the largest and strongest consultancy, who owns the greatest number of researchers. Here followed "
Nine standards of companies' identificatios
"。
This table of content is original, without written permission of Qianzhan, any unit or individual shall not use, copy, or transfer the reports.
Preface
Table of Content
The cleaning service started late in China. It is a sun-rising industry which emerged along with the establishment of China's socialist market economic system, the fast development of economy and society, and the constant improvement of people's living standards. The emerging cleaning service met the physical and spiritual need of social environment and family environment. According to available statistics, there were hundreds of thousands of cleaning engineering enterprises in China (not including vehicle cleaning industry and housekeeping industry). And among them there were about 1,500 in Shanghai, 1,200 in Guangzhou, 1,000 in Beijing, 700 in Shenzhen, 600 in Xi'an and 400 in Lanzhou. The employee number of cleaning service industry was about 10 million. And the industry was one of the top 10 service industries in China. Moreover, the service range developed from simple boiler cleaning to multi-function cleaning which covered from all kinds of industries, such as petroleum, chemical, electric power, machinery, coal, nuclear industry, ship, transportation, food, textile industry, public facility, municipal construction, etc. Furthermore, the cleaning agent developed from "3 acids and 2 alkalis" (H2SO4, HCl, HNO3, Na2CO3and NaOH) with simple function to efficient and green cleaning agent with multi-functions and low pollution. In the beginning stage, the cleaning equipments included towel, brush, bucket, pump and cleaning machine with simple function. And now the equipments are advanced and efficient, including high-pressure water jet, ultrasonic cleaning equipment, PIG pipeline cleaning equipment, ultraviolet rays-ozone cleaning machine, laser cleaner, cleaning robot, automatic multi-functional cleaning platform and so on. The broad market demand promotes the industry develops towards diversification and specialization. There are many new opportunities in the field of industrial cleaning. And there will be a fast development for precise and ultra-precise industrial cleaning.
However, there are many problems need to deal with during the development of cleaning industry for two reasons: first, the industry access threshold is low; second, people's misunderstanding of the industry. They think the cleaning industry is a low-end labor industry which needs no technical content.
Due to the prejudice understanding of cleaning industry, most administrators of cleaning service enterprises with not high educational level. It is true especially for middle or less than middle class managers. Whatsoever, they play an extremely important role in enterprise's business model. When they perform management function they are limited by educational level. They analyze and solve problems only by experiences which can seldom bring about sound management ideas. And it will be exceedingly unfavorable to the long-term development of the industry. In spite of this, there is no specialized government institute which responsible for cleaning service industry up to now while the social cleaning association lack of authority and credibility. As there is no core strength to guide the development of the industry, for a long time, the cleaning service industry is in disorderly and cutthroat competition which is very difficult to expand and strengthen the industry. Accordingly, it is quite necessary for cleaning service enterprises to learn more about the development experience of developed countries and advanced cleaning service enterprises. Besides, the latest development trend and strategy of the industry are also necessary as they will help enterprises to discover opportunities and solve problems. Also, cleaning service enterprises should have an indepth research of competitors in order to make a corresponding competitive strategy. And this report can meet all your needs list above.
With Forward's the long-term tracking and collecting market data of cleaning service industry, we roundly and accurately analyze the structure system for you from the view of mastering the whole industry. This report mainly analyzes the following issues: development status and prospects of international cleaning service industry, and cleaning equipment and supplies manufacturing industry; development environment, history and status of China cleaning service industry; market opportunities and solutions design of cleaning service industry in industrial field and non-industrial field; competitive landscape of the industrial chain of China cleaning service industry; competitive benchmarks of leading enterprises; technological progress and development trend of China cleaning service industry, and cleaning equipment and supplies manufacturing industry; development opportunities, problems and prospects forecast of China cleaning service industry; investment and financing environment, status and trend of China cleaning service industry. Meanwhile, together with the comprehensive and detailed market data which is accumulated for years, Forward helps you to grasp the market and development trends of cleaning service industry, so as to win advantages from competition!
Major characteristics of this report are forward-looking and timeliness. Base on the forward-looking analysis of massive research data, we further analyze the industry supply and demand, competition, policy environment and existing problems. This report is of a high value for industry investors, management enterprises and equipment manufacturers to accurately know the latest industry development trend, and obtain market opportunities and determine an insightful operation strategy and development direction.
Here, we'd like to express our sincere gratitude to State Economic Information Center, National Statistics Bureau of China, International Information Institute, National Institute of the Ministry of Commerce, National Tsing Hua University Library, Institute of Market Economy of the State Council Development Research Center, and Beijing Qinghua Forward Market Research Center, etc. Thank you so much!
Notice: all the market data, especially the corporation list data in this report is only for business reference. Please don't take the data for enterprise publicity. Thank you! Or Forward shall not take any responsibility for any consequences!
Qianzhan Business Information Co., Ltd. Industry Research Center
Research Team of Cleaning Service Industry
China Cleaning Service Industry Report" related reports »