China Pension Insurance Industry Indepth Research and Investment Strategy Planning Report, 2013-2017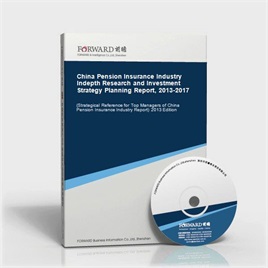 Last Update:2014-05-16
Form of services:Book + (pdf or doc file) + CD
Send method:EMS 2-3 days for delivery
English Service:+86 0755 33220413
Chinese Service:+86 800-8306390 800-8306395
E-mail:service.en@qianzhan.com
Report price:$7900 Print: $7800 CD: $7800
Special statement:
Recently we find there are some sites steal report contents from Qianzhan.com who put those contents on their sites for sale by making a little changes about the contents or remaining the same which deceives buyers(e.g. unable to get full or correct reports, or main body differs from contents that announced on sites).Therefore, we recommend paying a visit to Qianzhan personally or by your friends, and make payment after confirmation. Special statement: Qianzhan is the only and right holder of all the research reports, and has never used a third party to sell any reports, please be aware of the trademark " " when purchasing. Qianzhan is the largest and strongest consultancy, who owns the greatest number of researchers. Here followed "
Nine standards of companies' identificatios
"。
This table of content is original, without written permission of Qianzhan, any unit or individual shall not use, copy, or transfer the reports.
Preface
Table of Content
The "twelfth five-year" period is a crucial period for China deepening the overall reform and opening, accelerating to transform the economic development mode, and comprehensively building an affluent society; moreover, it's the key time to realize the structural adjustment of insurance industry. The "Twelfth Five-year" Development Plan on China Insurance Industry proposed to vigorously expand the enterprise annuity business, support qualified enterprises to establish a commercial pension insurance protection plan, improve the protection level of employees, explore personal pension insurance business, and broaden the service fields of commercial pension insurance.
Since China currently has entered an aging society, with the around 10% of population at the age of above 60 year-old, and with an annual increasing speed of aging of population in China, the proportion of elderly population in China will exceed 30% by the year of 2050, and the old-aged pension will be an unprecedented challenge for people's lives. With the population aging, the miniaturization of the family structure, and the acceleration of urbanization, demographic dividend disappears; and the progress of population aging will mix with the contradiction of economic and social transition period. Therefore, the demand for social old-aged protection and pension services has dramatically increased. In the next 20 years, China's aging population is increasing, so the development of old-aged business has a long way to go.
China's old-aged security system can be divided into 3 levels: basic social pension insurance, enterprise additional pension insurance, and personal savings for old-aged pension. In recent years, the government-led social pension insurance coverage keeps expanding; the social pension insurance has basically covered all urban residents. However, due to the social security principle of "low level but wide coverage", there are still big problems in current old-aged security system. The huge market demand for pension insurance can't just depend on social security to achieve. The old-aged replacement rate has began to decrease since the end of last century, and now, it's less than 47%, which urgently needs the participation of commercial insurance in social security. The combination of commercial insurance and social security and diversion of social security pressure are helpful for establishing a multi-level old-aged security system, with the whole participation of the society.
In terms of commercial pension insurance market, there are still a series of problems. Consumers have many requirements for commercial pension insurance at the aspects of scope of insurance coverage, return time, fixed interest, expiration time, the safety of principal, and the convenience of drawing. Although there are a lot of financing products, with the characteristic of balancing the present and future cash flow in domestic life insurance market, there are relatively less professional pension insurance products which focus on retirement pension insurance; furthermore, the increase capacity of annuity market is less than 50 billion Yuan, while there are too many pension insurance enterprises, banks and securities enterprise competing for this market, plus the market is still in its early stage, the price war of annuity will lead them a strange loss circle, which the larger enterprises will loss more, and the domestic pension insurance enterprises are generally in a loss situation. Besides the blind competition of fees, the high cost of exhibition insurance is also a main reason for the pension insurance enterprise's loss.
There is no denying we expect for the vast market of pension insurance. Once the relevant taxation policies are issued, or the personal taxation defers to pension insurance, the life insurance industry will meet a new development period, and the pension insurance will become the new force for the fast development of life insurance industry. At present, the whole China life insurance industry is in a low period. The growth model of 2011 met the bottleneck. Before any substantial changes have been taken place, the life insurance industry lacks of light spots. Old-aged pension will not only be an important direction for life insurance enterprises, but also a breakthrough for the life insurance industry's future structural adjustment. In addition, the insurance enterprises investment in old-aged communities and medical institutions is the expansion and extension of life insurance industrial chain, which will be the major growth points for the future development of life insurance industry.
With Forward's long-term tracking and collecting market data of pension insurance industry, we roundly and accurately analyze the three parts of old-aged security system. By analyzing the market environment to reflect the development background of old-aged security system, and by analyzing the international old-aged security system and its development to learn the enlightenment and experience. Combining the current situation, the report analyzes the operational situation of pension insurance fund investment and enterprise annuity market situation; and focuses to analyze the commercial pension security market, including market characteristics, operational system, development situation, competitive landscape, marketing channels, business products segments, emerging business, as well as the investment potentials of pension insurance industry in 11 key regions, and the leading corporations' operational conditions in pension insurance industry. Meanwhile, with comprehensive and specific first-hand market data over the past 5 years, Forward helps you to grasp the market and development trends of pension insurance industry, so as to win advantages from competition!
The most distinctive characteristics of this report is forward-looking and timeliness. Through analyzing forward-looking characteristic of abundant first-hand market data, we deeply and objectively dissect China current pension insurance industry's development opportunities and problems. Furthermore, based on future development tracks and years' practice experience of pension insurance industry, we conduct analysis on the sustainable development and roads for the current pension insurance industry and prudent analysis and forecast for pension insurance's future development trend. Meanwhile, we come up with constructive strategic researches. This report helps social old-aged institutions and insurance companies to precisely grasp current latest developments of the industry. Afterwards, they can make wise operating decisions and define enterprises' development directions.
Here, we would like to express our sincere gratitude to China Insurance Regulatory Commission, Bureau of Statistics of China, International Information Research Institute, Chinese Academy of International Trade and Economic Cooperation, Tsinghua University Library, Development Research Center of the State Council and Beijing Essence Forward Research Center, for their great support when we conduct this report!
Notice: All the market data, especially corporations' ranking data in the report, only for business reference. Please do not take the data for enterprise publicity. Thank you! Or Forward shall not take any responsibility for any consequences!
Qianzhan Business Information Co., Ltd. Industry Research Center
Research Team of Pension Insurance Industry
China Pension Insurance Industry Report" related reports »